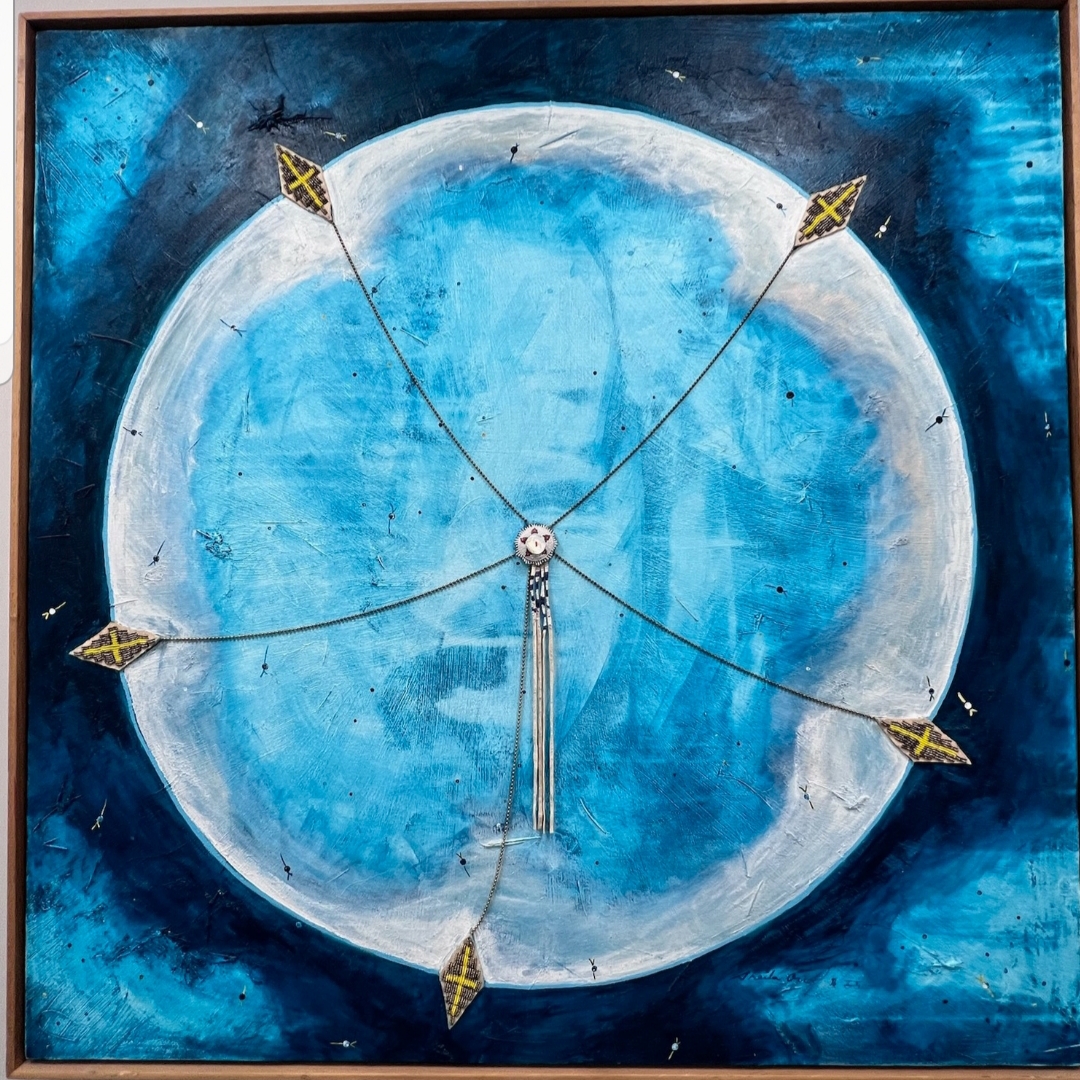 Sheila Orr
Although born in Prince Albert, Sheila considers herself to be from Chisasibi, James Bay, Quebec. Sheila's parents met in (Forty George) now Chisasibi, and in the early 60's moved to Prince Albert. After a few years, the family relocated to Chisasibi, Quebec where Sheila grew up and attended school. Sheila studied Indian Fine Arts, Visual Arts and Arts Education at the Saskatchewan Indian Federated College. Her studies led to a career in post-secondary education. Subjects and themes focused primarily in Traditional and Contemporary First Nations Arts, culture and aesthetics. Beadwork, Porcupine Quillwork, hide work and two-dimensional design were part of my class outline.
Aside from teaching, as a visual artist, Sheila spent 25 years touring urban and rural educational institutions and community centres and hosting various workshops for all grades and ages. Themes, topics and styles include a hands-on approach resulting in products and expressions produced by participants.
Sheila's styles of expressions display techniques in painting, beadwork, porcupine quillwork, hide work, caribou hair tufting, carving, sculpture and contemporary installations.
Exhibitions of works include both solo and group art shows. Her work is represented in public, private and collections in Canada and the United States.
National and provincial experience in arts Boards, range from board member and chair to adjudications for artist grants. Sheila is also experienced in advocacy for First Nations artists and their role in governmental arts policies and constitutions.
Recently Sheila designed a $200, 1 oz. gold coin for Mint Canada as a part of a series on early Canadian history. Her image represented the Mid 1700's fur trade from the perspective of an Eastern James Bay Cree. A panel selected her work as an artist to represent them.
Sheila gives respect to her late Mother and her linage for teaching her the history of our people. The Elders recognize her family history as knowledge keepers - an honour that brought Sheila back to the arts.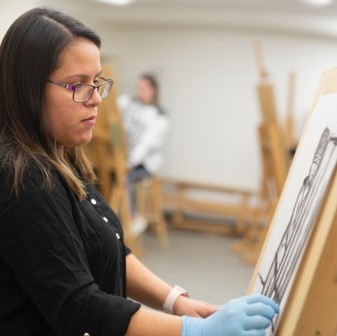 The Indigenous Communication and Fine Arts Department, FNUC
The Indigenous Communication and Fine Arts department at First Nations University of Canada is home to the Indigenous Fine Arts (INA) and the Indigenous Art History (INAH) programs. Since the inception of the Saskatchewan Indian Federated College (SIFC) in 1976, the study of, and reconnection to, Indigenous Art History of the Americas has been an integral component of the institute's programming. The first five classes at SIFC included 'Indian Art' and 'Indian Art History', restoring artistic practice in its historical place of value in the education of the institute's students. In 1979, a formal art training program was established in fine arts and Indigenous art histories. Over the years, many Indigenous artists and art historians have contributed to the University's Indigenous art training's development in contemporary art practice and historical art techniques.
The Indigenous Fine Arts & Art History programs continue to be structured on the knowledge and appreciation of the significant place the fine arts have had within all Indigenous cultures of the Americas for millennia. The faculty has expertise in historic First Nations art forms, contemporary techniques and aesthetics. Studio work and hands-on instruction from experienced faculty help students develop their artistic skills while determining their artistic direction and future careers in the fine arts, graduate programs, and community leadership.
"...foundation is based on early traditional and historical arts and culture perspectives... " — Sheila Orr
This post secondary program has an extensive history in Studio and History instruction and education. The program started with a small group of artists and educators offering classes through the Saskatchewan Indigenous Culture Centre in Saskatoon. Instructors such as Sarain Stump. Throughout the years, it developed into The Indian Fine Arts Department (Regina Campus), in the mid to latter 70's. By 1979-80 student services from SIFC offered a national recruitment program that reached out to Secondary Band schools in Canada. It was through a brochure that I discovered and read about the Indian Art Department bachelor's degree studio/lecture classes.
This pamphlet came to me in a small community in northern James Bay, Quebec. In high school, I learned through art class, NFB films and Library publications about artists such as Daphne Odjig, Norval Morrisseau and Allen Sapp, to name a few. So, of all the Fine Arts programs that other Universities offered, this one stood out to me.
The foundation is based on early traditional and historical arts and culture perspectives while stimulating a more contemporary approach to First Nations arts knowledge and creations. These blends create a unique environment for individuals who want to learn a new age while maintaining a more traditional perspective in an open learning environment. Classes include 2- and 3-Dimensional studio-based curricula, providing a hands-on approach in mixed media and visual arts design.
Influences are based primarily on Indigenous Artists, First Nations Arts and Design. The early years of the 2D program styles of art were inspired by artists such as the late Arthur Shilling, Benjamin Chee Chee, Daphne Odjig, and many more artists. They were studied as mentors and historians, opening doors for a new generation of learners.
In 1980, I enrolled in the program and started as a 16-year-old enthusiastic student eager to learn about "Indian Art". Instructors then were Bob Boyer, Gerald McMaster, Edward Poitras and contracted sessional lecturers. The studio learning environment was on the old campus in Regina, neighboring the University of Regina Fine Arts campus. The integration between the departments created an intertwined art venue of visual, analytical, historical and contemporary learning.
Presently the Indigenous Fine Arts Program offers Degrees in:
Certificate in Indigenous Fine Arts.
Bachelor of Fine Arts.
Bachelor of Arts / Indigenous Arts.
Bachelor of Arts/ Indigenous Art History.
Former Graduates have continued as full-time artists, art educators, art administrators, curators, writers, and so on.
The Indigenous Fine Arts Department strives to influence after five decades of Inspirations and Knowledge Keepers in First Nations Arts in Traditional and Contemporary Methods. It is a part of Saskatchewan's rich art history.