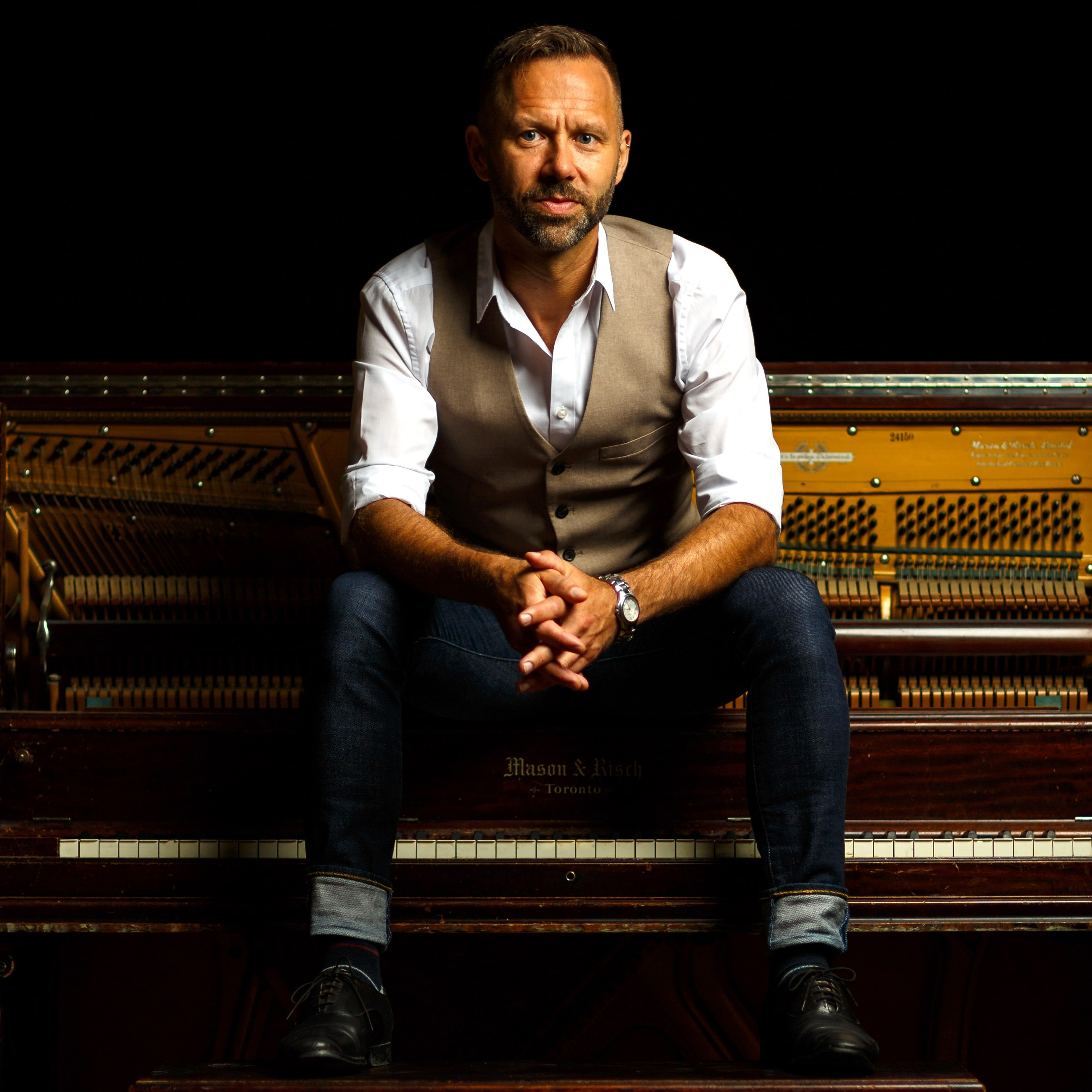 Jeffery Straker
Singer-songwriter pianist Jeffery Straker grew up taking piano lessons in a small Saskatchewan farming town, raised by a church organist mother and an auctioneer father. He's gone on to perform over 100 shows per year across Canada, Europe and Latin America. Serving up a rootsy-storytelling brand of song with rich narratives, his song writing can transport a listener –out onto a lake in Canada's North or to the main street of a prairie town. Across eight albums to date, critical comparisons have been drawn to the likes of Harry Chapin, Kris Kristofferson and Billy Joel, while performances have seen him live on BBC radio in the UK, on festival and theatre stages, and in concert with symphony orchestras. Jeffery's songs have been featured in TV, film and theatrical productions and have seen him named Roots-Folk Artist of the Year in consecutive Saskatchewan Music Awards. Honoured with a Western Canadian Music Award in 2019, the Saskatchewan Country Music Awards have also twice named him keyboard player of the year. In 2022, he performed across the UK, including for the Canadian High Commission in London. He connects with audiences wherever he performs and CBC Radio recently said "Straker has a way of drawing us into his world and making us feel like we're an old friend he's ready to catch up with." www.jeffstraker.com
Dara Schindelka
Dara Schindelka (she/her) is a Saskatchewan female singer/songwriter with a touch of the North and the pull of the prairie. She released her award-winning debut EP, Thou Art Loosed in 2020, followed by a full-length album, Saturn Returns, the #6 album in Saskatchewan with SaskMusic in 2022.
Dara has performed across Canada with her unique storytelling and heartfelt songwriting. She is currently working on a new music project that has her taking traditional folksongs that tell the stories of women and bringing them to a new audience with genre-bending beats and instrumentation.
Dara Schindelka's "…artistic voice is a fresh and exciting addition to the Saskatchewan creative landscape." – Jeffery Straker
I'm very happy to be nominating Dara Schindelka to be recognized with a SK Arts 75th Anniversary We Celebrate You grant. Dara Schindelka is a talented singer-songwriter and pianist originally from Raymore and now residing in Regina. Self-described as a "femfolk musician", her focus is on writing and performing her original songs and stories, while also maintaining a keen interest in traditional folksongs that highlight the stories of women. Her artistic voice is a fresh and exciting addition to the Saskatchewan creative landscape.
Dara released her full-length album Saturn Returns in May 2022 and saw it ranked #6 in the SaskMusic Album of the Year listings, as voted by listeners throughout the province. Her songs connect with listeners, with lyrics that leave them both thinking and asking through their gutsy honesty. Her approach to melody and chord progressions is also distinct.
Through her creative practice Dara chooses to align herself with music festivals and livestreams that bring awareness to women's issues and marginalized voices. She's worked with causes such as Stay Human Productions, Rock Against Racism, Piwapin Women's Shelter, Prince Albert Multi Cultural Council, and FemFolk UK.