We sat down with Saskatoon-born and raised visual artist Zachari Logan, who now resides in Regina with his husband. He identifies as male, cis-gendered and queer. We chatted about who Zach is as a person and an artist and how that shapes the themes presented in his work. Zach's identity collides beautifully with his practice. His belief that there is an interconnection between the human body and land is the vanguard of his artistic practice.
The Nomenclature Series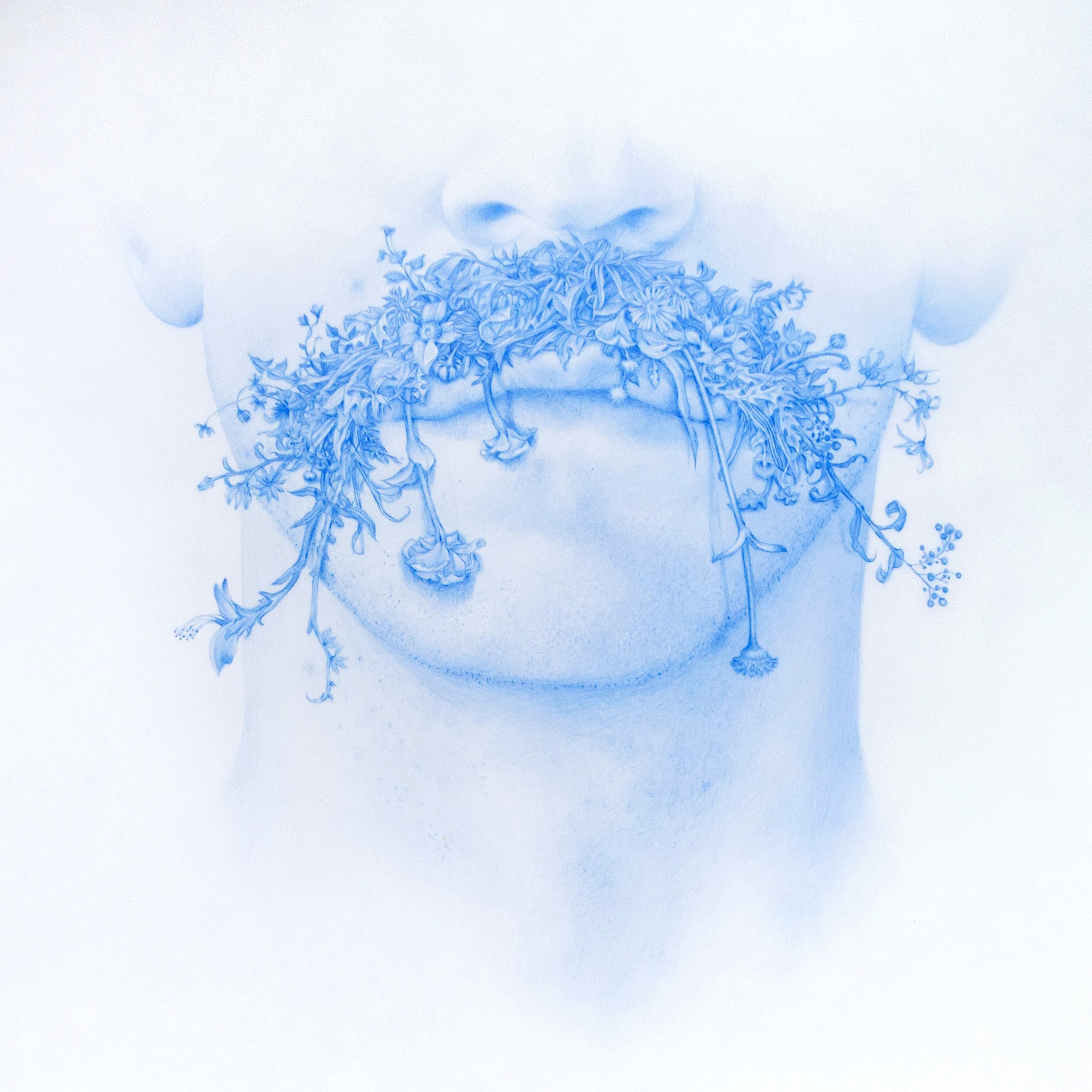 Moustache No. 2, from Wildman Series, blue pencil on mylar, 9x12 inches, 2022.
Private Collection, Toronto. Image courtesy of the Artist.
Logan's work has been exhibited and toured throughout North America, Europe and Asia. Over the years, Logan interest in plants and the human body gave rise to a series of work called the Nomenclature Series. In 2020, as the world plunged into lockdown, his mental space influenced the artist to do more of these drawings, focused on the continuity between human bodies and land. As a lifelong resident of the Land of the Living Skies, much of this work is influenced by the province's wide, open spaces — the Saskatchewan Ditch — and their plants and vegetation often described as weeds.
The artist acknowledges the Nomenclature Series is now among his favourite work. A recently opened exhibition titled Unkraut Vergeht Nicht — German translation: Weeds don't vanish — is open at MOCA London,UK. It is the first time that the drawings are the focus of an entire show. The installment will be open until July 22, 2023. Created throughout and inspired by the effects of the pandemic, the drawings are installed (drawn) directly onto the gallery walls in graphite.
Like ghosts, when they come to the end of their shelf life, the drawings will be painted over but will remain forever beneath the paint. "Haunting the walls," Logan says, the temporary drawings on the wall signify the fleeting realities of a temporary life and the ever-approaching end of it. The installation also represents a journey of perseverance to success — a similarity between humans and weeds.
"To me they have a bit of a life because whether they end up being painted over or sanded over, they will always be sort of in the wall, haunting it." – Zachari Logan.
Another recent project Zachari is excited about is a commission by the Gardiner Museum in Toronto. The installation will be his first major series that is almost entirely ceramics. The Gardiner exhibition is also based on the idea Saskatchewan Ditch concept and will open to the public on July 7, 2023.
Why Saskatchewan?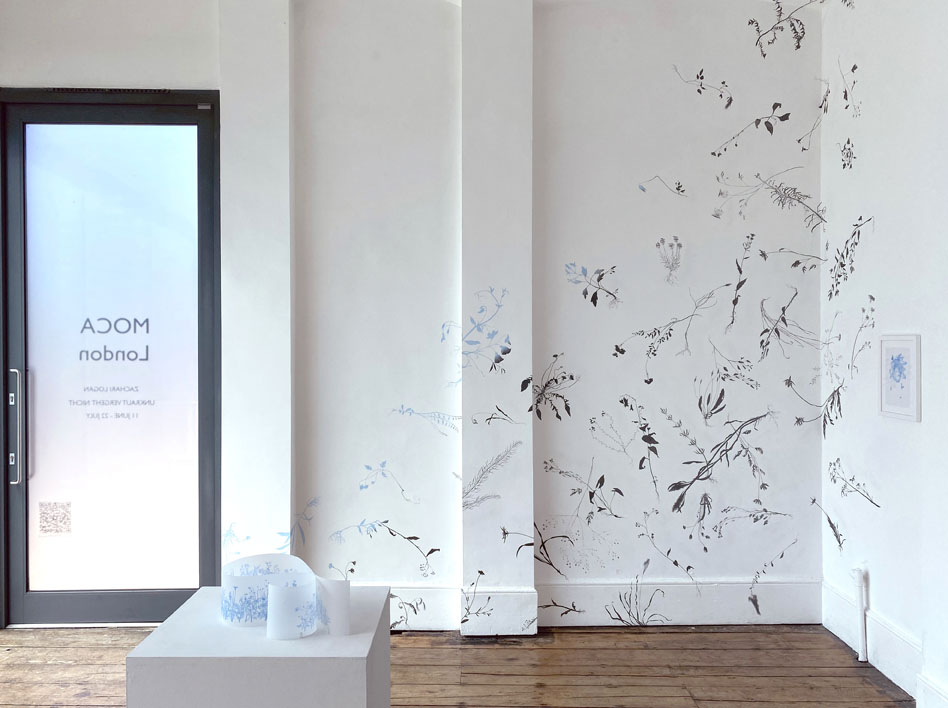 Installation, Unkraut Vergeht Nicht, MOCA London, London, UK. June-July 2023.
Image courtesy of the Artist & EKCO Projects.
Over the years of his practice, Zach shared that he has been asked many times why he is still in Saskatchewan. For him, Saskatchewan is home. The internationally recognized Canadian artist says the province has provided him with a home, family, and more importantly, time and space for his art.
"My husband and I grew up here, we have family. In Saskatchewan I have time, space and affordability," said Logan. "That's like an artist's gold."
Logan also believes that Saskatchewan was a much less accepting place while he was growing up. Zach acknowledges that there is still work needed to achieve true inclusivity and address issues like racism and sexism in Saskatchewan. He encourages young artists to be true to themselves and honestly say what they think needs to be said from their perspective in their work.
"When I was growing up, Saskatchewan was a much less accepting place of sexual diversity," Logan shared. "I never thought when I was growing up that I would be able to marry someone of the same sex, but that changed many years ago. But there is always room for improvement."