SK Arts launched a new program for underserved artists who are Black and People of Colour, collaborating with SaskCulture, the Multicultural Council of Saskatchewan (MCoS) and the wider BPOC arts community.
The Building Arts Equity: BPOC program, developed through participatory grant-making, will increase accessibility and connections to arts and cultural resources by people of colour, specifically of African, Black, Asian, Latin American, Caribbean, and Middle Eastern descent.
Starting in 2022, arts funders SK Arts and SaskCulture leaned on MCoS for their connections to the community — holding a series of consultations to determine what community members felt was most needed to support artists in the province better. The program mirrors just one of the needs presented through the dialogue — granting barriers faced by emerging artists who do not meet requirements intended for artists with more established practices.
At a launch reception in Regina, attended by the arts community and the media, SK Arts' Board Member Michael Afenfia, who contributed to the consultation before commencing his new position in October 2023, says the arts is 'no place for barriers.'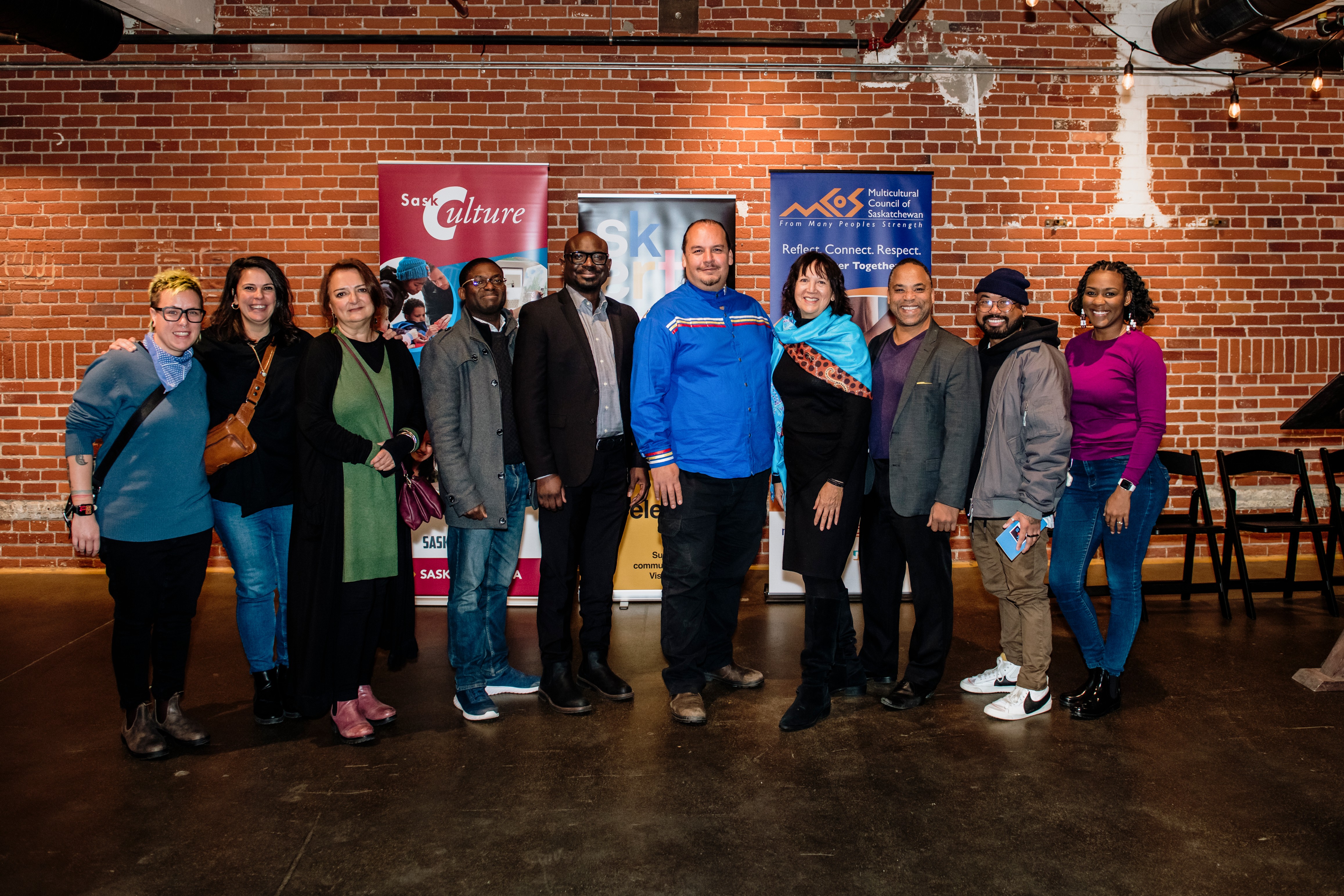 (L-R): Em Ironstar, Muveddet Al-Katib, Anahit Falihi, Dr. Taiwo Afolabi, Michael Afenfia, Damon Badger Heit, Carol Greyeyes, Chancz Perry, Eddy Alvaro, Shandean Reid at the Building Arts Equity: BPOC Program launch in Regina.
Addressing the entry barrier in particular, the Building Arts Equity program is for emerging artists and is reinforced a requirement for applicants, in addition to Black and or a Person of Colour, to have previously received no more than $10,000 in SK Arts funding before applying.
The new program is the second participatory grant-making program to be created and launched this year by SK Arts. Following deadlines in January and June this year, the Share and Connect: Indigenous Community Arts program was also developed in consultation with the community.
Canadian Ugandan writer Iryn Tushabe shared at the launch that the program is "exactly what is needed to support emerging artists with little to no experience to become professional writers qualified to apply for mainstream grants."
Visual artist, Patrick Fernandez said, "This program brings significant value to artists and the community the artists represent."
Despite elation surrounding the arrival of the program, the funders have acknowledged that the new program is no one-and-done solution, but rather, a first step in learning and going forward while trying something new. Carol Greyeyes, policy and planning advisor for SK Arts described the process as "building the bridge while we are standing on it."
Damon Badger Heit, supervisor, partnership and inclusion at SaskCulture says collaboration at the grassroot level is crucial to building a bridge between arts funders and the community.
"When you sit in a circle, no-one sits higher than anyone else; we're all there contributing and looking at something that we are trying to improve. Lots of different conversations happened to make this program possible." said Badger Heit.
The Building Arts Equity: BPOC Program has two annual deadlines, February 1 and July 1. It is supported by funding from Sask Lotteries through the partnership between SK Arts and SaskCulture Inc.