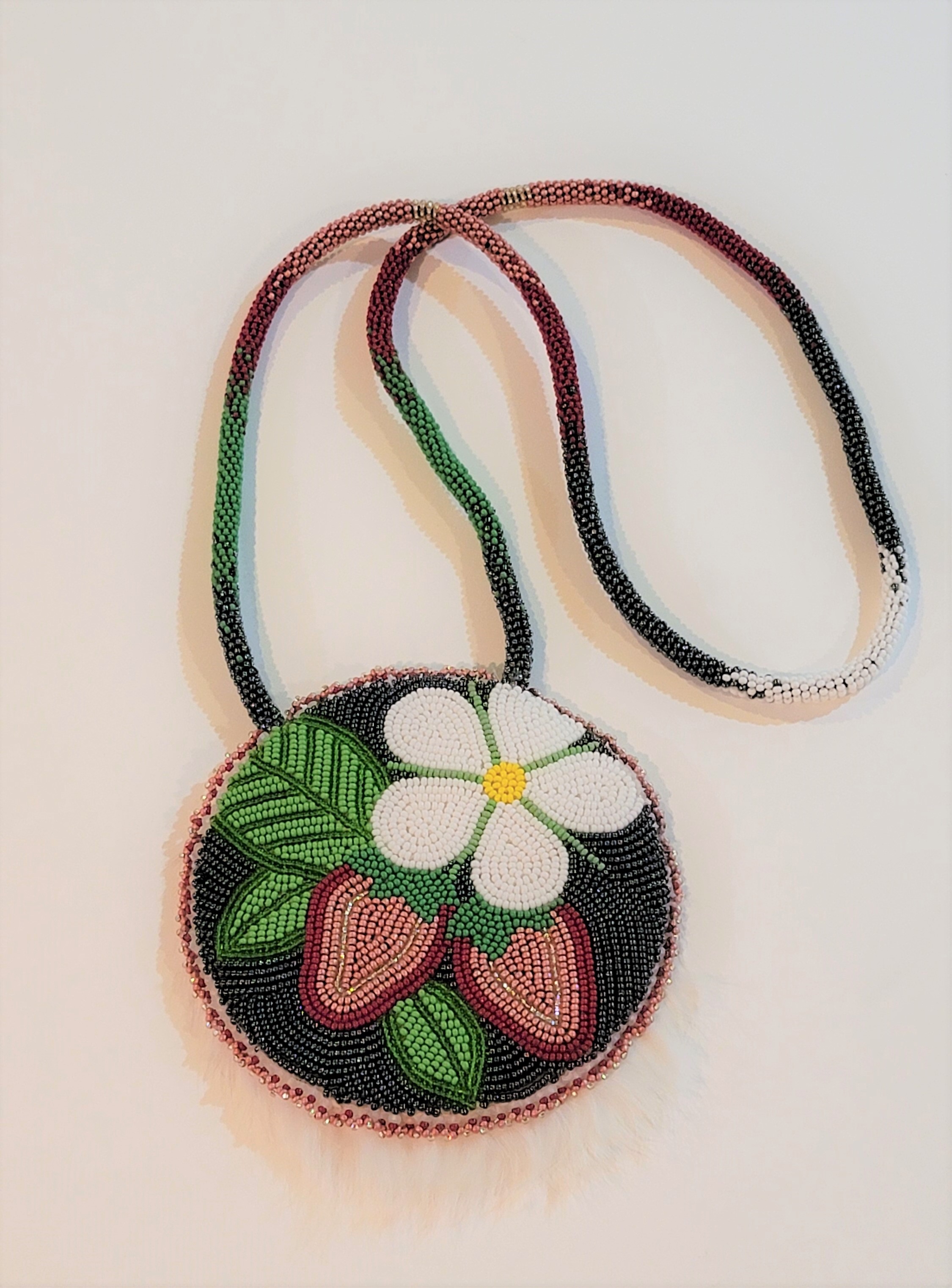 SK Arts recently purchased 31 pieces of Indigenous craft work for our Permanent Collection.
2 min. read
In fall 2021, the SK Arts Permanent Collection put out a call to purchase Indigenous craft work, with the goal of complementing objects purchased through the 1970s. We purchased 31 objects – everything from clothing to jewellery to quilts.
A set of beaded wall pieces was purchased from Jordy Ironstar, a Two-Spirit Nakoda Oyadé and member of Céǧa K'ína (Carry the Kettle) who lives in Saskatoon. Nehiyaw-Pwat features a war pony, tipi and buffalo. "The project has two meanings. The first is the alliance between the Cree and Nakoda people here on the plains. The second is about my personal relationship to the land on Treaty 6 territories, as a Nakoda person," he says. Ironstar is proud to be in the Permanent Collection. "It feels great for my work to be recognized."
We also purchased birch bark bitings by Elder Sally Milne, who grew up on a trap line near Stanley Mission and now lives north of Saskatoon. She learned the art form from her grandmother at the age of five. She says that birch bark biting almost disappeared completely when her own generation was sent to residential school. Today Milne passes her knowledge on to youth in her community. She notes that Indigenous people consider birch bark biting a unique art form, but some people don't see it that way. "Having it in the Permanent Collection may make a difference and help them get past that," she says.
A set of dolls was purchased from Elaine McArthur, a member of the Ocean Man First Nation who lives in Regina. She has sewn her own regalia since she was tall enough to reach the pedal on her mother's machine. McArthur remembers how her father used to stand on the pow wow dance floor and encourage the kids to dance when they were feeling shy. After he passed, there was no one for the younger generations to turn to. McArthur's solution was making "buddies" with whom the children could dance. "It started out as a thing for the grandchildren in our family. To see it being recognized as art is a huge accomplishment," she says.
Another piece purchased was Heartberries – beaded medallion by Stacey Fayant of Regina. Her medallions and beaded jewellery are often big and bold. "That 'extraness' in the medallions is giving back to ourselves and acknowledging we're worth a lot more than when we thought when we were young," she says. Fayant has asked that her medallion be worn and that the fur on the back is blown on at least once per year to keep its spirit alive. "In Western museum practices things are put away and saved. With SK Arts honouring my wishes, it feels like it's more than just being collected. It's being acknowledged as something important."