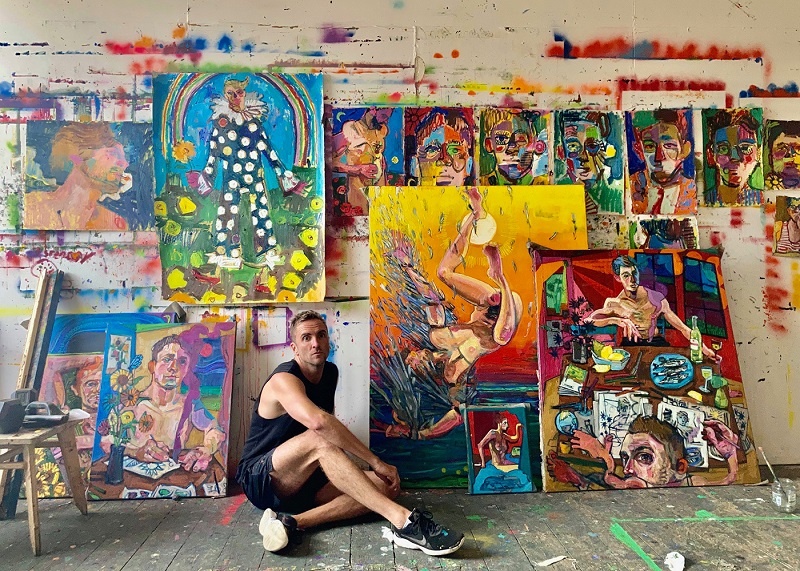 Internationally renowned artist Andrew Salgado's work has found its way home to the SK Arts Permanent Collection.
3 min read
SK Arts recently purchased a major work from internationally known Saskatchewan-born artist Andrew Salgado. While he's lived in London, England, since he completed his MFA at Chelsea College in 2009, Saskatchewan holds a very special place in his heart and his art. "I've always been very proud of being from Saskatchewan, and I love coming home. It comes up in my art and in the titles of my work; I dream about it," he says.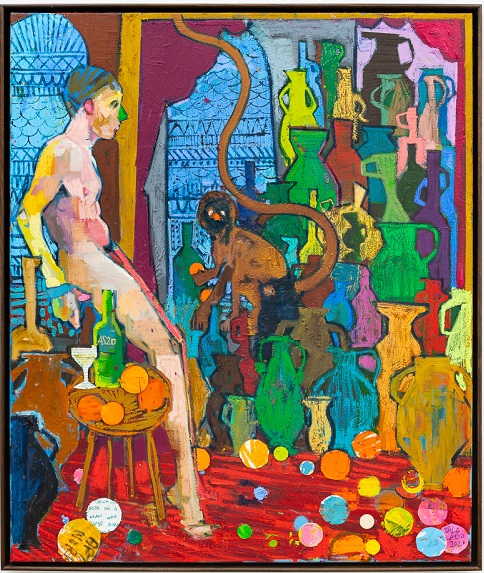 The new acquisition, Fool on a Hill, is a mixed media collage depicting a nude male figure with a marmoset peering directly at the viewer. The primate lends the piece a sense of levity. "I've always strove for a bit of humour in the work," Salgado says. The painting was completed in 2020 for his solo exhibition, Strange Weather, in London, England. "I submitted a few others for consideration for the collection, but I was hoping this was the one they would go for."
Salgado's work has evolved since more than 10,000 people saw his acclaimed solo exhibition, The Acquaintance, at the Art Gallery of Regina in 2016. "I felt I wanted to switch my work and made a slow and gradual growth away from portraiture," he says. "It allowed me to be more of myself on the canvas. I had more fun and felt more challenged by the work." He notes that the figure is still there, but the portraits are more encoded and abstract.
Salgado has had 13 sold-out solo exhibitions in Europe, Africa, the United States, Mexico and Canada. In 2013, he received the SK Arts Emerging Artist Award and in 2017 was the youngest artist to receive a survey exhibition at the Canadian High Commission in London. Salgado is regarded as one of the UK's leading young figurative painters and has been featured in GQ, The Evening Standard, The Globe and Mail and Macleans.
Right now he is working on a show in New York for March 2022 called Four Seasons in a Small Room. He is also working on a memoir, which he hopes to publish, "It's the same as paintings – you create a work and hope it has life somewhere. You march forward blindly and hope there's light at the end of the tunnel." Reflecting on his life has led him to incorporate more prairie imagery into his work. "I've been painting canola fields a lot!" he says. "I spent 21 years in Saskatchewan. It will always be a part of me."
Having his work purchased by the Permanent Collection is very special to Salgado. "It means a lot to have the recognition from my province, to be recognized by the industry I grew up in. It's closer to the heart than putting a piece in a collection in, say, China, for instance. It feels powerful to have that recognition from home."