The recipients of the 2014 Lieutenant Governor's Arts Awards were presented at an event on Tuesday, October 28, 2014 in Saskatoon.
Presented by the Arts Board, these awards celebrate the contributions and achievements of individuals, groups, and organizations in all arts disciplines.
---
Lifetime Achievement
Sponsored by the Saskatchewan Arts Board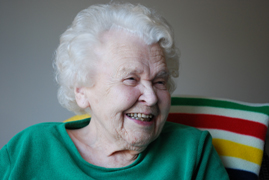 Thelma Pepper (Saskatoon)
Born and raised in Nova Scotia's Annapolis Valley, Thelma was introduced to photography at a young age by her father. However, her internationally acclaimed career did not begin until a rekindling of interest in her late 50s.
After graduation from Acadia University and the completion of her graduate degree in botany at McGill University, Thelma and her husband, Jim, moved to Saskatoon in 1947.
Once her four children were grown, Thelma volunteered at a local nursing home. Inspired by the residents' stories, she began documenting their lives through photography. This work, and the sentiment behind it, culminated in her first solo exhibition, Decades of Voices (1985).
Numerous exhibitions followed over the next 25 years, including A Visual Heritage, Places of Belonging and Untie the Spirit.
Thelma has achieved regional, national and international recognition for her skill in documenting the impact of locations and economic realities on individual lives. Her unique quality of building a sense of trust with her subjects, attained by listening to their personal stories and life challenges, significantly contributes to her photographic process. The resulting work poignantly reveals the inner, emotional and spiritual truths of her subjects.
Thelma's work has received many Canada Council for the Arts and Saskatchewan Arts Board grants, has been exhibited across the country, and is part of a number of significant collections including that of the Saskatchewan Arts Board.
Thelma has played a key role in fostering the development of the arts. The National Film Board's documentary, A Year at Sherbrooke, chronicles her ongoing leadership in the creation of arts programming for long-term care residents.
At the age of 90, Thelma launched the book Human Touch: Portraits of Strength, Courage and Dignity, which was shortlisted for book of the year at the 2011 Saskatchewan Book Awards.
Still passionate about producing significant work at age 94, Thelma's contribution to the artistic and cultural history of the province has been enormous. She is, and will continue to be, a true Saskatchewan treasure.
Photo by Gordon Pepper.
---
Saskatchewan Artist
Sponsored by PotashCorp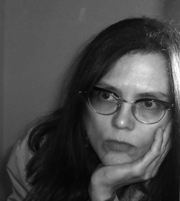 Sylvia Legris (Saskatoon)
An accomplished poet whose work both excites and challenges, Sylvia Legris is the only Saskatchewan writer ever to have won the prestigious Griffin Poetry Prize. Known for her vibrant style, her material captivates readers.
Sylvia is originally from Winnipeg and now lives in Saskatoon. She has published four volumes of poetry, the most recent of which, Pneumatic Antiphonal (2013), was published by New Directions Publishing in New York, one of the most significant literary presses in North America. Nerve Squall, her third book, won the 2006 Griffin Poetry Prize, the 2006 Pat Lowther Memorial Award and was nominated for a Saskatchewan Book Award.
She has been nominated three times for the Pushcart Prize, received three honourable mentions in the National Magazine Awards and has won the Malahat Review Long Poem Prize and the Banff Centre Bliss Carman Poetry Award.
In 2012, Sylvia received the Canada Council for the Arts' Victor Martyn Lynch-Staunton Award for outstanding artistic achievement by a mid-career artist in writing and publishing.
Sylvia's poems have been published in many journals including: The New Yorker, Poetry, New American Writing, and The Capilano Review. As well, her poetry has been anthologized in Best Canadian Poetry 2013, The Arcadia Project: North American Postmodern Pastoral and The Griffin Poetry Anthology 2006.
In addition to her work as a poet, Sylvia was editor of Grain Magazine (from 2008-11), virtual poet-in-residence for Arc Poetry Magazine (from 2013-14)and is a contributing editor for Cerise Press (USA/France). Sylvia has also enriched and influenced Saskatchewan's arts community as a mentor, teacher, juror and interdisciplinary collaborator.
Photo courtesy of the artist.
---
Emerging Artist
Sponsored by Her Honour the Honourable Vaughn Solomon Schofield, Lieutenant Governor of Saskatchewan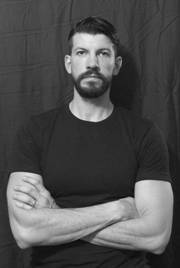 Zachari Logan (Saskatoon)
An outstanding emerging artist, Zachari Logan is already making his mark both at home and abroad. Through large-scale drawing and ceramic installation, Zachari explores masculinity, identity, memory and place.
He was born and raised in Saskatoon and received a bachelor of fine arts in 2004 and master of fine arts in 2008, both from the University of Saskatchewan. Also in 2008, Zachari's work was included in Flatlanders, an exhibition of emerging prairie artists. His work has since been shown in solo and group exhibits across Canada, the US, the UK, Austria, France, Greece, Spain, Germany, the Netherlands and Mexico. He has been awarded several prizes, both in Canada and abroad and participated in residencies across North America and Europe.
Zachari's early work was done mainly in monochromatic graphite, oils or coloured pencil, exploring the male nude using his own body as subject matter. In 2011, he began using richly coloured pastels to illustrate tapestry-like flora and fauna overtaking his body. His body remains the catalyst but is no longer the sole focus, but rather he depicts the queer embodiment of nature, reflecting both landscape and historic motifs.
His art is included in the permanent collections of the Mendel Art Gallery, the Saskatchewan Arts Board and Leslie-Lohman Museum of Gay and Lesbian Art (NYC) as well as in a growing number of private collections around the globe. This year Logan has exhibited solo projects in both Vienna and London (UK). In February 2015, he will present his first solo project in a public museum in the US, at the Leslie-Lohman Museum of Gay and Lesbian Art.
Photo courtesy of the artist.
---
Leadership - Individual
Sponsored by North Ridge Development Corporation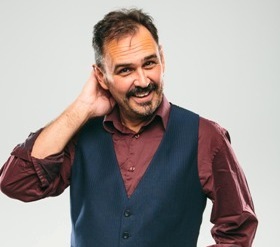 Angus Ferguson (Meacham)
Dedicated to growth and development of theatre in Saskatchewan, Angus Ferguson began helping to shape the skills of emerging performers when he was a young person, himself. At the age of 22, Angus began teaching first-year acting classes at the University of Saskatchewan, before he had even finished his own degree. Shortly after graduating, he directed Persephone Theatre's Youth Tour, igniting a life-long love for the creation of theatre.
After a number of years with Persephone, Angus became one of the youngest artistic directors of a professional theatre company in Canada, at Montreal's Youtheatre. On his return to Saskatchewan in 1991, he and his wife, Louisa, founded Dancing Sky Theatre in Meacham which was one of just a handful of professional rural theatre companies in the province. The theatre is committed to working with Saskatchewan artists from a range of disciplines and telling Saskatchewan stories. Angus' leadership has helped to develop new audiences for theatre outside urban centres, as Dancing Sky produces shows in Meacham and has toured its productions to more than 60 other communities.
Over the course of his career, Angus has directed more than 46 main stage productions, 33 of which were world premieres. He has been involved in creating 15 collective pieces, with many touring provincially and nationally, and has also directed for Persephone Theatre, Globe Theatre and La Troupe du Jour.
Angus' passion for both theatre and the province has inspired him to leverage the power of theatre to build bridges between rural and urban, north and south, and Aboriginal and non-Aboriginal communities through works such as Street Wheat and All My Relations - Wahkotowin.
Photo by Matt Ramage.
---
Leadership - Organization
Sponsored by TD Bank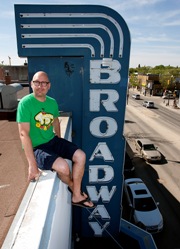 Friends of the Broadway Theatre (Saskatoon)
An innovative cultural hub in Saskatoon, Friends of the Broadway Theatre provides leadership and support to the arts community.
The Broadway Theatre was a privately owned film theatre from 1984 to 1993. When the historic art deco building closed that year, the local community banded together to save it, creating the non-profit, community-based organization, Friends of the Broadway Theatre.
The organization worked to attain charitable status, build local, provincial and national relationships and transition The Broadway from a niche film theatre to an active programmer and presenter of live artistic and cultural events. The Broadway aims to "educate, entertain and inspire" the more than 60,000 patrons who come through its doors each year, with diverse offerings such as music, theatre and dance performances, lectures and debates, and school, corporate and private events. About 15 per cent of the Broadway's audiences attend free events.
Over the past 21 years, Friends of the Broadway Theatre has increased the theatre's profile and has developed numerous partnerships, including with SaskTel Saskatchewan Jazz Festival, PotashCorp Children's Festival of Saskatchewan, CFCR Saskatoon Community Radio, MoSoFest, Regina Folk Festival, SaskMusic and the University of Saskatchewan. It has also developed relationships with Canada's largest entertainment agencies and producers, bringing performers such as Jian Ghomeshi, Buffy Sainte-Marie and Ron Sexsmith to the theatre's stage. This fall, The Broadway will host the internationally prestigious Massey Lectures series.
Thanks to the work of Friends of the Broadway Theatre, The Broadway is now firmly on the cultural map of Canada.
Photo by Greg Pender, The StarPhoenix.
---
Arts and Learning
Sponsored by Shurniak Art Gallery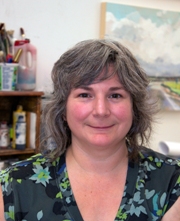 Heather Cline (Regina)
Creator of an innovative distance learning, arts education program for Grades 1 to 9 students from across Saskatchewan, Heather Cline is passionate about arts education.
In 2005, Heather created the pilot Artist in the School Distance Learning Program in collaboration with the Saskatchewan Ministry of Education and Regina Catholic Schools. The pilot used the Ministry of Education's Live Interactive Video Education (LIVE) distance learning satellite network.
The program has evolved into a permanent LIVE Arts offering, bringing professional artists into the classroom from a distance. The program offers teachers and students from across the province the opportunity to work with professional artists in the core curriculum areas of dance, drama, music and the visual arts.
Determined to ensure the program would be available across Saskatchewan schools, Heather extended the partnership to multiple Saskatchewan school divisions, working closely with new program partner, the Saskatchewan Arts Board.
In addition, Heather helped artists use the best methods to engage with children while working in front of a camera. To address issues of accessibility, Heather created a "TV Studio in a Box" technology kit to enable programs to originate from practically any school in the province.
The program has grown over time, such that in 2011-12 a total of 78 teachers and almost 4,700 students participated in LIVE Arts. In 2013-14, the program partnered with six Saskatchewan school divisions and hosted more than 35 broadcast programs.
While Heather retired as program manager in 2014, her work will continue to enhance student experiences as LIVE Arts grows and evolves into the future.
Photo by David Stanchuk.
---
Volunteer
Sponsored by SaskCulture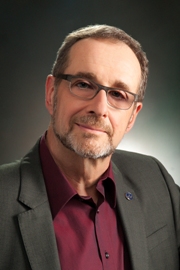 Richard Gustin (Regina)
A tireless supporter of arts and culture, Richard Gustin has played a critical role in the revitalization and ongoing development of the Yorkton Film Festival (YFF).
Despite the fact that he lives in Regina, Richard has been immensely involved in organizing and producing the Yorkton festival. Joining its board during a time of transition, he leveraged his television industry expertise and connections to help renew the festival. With Richard's assistance, YFF was able to strengthen its brand and secure new board members and programming support.
Under Richard's leadership as co-chair, the festival board implemented a clear vision to support the YFF and its mandate of celebrating great Canadian short films. This has resulted in enhanced sponsorship support, greater industry involvement and a sound plan that will help the festival build on its 67-year history and continue to grow for decades to come.
In addition to his strategic role, Richard helps with all aspects of festival organization, including programming, managing media interviews and shuttling delegates from Regina to Yorkton. He has sat on numerous arts and culture boards and committees in the province, including serving as president of the Regina Mandolin Orchestra and volunteering with the Regina Folk Festival. He has also served on the boards of the Association for Tele-Education in Canada, Canadian Television Fund, and Regina Arts Commission. In 2001, he received a certificate acknowledging his volunteer work, signed by the Prime Minister of Canada.
An artist himself, Richard has had his photography displayed in galleries and collections throughout western Canada.
Photo by Focus 91 Photography.
---
2014 Lieutenant Governor's Arts Awards Event Sponsors
North Ridge Development Corporation
PotashCorp
SaskCulture
Shurniak Art Gallery
TD Bank
Bradbury Branding and Design
Impact Printers
RAWK Entertainment
Tourism Saskatchewan
SIGA
Unisource
Andrew Peller Wines