Lifetime Award for Excellence in the Arts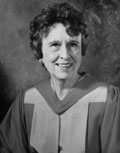 Marjorie Dunlop
Marjorie Dunlop, Chief Librarian of the Regina Public Library from 1948 to 1972, is credited with making the library one of the most progressive in North America. She initiated diverse programming which continues to evolve and grow. Her philosophy of inclusion, and a firm belief that art should be free and accessible to all led to the establishment of an art gallery in the Central Library. She embraced the arts as part of the repertoire of information formats available through public libraries. In 1972, the art gallery in the Central Library in Regina was named the Dunlop Art Gallery in her honour.
---
Lifetime Award for Excellence in the Arts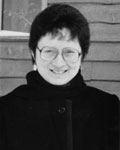 Caroline Heath
Caroline Heath is recognized for her work as a critic, editor, book publisher and writer. She was Editor of Grain magazine from 1973 to 1979. She worked to provide a forum for, and the exposure of writers from the Canadian Prairies. She assisted emerging writers through her critical assessments of their work, and presented writing workshops in small communities. In 1983, she started a book publishing company, Fifth House, which she continued to operate until 1988. A book of her selected poems, Why Couldn't You See Blue?, was published posthumously in 1994.
---
Lifetime Award for Excellence in the Arts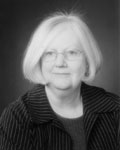 Ann Newdigate
Ann Newdigate is celebrated as an artist, educator, lecturer, adjudicator, mentor and writer. She was one of the founders of Shoestring Gallery in Saskatoon and played an important role in the re-organization of Blackflash magazine in 1997. She is internationally known for her tapestry work and her efforts to have tapestry recognized as an expressive medium equivalent to all other art forms. Her work has been widely exhibited in solo and group shows. In 1992, she was commissioned to design a tapestry for Ottawa's new City Hall, and in 1994, she collaborated in the design of a community tapestry for Prince Albert. She served as a member of the Saskatchewan Arts Board from 1992 to 1995.
---
Lifetime Award for Excellence in the Arts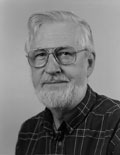 Nik Semenoff
Nik Semenoff is honoured for his accomplishments as an artist, printmaker, goldsmith, educator and inventor. He revolutionized modern lithography and invented a number of new printmaking processes, in particular the waterless lithographic process. His discoveries and research have been presented at international academic conferences, published in academic journals and outlined on a popular website. As an artist, his work has been commissioned and exhibited internationally, and has been included in major collections. He served as Artist-in-Residence and a member of the faculty at the Department of Art and Art History at the University of Saskatchewan.