Lifetime Award for Excellence in the Arts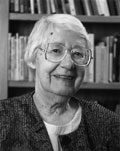 Elizabeth Brewster
Elizabeth Brewster is one of a handful of Canadian women poets who began publishing in the 1940's and 1950's and led the way for a generation that followed. She has inspired and acted as a mentor to countless students and new writers during her career as a professor of English and creative writing. She has written twenty books of poetry, short stories and novels, and continues to publish. Ms. Brewster was a founding member of The Fiddlehead, one of Canada's most respected literary journals. She received an honourary literary degree from the University of New Brunswick in honour of her achievements and contribution to Canadian literature, and has been named a lifetime member of the League of Canadian Poets.
---
Lifetime Award for Excellence in the Arts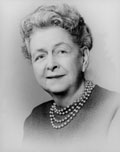 Mary Ellen Burgess
Mary Ellen Burgess was recognized across Canada as an outstanding drama director and adjudicator. She served as Governor and executive member of the Dominion Drama Festival for 10 years and was an executive member of Regina Little Theatre for 23 years. She reshaped high school in the province by initiating drama competitions in the late 1930's, helping add drama to the curriculum, and establishing province-wide drama festivals. Mrs. Burgess taught at the two Saskatchewan teachers' colleges and at the University of Saskatchewan. She wrote school radio broadcasts, a weekly radio program, one-act plays, pamphlets on play production and stagecraft, and newspaper articles. She initiated the Mary Ellen Burgess Drama Library, which contains over 7000 playscripts and reference books.
---
Lifetime Award for Excellence in the Arts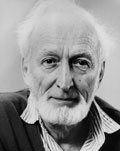 McGregor Hone
In an art career that has spanned more than fifty years, McGregor Hone's paintings and prints have been exhibited widely, and appear in many public and private collections. He studied with Ernest Lindner, Gus Kenderdine and Gordon Snelgrove, and frequently attended the Emma Lake Artists' Workshop. McGregor Hone's painting, By the Radio, was the first acquired for the Saskatchewan Arts Board's Permanent Collection in 1950. He taught at Central Collegiate in Regina from 1947 to 1979, and founded the popular "cenARTS" program there in the 1960's. He was a member of the Minister's Committee on Fine Arts in Education from 1976 to 1981.
---
Lifetime Award for Excellence in the Arts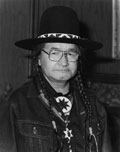 Allen Sapp
Saskatchewan Order of Merit, 1985
Member of the Order of Canada, 1987
Allen Sapp specializes in paintings depicting life as he remembers it on the Red Pheasant Reserve. His work has been exhibited world-wide and is included in many important collections. The Allen Sapp Gallery in North Battleford features his work from the collection of his mentor, Dr. Allan Gonor. Mr Sapp has remained steadfast in the retention of his Cree Language and cultural traditions. He is an important mentor for young aboriginal people, and has assisted many wishing to pursue a career in art or to explore their culture through art.
In 2003 Allen won a Governor General's Literary Arts Award for his illustrations in the children's book titled The Song Within My Heart.