Lifetime Award for Excellence in the Arts
Reta Cowley
Saskatchewan Order of Merit, 1990
Reta Cowley is celebrated for her numerous achievements and integrity as an artist and for her patience and sincerity as an exemplary and caring teacher. Reta Cowley studied art at the University of Saskatchewan Summer Art School and at the Emma Lake Artist Workshop while she was teaching school herself. She also studied at the Banff School of Fine Arts for three years. Reta Cowley has had more than two dozen solo exhibitions of her work, while art collections across the country own her paintings. She also taught art for numerous summers at the University of Saskatchewan arts schools.
---
Lifetime Award for Excellence in the Arts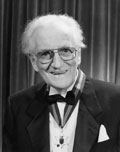 John V. Hicks
Saskatchewan Order of Merit, 1992
John V. Hicks is celebrated for his many accomplishments as a poet and the quiet craftsmanship of his words. He published no less than six poetry collections and a book on writing, as well as having work appear in a half-dozen anthologies, school readers and the Canadian Children's Annual. John Hicks lived in Prince Albert for more than half a century where he was an accountant, singer, choirmaster and organist. He received an Honourary Doctor of Letters from the University of Saskatchewan, an Honourary Fellow from the University of Emmanuel College, and maintained his love of steam locomotive and morse telegraphy throughout his life.
---
Lifetime Award for Excellence in the Arts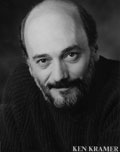 Kenneth Kramer
Member of the Order of Canada, 1988
Kenneth Kramer is celebrated for his single-minded dedication and years of artistic leadership in ensuring that the quality of live theatre in Regina would be second to none in this country. In 1966, with his wife Sue, he founded Canada's first fully professional theatre company for children, the Globe Theatre School Tour Company. Since 1974, the Globe Theatre has also offered an adult program of theatre. It was at the Globe that he achieved a reputation for excellence as an actor and director. Ken Kramer was given an Honourary Degree from the University of Regina in 1985 and the Globe Theatre was given the prestigious Vantage Arts Academy Award in 1984.
---
Lifetime Award for Excellence in the Arts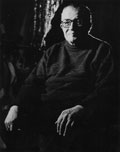 Jean Oser
Jean Oser is celebrated for his lifetime of contributions to the art of film as well as his development and enthusiastic encouragement of film apprentices and students. His film career has spanned over 60 years and both the European and North American continents. Born in France, he did significant film work in both France and Germany before moving to the United Sates in 1942. His film The Light in the Window won an Academy Award in 1953. He has taught film at universities and guest lectured at many festivals and institutions across Canada and the US. Jean Oser was made a Professor Emeritus at the University of Regina in 1989.
---
Lifetime Award for Excellence in the Arts
Anne Szumigalski
Governor General's Award for Poetry, 1995
Saskatchewan Order of Merit, 1989
Anne Szumigalski was a founding member of the Saskatchewan Writers Guild, the Saskatchewan Writers/Artists Colonies, AKA artist-run centre and GRAIN magazine. She has served as editor and mentor to many, written seven poetry collections, published in journals, magazines and anthologies, and collaborated on radio dramas and poetry projects. She has been recognized with Saskatchewan poetry awards, Writers Choice awards, Saskatchewan Book Awards and two nominations for the Governor General's Award for Poetry prior to receiving the award in 1995.