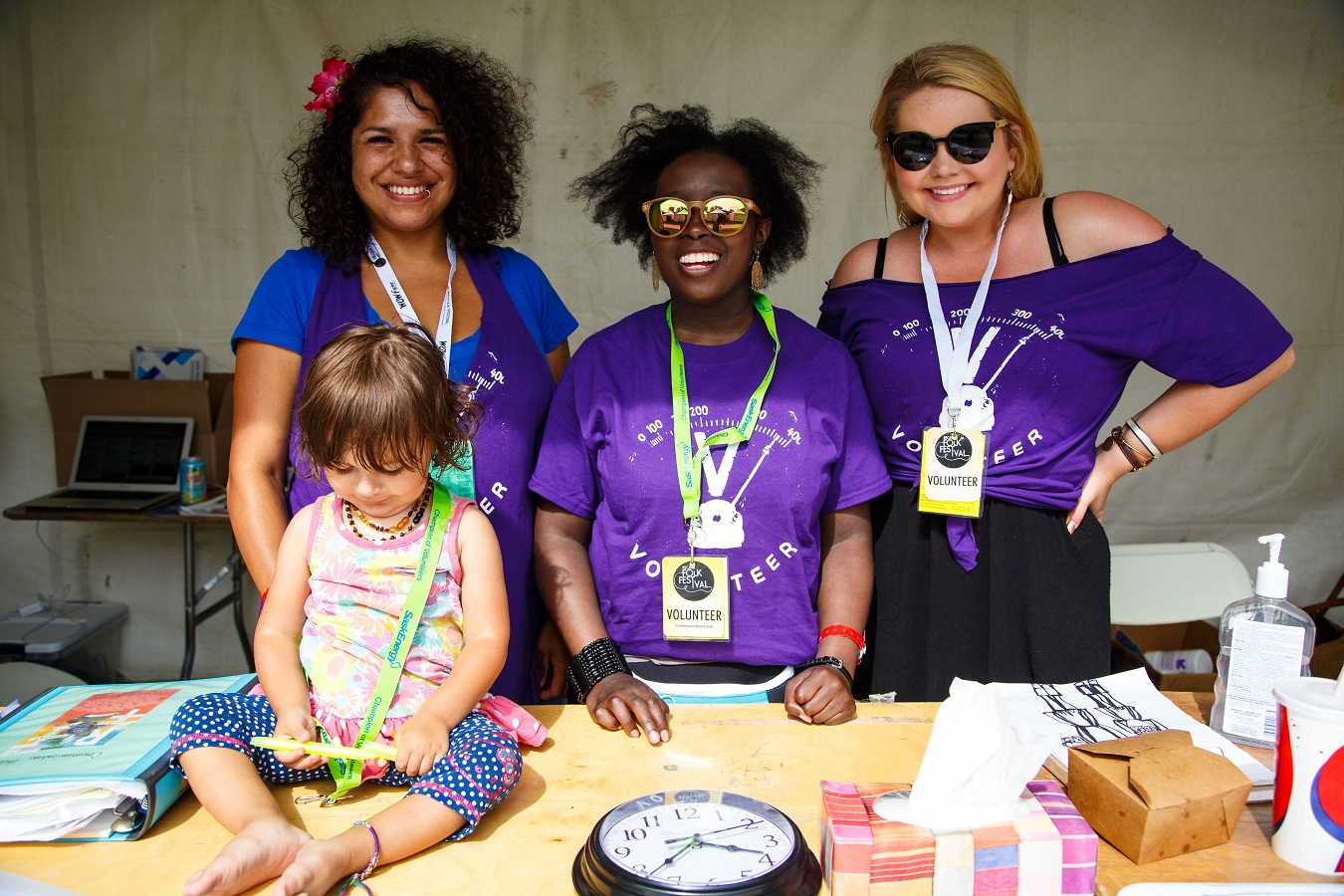 Over its more than five decades, the Regina Folk Festival has been reliant on more than 6,000 volunteers!
2 min. read
Jamie Anderson's involvement with the Regina Folk Festival (RFF) started when she was a small child. Her family would take her to concerts every summer. The tradition fell off until she was in Grade 10, when she attended with a friend. "I noticed there were lots of volunteers wandering around. I wanted to be part of that!" And she's been a volunteer ever since, serving on the Event Patrol Operations team, going on to be Team Leader, working as an unpaid intern for university course credit and eventually joining the board of directors.
Anderson is one of 700 dedicated volunteers who give of their time to RFF events each year. In the festival's 51-year history, more than 6,000 volunteers have been involved. There are about 35 different teams that do everything from selling tickets, helping people with seating, pouring drinks in the beer gardens and doing crafts in the children's areas. They even serve as roadies and crew and do electrical work behind the scenes. Melanie Metcalf, Marketing & Communications Manager for the festival, notes, "They are there before the gates open until after they close." Metcalf began as a volunteer and worked at the festival as a summer student before being hired on full-time more than a decade ago.
More than 20,000 people converge on Victoria Park in Regina for the daytime stages over the weekend of the festival, which is supported by the SK Arts SaskFestivals program, with 5,000 more each night for mainstage concerts. "We wouldn't be able to pull off an event of this size without volunteers," explains Artistic Director Amber Goodwyn. "It takes people who are clearly passionate about the folk festival and arts and culture to commit to making these events successful and thriving. It really is a community effort and reaches all the way back to our grassroots origins." Goodwyn began as an audience member and performer at the festival, playing on each one of the event's stages over the years.
There are a number of perks to being a volunteer at the folk festival: a weekend pass to see all the music for free, a Sunday night volunteer appreciation party, a T-shirt to modify in cool ways and exclusive access to the volunteer lounge. In addition, they become members of the organization, so they can have a say in its governance.
"It's also a way for people to gain professional experience in all ways of running an event," Goodwyn says. "Volunteers with organizations like ours usually return. People have a lot of agency in their roles; they can teach new volunteers and contribute to the overall experience of the festival."
She goes on to say that there are many volunteers who work in fields not directly related to the arts but who care deeply about music. "Volunteering is a way to engage in a tangible way with their passion. It's a cool way to meet performers, music industry professions and contribute to what everyone loves about the festival – this great community that comes together in the summer and throughout the year through other events."
Anderson encourages anyone considering volunteering for the festival to dive in. "You get to see how the festival is run from the inside and are involved from top to bottom. You will meet so many people in a community you're interested in and will see those same faces at concerts throughout the year, sharing your interests with each other."