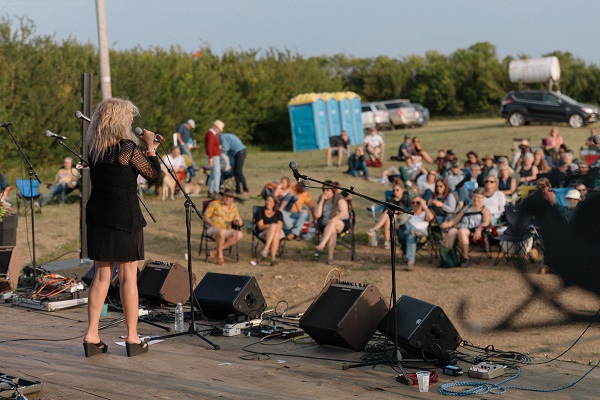 This small festival held in Willow Bunch is a labour of love for the Campagne family, who join with about 25 volunteers to bring bilingual music to their fans.
2 min. read
Annette Campagne's family has always been musical. She, her five sisters and her brother inherited their father's singing voice and performed together from a young age. As adults they went back to their family farm in Willow Bunch to fix up the place. They decided put on a show to christen their new deck. One hundred people showed up, and FarmFest/Terre Ferme was born.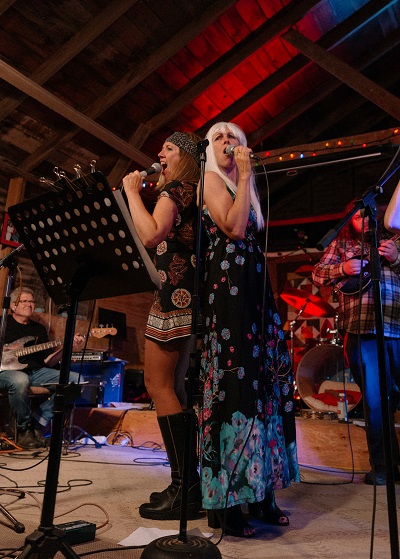 It is now an annual, artist-run music festival that highlights harmony (both musical and emotional), understanding and acceptance. "It's important to us that it's a bilingual festival. Father always taught us that singing is a way to keep our language and culture alive," Campagne says.
Fransaskois culture is represented on stage, where half of the performers are Francophone, and in the day-to-day organization of the festival, as French is the main language of communication. Around 75 per cent of artists are from Saskatchewan, with others travelling from across Canada to take part. The Campagne family always performs, alongside acts that range from classical to folk to funk to jazz.
"It's a unique festival that celebrates that Saskatchewan down-home feel, where it's like being part of the family," Campagne says. It's all made possible by the work of about 25 volunteers, who do everything from maintaining the grounds to preparing meals to taking care of the artists.
Now in its thirteenth year, the event is funded by a SaskFestivals Projects grant. It is still held on the farm, where people can camp out for the weekend. Dogs are welcome and have been known to run up on stage with the performers. "It's in a very beautiful, pristine part of the country. Our farm is an organic farm. We are trying to marry the organic way of doing things with our festival, our music," Champagne says, noting volunteers give tours of the farm's garden, giving tips on how to grow organic vegetables.
The event kicks off on Friday night with the Cheesy Song Social. "We get dressed up in funny costumes and sing cheesy songs. People love it, and they laugh. It's really fun," Campagne says. There are Saturday afternoon workshops and an evening mainstage show. Then the crowd piles into the granary-turned-hall for an old-tyme dance that morphs into a jam, with people singing until 4 a.m. Sunday morning features a pancake breakfast followed by the Gospel Morning Show.
The majority of the audience, which totalled 450 people in 2019, travels to Willow Bunch from more than 100 kilometres away. "Most people who come want to come back. My neighbour says he doesn't want the festival to be any bigger than it is – he wants it to be one of Saskatchewan's best-kept secrets. But it keeps growing every year," says Campagne.
The next generation of Campagne family singers now perform at the festival. "We like the fact that our kids are becoming great musicians in their own right. They have bands of their own now and they tour. They learned how to be on stage through FarmFest."