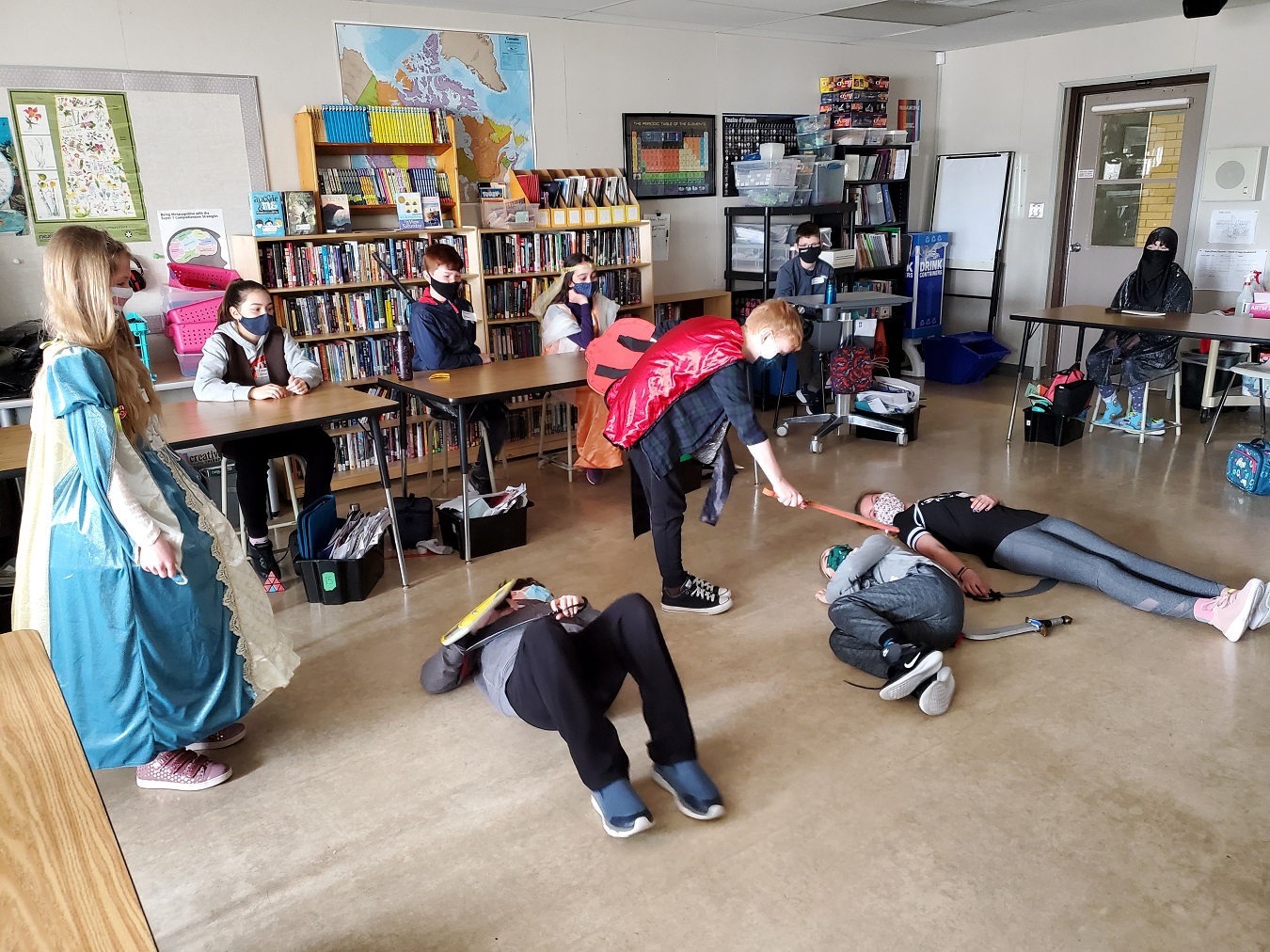 Up to 12,000 people take in the festival's shows each summer, and the company's Shakespeare Live school program reaches an additional 4,000 students.
2 min. read
Shakespeare on the Saskatchewan is well known for its performances on Saskatoon's riverbank, with up to 12,000 people taking in shows each summer. But the company, which receives SaskFestivals grants, also believes in bringing Shakespeare out to the people, especially to youth who may not be so keen on The Bard. The festival engages even the grumpiest of teens with its innovative Shakespeare Live program.
The free K-12 program brings two actors into schools. They go to each classroom, targeting activities to specific age groups. "They do a five-minute crash course on Shakespeare and then jump into doing a show with the kids," says Artistic Producer Will Brooks. "They'll just start throwing out name tags, little costume pieces and menu cards with lines on them, and they'll tell the story with the kids on their feet. It only takes about 45 minutes, and the kids have a blast."
He continues, "There are no inhibitions or worries about it, because they haven't had a chance for their brains to get in the way. They have no chance to say, 'I don't like or understand Shakespeare.' Before they know it, Shakespeare's words are coming out of their mouths, and they're telling the story."
The company has offered Shakespeare Live programming to communities of varying sizes across the province; actors have flown into remote Indigenous communities and have driven the ice road up north. "We've done it for English as an additional language students, families, adults, and on-site as a pre-show crash course in the play they're about to see," Brooks notes.
During the pandemic, Shakespeare on the Saskatchewan offered the program digitally. "It ended up being a real saviour for teachers who couldn't have anyone come into classrooms," he says. In a regular year, the program reaches up to 4,000 students. For the digital program, participation was "through the roof."
Brooks believes the program accomplishes everything a good outreach program should. "It's important for any arts organization to get out of its own skin, meet new people and invite new people to come in – for Shakespeare, in particular, because people are scared of it," he says, noting that "the program builds audiences for the future, it helps teachers teach better and it exposes artists to teachers and students. Students love it, teachers love it, we love it!"