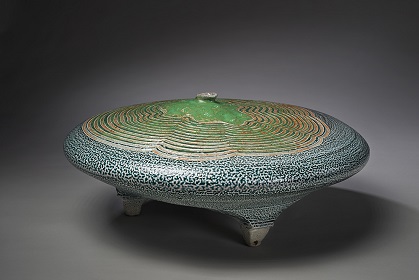 The Saskatchewan Arts Board is pleased to announce the addition of 44 new pieces of artwork – including ceramics, textiles, paintings and jewellery – to its Permanent Collection of Saskatchewan art and craft.
The acquisition consists of work by 28 emerging and established Saskatchewan artists: 17 pieces purchased by the Arts Board and 27 pieces donated by artists and art collectors. The work includes beaded mukluks by Catherine Blackburn (Leask), a glass bead and resin work by Ruth Cuthand (Saskatoon), a ceramic piece by Clint Neufeld (Osler), oil paintings by Ruth Pawson (Regina), and jewellery by Mary Lynn Podiluk (Saskatoon).
A full listing of new artwork is here.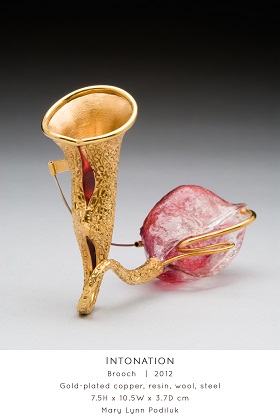 Anyone is able to submit work for consideration to become part of the Permanent Collection, either through the purchase or donation program. There are two submission deadlines each year: May 15 and November 1.
The Saskatchewan Arts Board's Permanent Collection is the largest, most comprehensive collection of Saskatchewan art and craft in the world. It includes over 3,000 works by more than 600 artists, and represents the work of our province's artists over the past six decades. Its goal is to represent the contemporary art practices of artists within the province for the purpose of public access.
The collection includes everything from paintings, drawings, textiles, prints, photographs and sculptures. This wide variety of styles and media demonstrates some of the diversity and talent of Saskatchewan artists. Artwork from the collection is frequently included in exhibitions throughout the province and country, is loaned to organizations, and is also rented to workplaces through the Arts Board's corporate Art Rental program.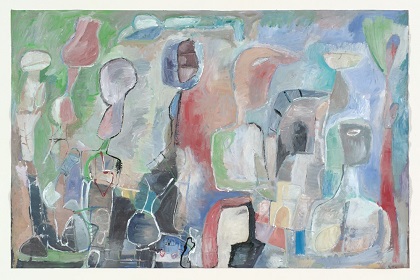 The Saskatchewan Arts Board was established in 1948 as the first agency of its kind in North America and second in the world to the Arts Council of Great Britain. In the decades since then, it has continued as a leader in Canada and builds on this strong tradition to meet ongoing opportunities for public investment in the arts community. The Saskatchewan Arts Board recognizes, encourages and supports the arts to enrich community well-being, creativity, diversity and prosperity.
Front page:
Karen Schoonover
Spot and the Shooting Stars, 1988
Acrylic on canvas
Photo courtesy of the artist
Top:
Mel Bolen
Untitled, 2012
Salt-glazed stoneware with stains and terra sigillata
Photo: Grant Kernan, AK Photos and Digimagiclée
Middle:
Mary Lynn Podiluk
Intonation, 2012
Gold-plated copper, resin, wool and steel
Photo courtesy of the artist
Bottom:
Alicia D. Popoff
Out on the Road: Summer Journey, 1990
Acrylic on canvas
Photo: Grant Kernan, AK Photos and Digimagiclée