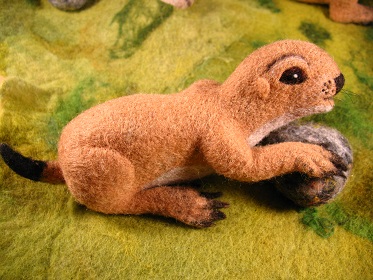 School children and other visitors to the 2015 Canadian Western Agribition participated in a hands-on art project led by felting artist Heike Fink. She, along with collaborating artist Laura Hale, guided visitors in the creation of individual felted pieces of art that became part of a larger installation called, Food-Chain. Each visitor was given a chunk of wool or pre-felt and had access to colourful wool fleece to lay out a design or create a small sculpture. The wool was then fixed and felted with a felting needle.
Fink and Hale worked with about 500 students and visitors per day during Agribition week, November 23 to 28, 2015.
Fink is a felting artist originally from Germany, who now lives in Prud'Homme, Saskatchewan. She started her craft and art career 12 years ago. She is self-taught and has learned the art of felting through experimentation, creating fibre art using the techniques of wet felting, needle felting and nuno felting. Her creations include animal sculptures and abstract and human figures, as well as a variety of functional craft items. Fink has facilitated felting workshops for children and adults, including Culture Days celebrations in Saskatoon. She also has a Master's degree in Education.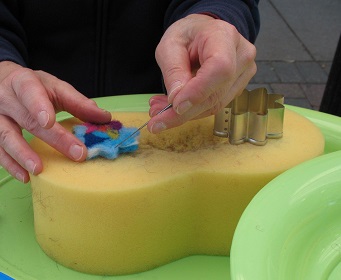 Hale is a place-based artist responding to location and the project. She creates objects and experiences that animate and respond to location, increasing awareness of surroundings and challenging the way we see familiar objects or places. Her art practice includes public art, outdoor and indoor site-specific installation, temporary and ephemeral land art, object making and community-based residencies. Hale grew up in Tisdale, Saskatchewan, and studied at the University of Regina and Emily Carr University in Vancouver, British Columbia.
This project is made possible through a partnership between the Saskatchewan Arts Board and Canadian Western Agribition.
Top:
Heike Fink
Perennial Prairie Partisans (detail)
Right: Needle felting
Food-Chain