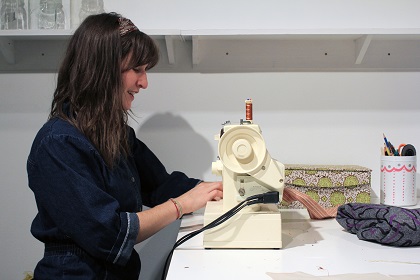 The Saskatchewan Arts Board invites visitors to the Queen City Ex to try to make the world's largest rag-rug!
Over the course of the fair, artist-in-residence Amber Phelps Bondaroff will work with people of all ages and skill levels to create an impressively scaled rag-rug out of recycled clothing and textiles.
Phelps Bondaroff will be working with hundreds of visitors each day in the Sask Arts Showcase, Arena 5, Co-Operators Centre, 1700 Elphinstone Street, Regina, from 12-7 p.m., July 29 to August 2, 2015.
Photographs of the growing rug will be posted daily on the Saskatchewan Arts Board's Facebook page.
Braided Rag-Rug Project
Rag-rugs have a rich folk history in North America and Europe. Fragments of clothing, sheets and even burlap sacks, too worn to be used for their original purposes, were often turned into rag rugs.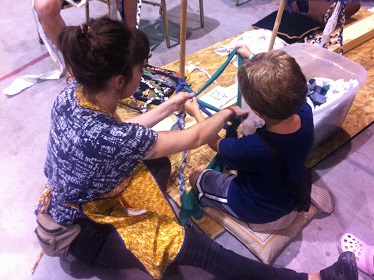 This project uses recycled clothing and textiles to create a large-scale, braided rag-rug. It is partially inspired by the work of American social practice artist Fritz Haeg, who created a similar large-scale rag-rug with members of the community in Minneapolis, Minnesota.
The process of making a rag-rug is relatively simple, yet time-consuming. The act of braiding a rug lends itself well to social interaction. The simple and repetitive braiding process facilitates dialogue among its makers. As the rug grows, it may also be sat upon while further braiding occurs. The braids within the rug do not need to be tidy or concise. The combination of many colours, textures and patterns makes for an intricate and aesthetically pleasing whole.
The many hands present at the Queen City Ex will help to create an impressively scaled rug over the course of the fair.
The Artist
Amber Phelps Bondaroff is an interdisciplinary artist, maker and spatial navigator, living in Regina, Saskatchewan. She crafts situations that encourage people to make and be together. The products are only as important as the relationships that are developed within these shared spaces of creative interaction. Her work strives to soften the rigidities of conventional social interaction. Amber works across many media, including: soft sculpture, costume, drawing, bookmaking, printmaking, music and film. There is a strong focus on re-use and re-imagining of materials throughout all of her work.
Born in Calgary, Alberta, Amber lived and traveled to many places around the continent and the globe before moving to Saskatchewan in 2012. She received an MFA in Intermedia Arts from the University of Regina in 2014, and a BFA in interdisciplinary fine arts from NSCAD University in Halifax in 2007.