A unique artist-in-residence program presented by the Saskatchewan Arts Board gives school groups and families visiting the Canadian Western Agribition an opportunity to participate in a collaborative artwork and learn about Saskatchewan's history.
Artist-in-residence Carol Morin invited visitors to spin a wheel of images from the province's history and create a one-of-a-kind art card about the moment they landed on. She then transformed the art cards into a three-dimensional buffalo (left).
Morin worked with up to 1,300 students and visitors per day at the Family Ag and First Nations Pavilion (Co-operators Centre, Arena 3) from Monday, November 19 to Friday, November 23 (10 a.m. to 4:30 p.m.), and Saturday, November 24 (10 a.m. to 4 p.m.). Photographs of the buffalo in progress are posted here.
Morin is a writer, artist, and storyteller, and a member of the Cree First Nation. Her visual art has most recently been featured at the First Nations University and Elsie Scherle Art Galleries. She has also been inspiring students as a touring artist with the Saskatchewan Cultural Exchange Society.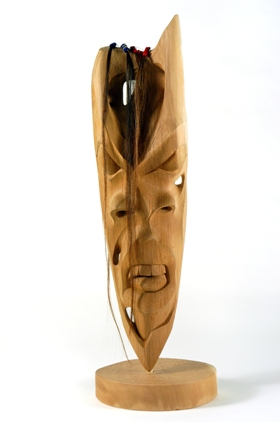 The Arts Board also presented a visual art exhibition at Agribition entitled Marking Time, which features Indigenous artwork from the Saskatchewan Arts Board's Permanent Collection, including painting, drawing, carving, stitching, and beading. The exhibit runs from November 19 to 24 (10 a.m. to 7 p.m.) and is located at the Arts Board's booth in the trade show area in the Agribition Building.
The artist-in-residence program at Agribition is made possible through a partnership between the Saskatchewan Arts Board and the Canadian Western Agribition.
Left:
Darren McKenzie
Righteous Apparition, 2005
Cedarwood, hair
Saskatchewan Arts Board Permanent Collection
Photo: University of Regina Department of Photography