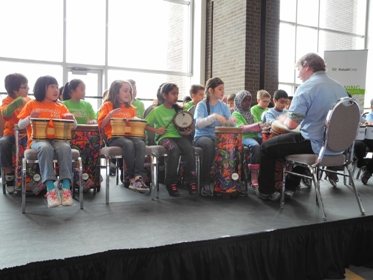 On March 16, 2012, PotashCorp announced $100,000 matching sponsorship for Creative Kids. PotashCorp is challenging organizations and individuals to sponsor Creative Kids in Regina and Saskatoon. From now until September 30, 2012, PotashCorp will match funds, dollar per dollar, raised in Saskatoon and Regina up to $50,000 per community. All funds raised will go directly to supporting art and cultural activities for youth facing financial and social barriers to participation. To find out how you can make a donation, please visit: www.creativekidssask.ca.
"Growing creative, culturally vibrant communities starts with giving young people opportunities to explore their creative talents," said Rhonda Speiss, manager of corporate philanthropy at PotashCorp. "We hope that our matching gift challenge will encourage others to support Creative Kids and open doors for children and youth interested in the arts."
Modeled after the successful KidSport™ program, Creative Kids removes financial barriers for kids who want to participate in activities such as learning a musical instrument, becoming part of a choir, joining a dance troupe, or exploring their creative potential through art or culture activity. This program has already made a difference in the lives of more than 240 kids in Regina and across the province.
"The support of Creative Kids has been a gift to our family, especially my daughter, who has been singing songs her whole life," said Marie Karner, mother of "Creative Kid" Simone Karner-Ashong. "The financial support received through Creative Kids and its donors has allowed Simone to study voice seriously. Simone loves to share her love of music with others, and the support of Creative Kids is helping her to do just that. The support is very welcome!"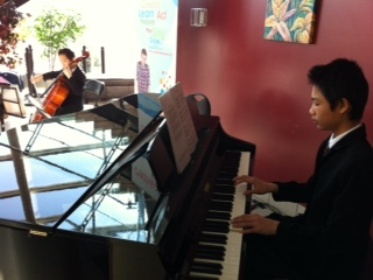 Creative Kids is a program of SaskCulture, which provides all of the administration and operation funding to the program. By receiving operation funding from SaskCulture, Creative Kids is able to direct 100 percent of all funds raised back to the families of children and youth who apply for funding to participate in quality art and culture instruction. This is the first program of its kind in Canada.
Please visit www.creativekidssask.ca or contact the provincial office toll-free at 1-855-277-9469 for more information on donation and sponsorship opportunities.
Above: Students from Marion McVeety School, along with teacher Brian Nenson, share a drum performance with the crowd at the Regina launch of Creative Kids.
Right: Ian Wang (piano) and Jerome Wang (cello) peform at the Creative Kids launch in Saskatoon.
Photos: Courtesy of SaskCulture