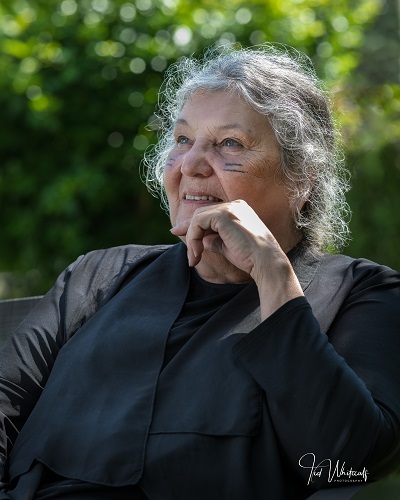 Maria Campbell, Saskatoon
Since Maria Campbell was born on a trapline in northern Saskatchewan in 1940, her life has been filled with story, ceremony, love and teachings. For more than 50 years Maria has been a courageous and tireless artist and advocate, and there are few areas of Canadian or Métis culture that have not been made better by her influence. Her contributions as an interdisciplinary artist continue to break ground for new and emerging artists, and she remains a formal and informal mentor and guide to a wide range of creators at every stage of their career. She champions youth and women's issues in all of her work.
Her memoir Half-breed sparked a revival of Indigenous literature in Canada, providing a voice and perspective that had not been heard before, and affirming the lived experiences of many Indigenous people. It is taught in many Canadian school curriculums and has been influential on an international scale. But Maria's impact goes far beyond her best-known work. Among other successes, her play Flight was the first all-Indigenous theatre production to win the Dora Mavor Moore Award and her script The Red Dress became a National Film Board film.
She is a powerful force in the Indigenous rights movement, and her efforts have been instrumental in the establishment of many cultural programs and organizations that are now considered to be institutions, including the Aboriginal Arts Program at the Banff Centre for Arts and Creativity. The recognition Maria has received reflects her contributions and includes six honorary degrees from Canadian universities, the Gabriel Dumont Medal of Merit and the Saskatchewan Achievement Award.
Photo by Ted Whitecalf