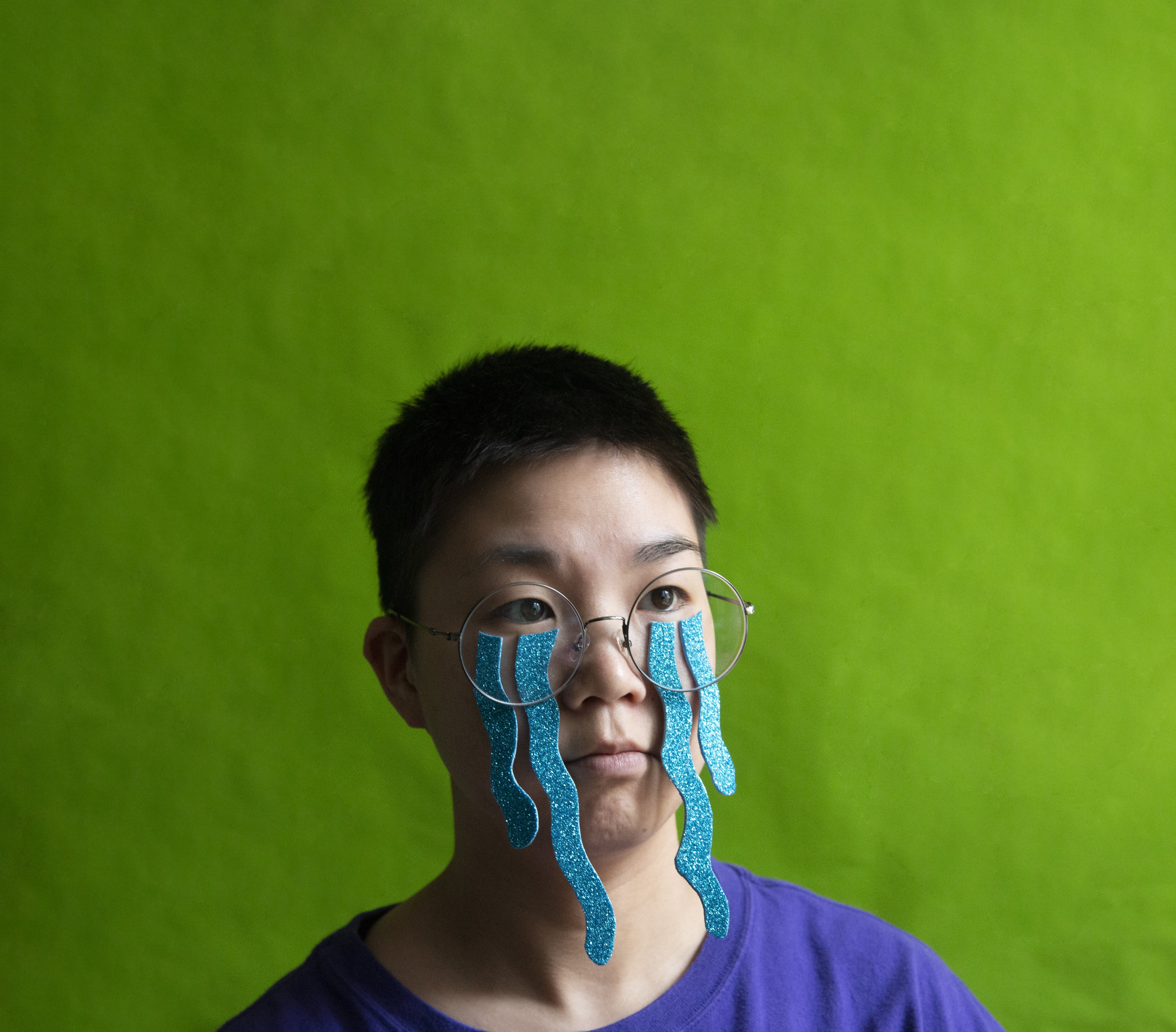 respectfulchild, Saskatoon
respectfulchild is a leading figure in the Saskatoon music scene and a multidisciplinary artist working with sound, performance, visual art and multimedia collaborations. Trained as a classical violinist, they use the violin in surprising and experimental ways, creating complex and distinctive soundscapes that have garnered critical acclaim. respectfulchild has performed in venues around the world, from Portugal and Germany to Hong Kong and Estonia, performing alongside artists such as Rae Spoon, A Tribe Called Red and Jeremy Dutcher. They have also been recognized with two Saskatchewan Music Awards, the Breaking Borders Award and Avant Garde/Experimental Artist of the Year.
respectfulchild has been a committed participant in many important collaborations with other artists. These collaborations speak to respectfulchild's practice and artistic ethics, which are rooted in community-building, conversation and nurturing relations. They are devoted to exploring the beauty and the tensions of their selfhood as a queer Chinese settler on the prairies. Their art reflects the seriousness of their commitment to truly grappling with the politics and relations of place and their understanding of their individual and communal responsibilities as an artist living as an uninvited guest on Treaty 6 territory. An artist of great courage and integrity, respectfulchild uses their public profile to advocate for justice and compassion.
respectfulchild has demonstrated a long-term dedication to the arts community, with a special focus on supporting and uplifting young artists and queer artists. They haved served as a workshop facilitator with Camp fYrefly and have been involved with Girls Rock Camp Saskatoon since 2015.
Photo by Lindsey Rewuski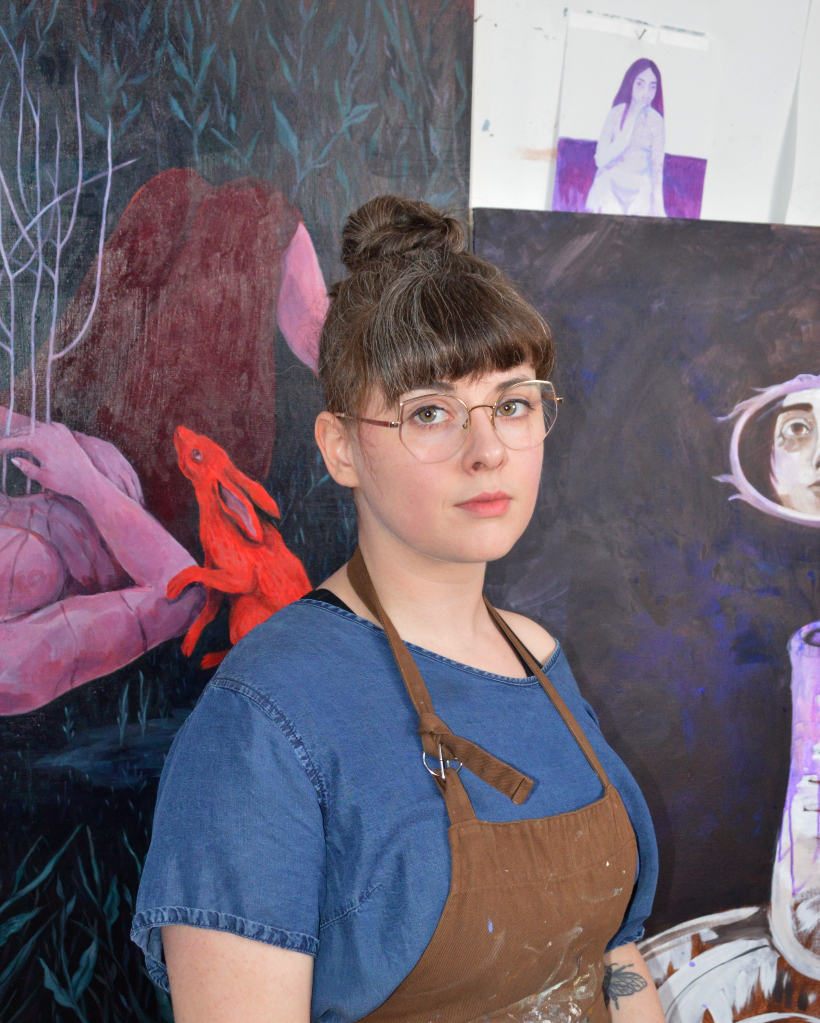 Maia Stark, Saskatoon
Maia Stark is a graduate of the University of Saskatchewan's MFA program, whose paintings and drawings are thoughtful, engaging, and technically well-executed. Since graduating in 2015, her body of work has grown even more complex and conceptually intelligent, drawing on her own experiences as a twin as well as her meticulous research into traditional folklore to produce art that is highly inventive, meticulously crafted and both disturbing and fascinating. She has also begun to work with clay, pushing beyond her primary medium and effectively translating the compelling, disquieting and uncanny nature of her paintings into three-dimensional form. Both her painting and her ceramics have been shown at commercial galleries in Regina and Saskatoon, and three of her paintings are a part of the SK Arts Permanent Collection.
Maia is generous with her peers, showing genuine interest and curiosity in their work and providing thoughtful and constructive observations and support for their projects. During her time as a student, Maia was an active and enthusiastic participant in all aspects of the department, volunteering her time and always seeking new opportunities to grow and develop as an artist and a person. As an instructor at the University of Saskatchewan, she has nurtured other young artists and helped them develop their skills and talents in drawing and painting. She is committed to Saskatchewan's art community, serving on the board of directors of ArtSpace, as well as in an ongoing capacity at CARFAC.
Photo courtesy of the artist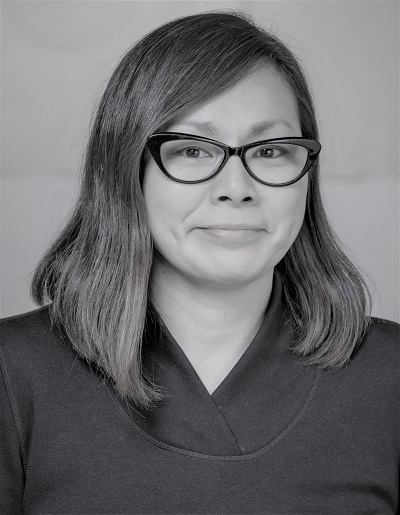 Hanna Yokozawa Farquharson, Saltcoats
Hanna Yokozawa Farquharson moved from Japan to Saltcoats with her husband and children in 2011. Inspired by the prairie landscape and the quilt makers in her local community, in 2016 she purchased a manual sewing machine and began making quilts and other textile art works that reflect the rich and nuanced local culture, blending imagery from rural Saskatchewan with the Japanese aesthetic qualities of wabi-sabi and mono no aware. The concept refers to a gentle sadness for the passing of life and the ephemeral nature of beauty, which is captured in her soothing and melancholy use of a neutral palette and the elegant simplicity of her patterns and stitches. Hanna's approach creates a sense of peace and calm in the viewer while also stimulating a conversation between Japanese and Canadian cultures, forging an intimate connection between the two places.
Hanna is an active participant in the Saskatchewan arts community, showing her work extensively and taking part in the CARFAC mentorship program. She also produces an Instagram series, Textile Tuesday, which demonstrates her process and creates an accessible space for the public to learn more about art and creating. Her quilts have been displayed in exhibitions and festivals around the world. One of her pieces received the Judge's Choice Award at the 2018 Festival of Quilts in Birmingham, England, and another was shortlisted in the Fine Arts Quilt Masters category. She had her first solo show at the Godfrey Dean Art Gallery in 2020.
Photo by Shawn Fulton