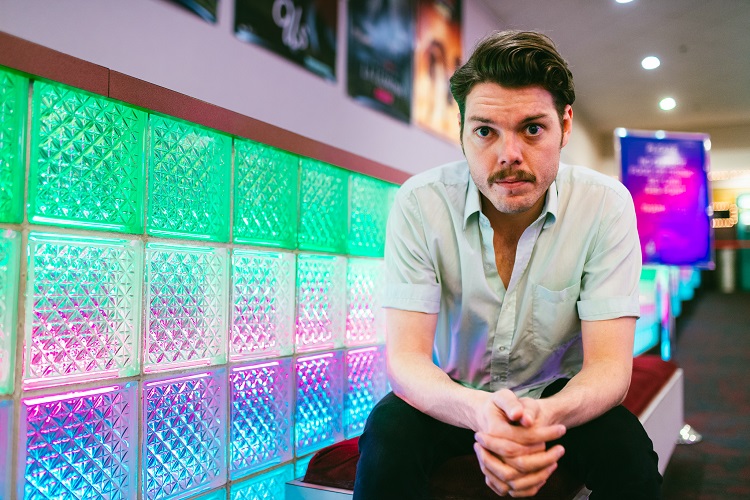 Étienne Fletcher was in the midst of writing a new French-language record when the COVID-19 pandemic reached Canada. He's now exploring how to write and record the album with his bandmates, Sean McCannell and Gaelan Malloy, via correspondence. "I am looking into purchasing interfaces for the guys, so we can all continue collaborating while in isolation."
Fletcher also recently received funding from the National Arts Centre to hold a bilingual Facebook Live concert on March 30, streamed from his band's rehearsal space. It's the first time he's done something like this. "People have been recommending that I get more involved in the online world. I feel this is a nice motivator for me," he remarks. "Maybe this is a new chapter for the public. If this drags into summertime, music festivals are not going to happen. I'm interested in seeing what we come up with."
Many artists who teach individual or group lessons have also gone online. Carmelle Pretzlaw, a violinist with the Regina Symphony Orchestra, has been using a combination of video chat and file sharing apps to teach in real time and send recordings back and forth with her students. She's found that teaching via video can be challenging. "It's a bit frustrating with the delays in the app. You can't really hear a good dynamic range – if they are playing quietly or loudly – as well," she notes. "It just takes some getting used to."
Dance companies are finding ways to continue to engage the public in movement and cultivate a sense of community during a time of social isolation.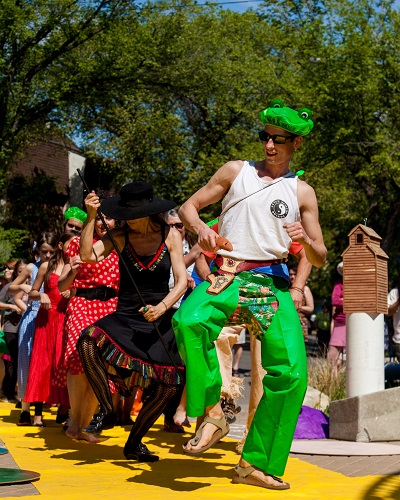 New Dance Horizons of Regina has had to postpone its spring Stream of Dance Festival and are unsure if this year's Secret Gardens Tour will take place in July as planned or be moved to August. They have also suspended all in-person classes and public programming. Artistic Director Robin Poitras is in conversation with artists and teachers, looking at a number of new and inventive ways to continue to engage with the public. She has met with local filmmaker Don List of Birdsong Films to explore how best to offer dance instruction and performances by distance. "New Dance Horizons has supported a community of artists and teachers for over 34 years, and we hope to be able to continue to support these individuals in perhaps new and inventive ways. To do this in an effective and timely way, we will need to invest in some technology and/or find partners who have these resources," she says.
KSAMB Dance Company in Saskatoon is safely hosting community dance events outdoors, with an appropriate number of participants who maintain the recommended physical distance from one another. These include Not Church Just Dance, a non-judgemental dance meditation, Tuesday Boogie, a non-judgemental dance party, and Friday Improv, a guided practice of improvisation technique. They are also experimenting with offering virtual and live-streamed activities.
"Right now, in particular, it's important to maintain a sense of connection and meaning in our lives. Staying active, of course, helps maintain physical and mental health, but there's something about dance that is special! It really allows us to feel vital and interconnected, in a broader, more generous way than say, pumping iron," says Kyle Syverson of KSAMB Dance Company. Miki Mappin, her co-collaborator, agrees. "It's been really heartwarming to see how the trepidation and uncertainty and even depression of dance participants disappear by the end of an hour of dancing, with social distancing but being in each other's presence. You see in their faces and their bodies a sense of joy and hope," she says.
If you are doing something unusual to reach your audiences during this time of social distancing, let us know at This email address is being protected from spambots. You need JavaScript enabled to view it. or use the Twitter hashtag #SKarts, so that we can help spread the word for you.
Photos:
Top: Étienne Fletcher. Photo by Brandon White
Middle: New Dance Horizons dancing down the yellow brick/canvas road toward Rapunzel's balcony at the 2015 Cathedral Village Arts Festival. Photo by Daniel Paquet
Video: KSAMB Dance Company takes its non-judgemental community dance events outdoors, observing a more than two-metre spacing between dancers to responsibly comply with health regulations. Buena Vista Boogie took place in a Saskatoon park in March 2020.