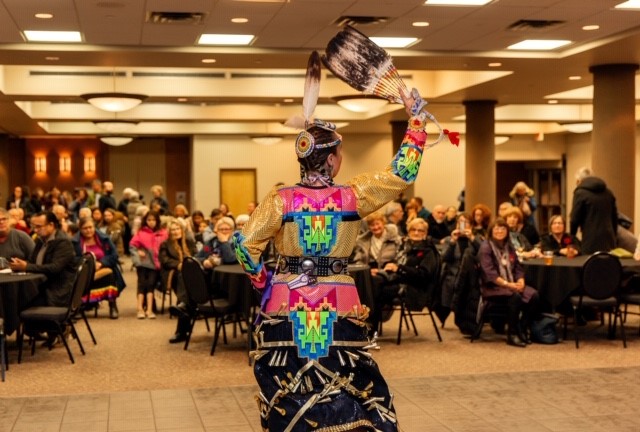 When Michael Thunderchild's Grass Dance regalia was stolen several years ago, he and his family were devastated. He has been dancing powwow his entire life, and it is an important part of his personal and cultural identity. His partner, Randi Candline, who also dances powwow and creates elaborate beaded regalia for herself and her family members, received an Indigenous Peoples Art and Artists grant to right the wrong. She wrote in her application, "Since [his regalia was stolen], he has hoped to return back to the circle and reclaim that piece of his identity as a dancer. For years now I have hoped to create beadwork for my partner, so that we could all dance together as a family."
Candline hadn't been able to sit down consistently with the regalia due to work, teaching, dancing and family responsibilities. Without the means to dedicate her time fully to the project, a set of regalia can take her about two years to complete. The Arts Board grant gave her the ability to create Thunderchild's regalia in six months, beading four to 10 hours a day.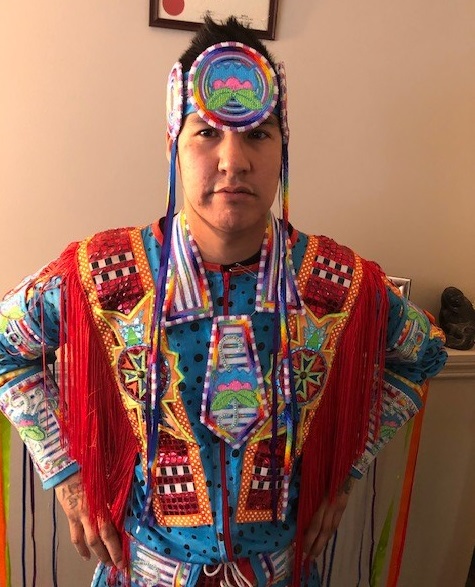 This was the first time Candline has created Men's Grass Dance regalia; she has only made ladies' and children's sets in the past. It's also the largest project she's ever undertaken, as it includes a headband, roach spreader, choker and tie, rosettes, cuffs, belt, side drops, harness and moccasins. The design was a joint effort between Thunderchild and Candline: he designed the florals, and she designed the background. "The background is very similar to my own beadwork but has its own twist. It keeps us connected but still keeps us individual, while we are a family dancing. My goal is to make a set for my daughter that is similar to her father's, so they have that connection when they're dancing, too."
Candline is self-taught in both media. She learned by listening and observing others who are dancers and beaders. "I have been beading since the time I was in high school, yet I am still learning so much with every project I complete or every time I dance, knowing that every time I try, I will learn through my experience."
In addition to being a labour of love, beading is a form of self-care for Candline. "Beading has helped me maintain my sobriety. With my beading, it's something I can do by myself, and when I was starting to make that transition of leaving behind alcohol, I could sit with my beads and that would occupy my time. I was content sitting at home and focussing on my work. Hours would go by, and I wouldn't have that itch to go out."
Both Candline and Thunderchild are the children of Residential School survivors. "Our parents had to fight to maintain the culture to pass it on to us. Both of us grew up with chaos and addictions in the home because of the Residential School. Doing this project was my way of breaking the cycle for our daughter, so we can continue doing cultural activities as a family, rather than watching her grow up in an environment where addictions and abuse are the norm. This allows us to do healthy activities together," she says.
With the huge accomplishment of creating Grass Dance regalia under her belt, Candline says, "If I am capable of producing this big of an art piece, then I know the sky will be the limit in any other future ventures I choose to go for. And hopefully we will grow as a family, as we will all be able to dance in the circle together, as one."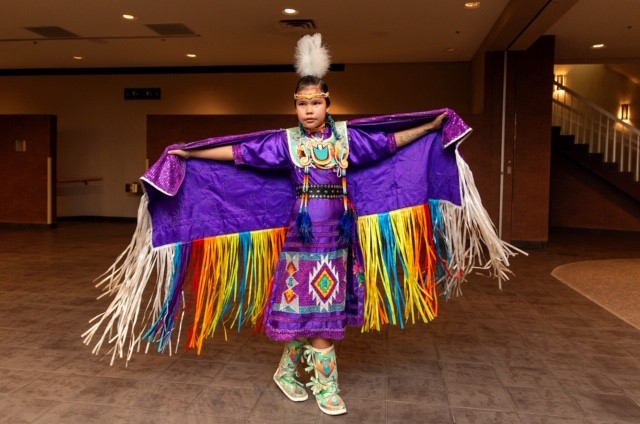 Photos:
Top: Randi Candline performs a Jingle Dress Dance.
Middle: Michael Thunderchild in his new regalia
Bottom: Thunderchild and Candline's daughter, Haedyn, dancing in regalia created by Candline
Photos courtesy of the artist