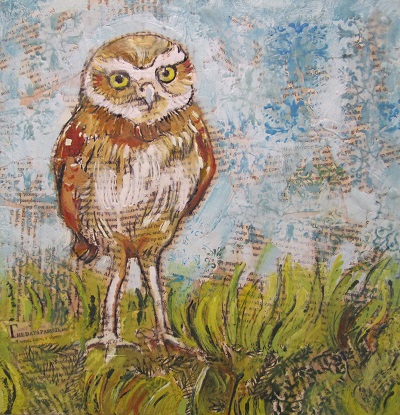 The next time you're in downtown Regina, be sure to swing by Mosaic Tower at Hill Centre III to check out Great and Small, our latest exhibition.
Great and Small features 14 artworks depicting animals. The pieces are from the Saskatchewan Arts Board Permanent Collection and were created over the last seven decades. Tigers, moose, a herd of elephant, fox, deer, birds and a burrowing owl are created in a variety of media, including painting, printmaking, stone carving, paper collage and wood carving. Artists are Jack Cowin, Lindsay Embree, Jane Turnbull Evans, Lorne Fineday, McGregor Hone, Ray Keighley, Monique Martin, Jacob McKenzie, Gerri Ann Siwek, Sam Spencer, Jan Wyers and Jane Zednik.
The exhibition runs from January 13 to April 13, 2020 and is open to the public. Mosaic Tower at Hill Centre III is located at the corner of 12th Avenue and Hamilton Street.
Gerri Ann Siwek
The Days Passed, 2011
Encaustic, collage, charcoal on wood
Photo: University of Regina