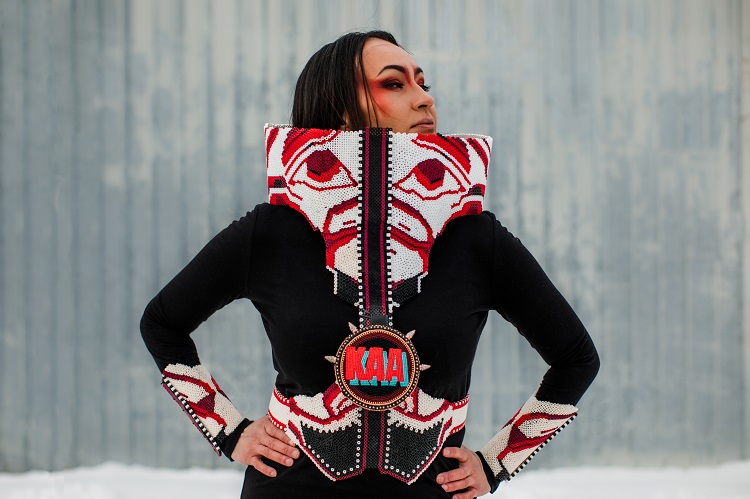 The Saskatchewan Arts Board has added 26 works by 15 artists to our Permanent Collection at the recent submission deadline. Two are pieces by Patuanak-born artist Catherine Blackburn, who was recently long-listed for the Sobey Art Award.
Armour, The Churchill Challenger, fwd. 2075 (fashion armour), and The Churchill Challenger (photograph) are from Blackburn's New Age Warriors series, for which she received two Independent Artists grants from the Saskatchewan Arts Board.
Through an innovative approach, she created garments by fusing together plastic beads, combining traditional Indigenous elements with futuristic style to create "new world armour". This armour gives Indigenous women both protection and strength in their resistance to be silenced and highlights the resiliency of Indigenous women, community and culture.
Each piece is based on a strong Indigenous woman in Blackburn's life. The inspiration for The Churchill Challenger is Blackburn's sister, Kristina Duffee, the post-secondary advisor for their family's English River First Nation band. Her armour includes a medallion that reads "KAA", which stands for "Kick-Ass Aunty."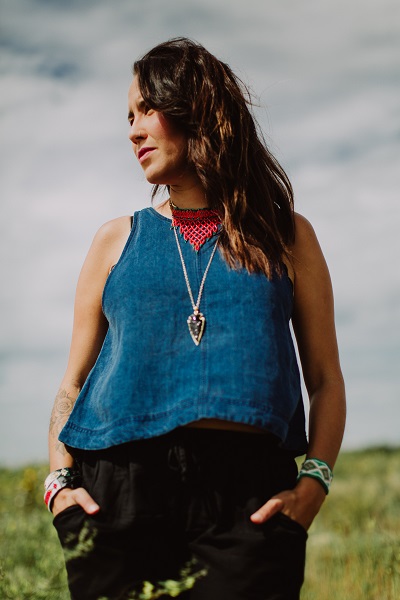 Blackburn says, "The idea behind her specific medallion is speaking to the roles of women in our community, specifically, and also our kinship ties in Indigenous communities. We have connections to everything living, but we also have ties within the constructs of family."
The work can be seen in the exhibition, New Age Warriors, which is on display at Neutral Ground in Regina until August 3, 2019.
Blackburn sees having her work in the Arts Board's Permanent Collection as a way of giving back to the community. "Saskatchewan has been the driving force behind my work. If it wasn't for the province and the funding that has stemmed from the province, I wouldn't have been able to solidify my career as an emerging artist," Blackburn says. "I didn't grow up on my reserve, my homeland, and I've always struggled for that tie to my community. For me, this body of work, in particular, speaks to that sense of community, and it's a way that I can give back and leave this lasting mark. That has happened now because it is in the Permanent Collection. It's a huge honour for me."
There are two submission deadlines for the Permanent Collection each year: April 1 and September 15. Anyone may suggest work to become part of our collection, either through purchase or donation/bequest. For the September deadline, we will make one large purchase, in addition to our regular purchases. A large purchase is defined as a single work within the price range of $12,000 to $20,000, although we may consider submissions of up to $25,000.
For more on making a submission to the Permanent Collection, visit https://sk-arts.ca/menu/art-collection/permanent-collection-submissions.html.
Photos:
Top: Catherine Blackburn's sister, Kristina Duffee, models Armour, The Churchill Challenger, fwd. 2075, 2018, plastic beads, plastic lace, nylon
Bottom: Catherine Blackburn
Photos by Sweetmoon Photography