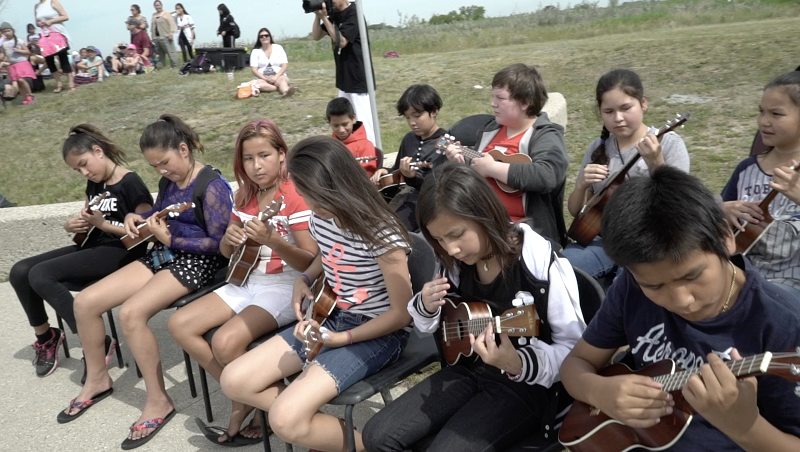 A school in Saskatoon received an Artists in Schools grant to create a ukulele rock orchestra.
3 min. read
St. Frances Cree Bilingual School in Saskatoon doesn't have any programs, equipment or space dedicated to arts education. Over the years they have received several Saskatchewan Arts Board grants to provide students with experiences in the arts. In 2014 the school received an ArtsSmarts (now Artists in Schools) TreatySmarts grant for a spoken word/hip hop project with Eekwol and artists from WriteOutLoud. They received another TreatySmarts grant in 2015 to partner with Gordon Tootoosis Nīkānīwin Theatre and playwright Curtis Peeteetuce on kiwek, a children's play about learning the Cree language. In 2017 an Artists in Schools grant funded students to create films with Marcel Petit on various Calls to Action from the Truth and Reconciliation Commission.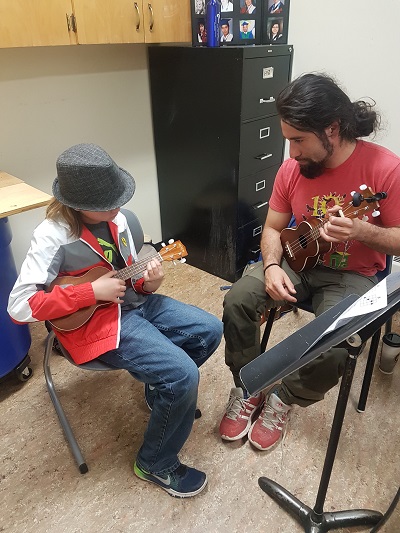 Their most recent project, funded by an Artists in Schools grant in 2018, is different than anything they've done before: the creation of a ukulele rock orchestra, Rockelele.
"Arts such as beadwork, drumming, jigging, sash weaving and pow wow hold high value to Indigenous students, but this is not the limit. Mainstream arts are also required. Indigenous students are entitled to both experiences. For this reason, we shifted directions from our typical art projects of the past. There is no focus on treaties or language. Students were engaged in Rockelele to open up new portals for creative expression," says St. Frances Aboriginal Student Achievement Co-ordinator Desiree MacAulay.
Every school day for close to a month, award-winning Chilean musician Felipe Gomez worked with Grade 5 students to teach them the ukulele, individually at first, then in small groups, and finally as a full ensemble. The students quickly progressed from strumming basic chords to playing full melodies. "Ukulele is one of the easier instruments to learn, because it doesn't require a lot of muscle strength or high levels of co-ordination. If you don't have a background in music, you can learn a lot in a short period of time," says MacAulay. Gomez agrees, "Ukulele gives the same satisfaction of playing an instrument like the guitar, but the learning curve is not as steep." The instrument is also more affordable than others; the school was able to secure a discount from Long and McQuade Music Store to purchase a set of 14 ukuleles for the class, so they could continue with the orchestra after the project was completed.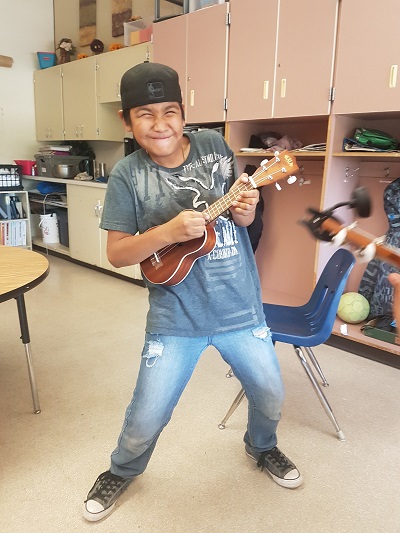 Students loved learning the instrument and interacting with Gomez. MacAulay recalls one girl whose character turned around during the course of the project. "She became so obsessed with the ukulele. She came to me every morning, every lunch and before she would get on the bus, just so she could practice it a little bit," she says. "It encouraged her in her academics and her whole overall attitude toward school. She didn't always connect with teachers before, but because she came around for the ukulele so much, we got to know her better. Now, she's really connected and likes to have a relationship with teachers and staff."
In the final week of the program, the orchestra performed at a school assembly and for a crowd at Wanuskewin Heritage Park on National Indigenous Peoples Day. "They did really good. I was more nervous than them," Gomez says.
The class also made a Rockelele music video (embedded below) as a legacy project. Says Gomez, "There are moments from when I was a kid that I wish I had a photo or a video, but the technology wasn't there. I feel like this is going to be one of those memories that, when they're 20 or 25 years old, they will run into each other and say, 'Remember when we did that project?'"
Artists in Schools is a Saskatchewan Arts Board program supported by funding from the Saskatchewan Arts Board, SaskCulture Inc. through the Saskatchewan Lotteries Trust Fund for Sport, Culture and Recreation, and the Government of Saskatchewan through the Ministry of Education
Rockelele Video
Photos:
Top: Students from St. Frances Cree Bilingual School perform at 2018 National Indigenous Peoples Day at Wanuskewin Heritage Park.
Middle: Felipe Gomez teaches a student how to play ukulele in a private lesson.
Bottom: A student enjoys the instrument!