Indigenous artists pass their art forms on to future generations.
4 min. read
Indigenous artists Margaret Harrison and Rosella Carney are working hard to ensure their traditional art forms will continue to be practiced by future generations.
Harrison learned Métis rug hooking from her mother and other women in her family, while growing up in a road allowance community in the Qu'Appelle Valley. The women made and sold rugs to nearby farmers to provide food for the family, as well as creating them for special occasions, such as weddings.
The local landscape inspired her family's rugs, which were typically made in floral patterns like those used in traditional Métis beading and embroidery. The women sorted and saved rags from old clothes until they had the right combination of patterns and colours to realize their vision. If more variety were needed, they coloured the rags using crepe paper or dyes made from local plants. "My mother could create something from nothing. Any kind of rug hooking is beautiful, whether it's a tweed coat or a tablecloth," Harrison says.
Now living in Zenon Park, Harrison believes she is the only Métis artist from the Qu'Appelle Valley who still practices the artform. "I continue to make these rugs so that I can help to preserve and promote this history and Métis artistic traditions, but also so I can help pass on this art to young people and the next generation."
Harrison conducts workshops throughout the province at schools, events such as the John Arcand Fiddle Fest and the museum at the Batoche National Historic Site. She received an Indigenous/Métis Art and Artists grant to create a multimedia manual for rug hooking, to be published by the Gabriel Dumont Institute. "I am often asked during workshops for handouts that students can take home. I have found that workshops are never long enough for students to learn more than the basics of rug hooking. Creating a how-to manual provides ongoing support, tips and techniques for new rug hookers, as well as provides a history of Métis rug hooking," she says.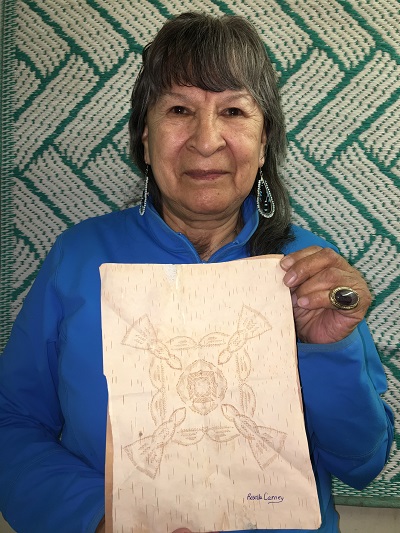 Carney is a Cree language instructor and cultural teacher in La Ronge. In 1989, she invited an elder into the classroom to teach students about birch bark biting. She was captivated. The elder gave her a piece of birch bark and taught her how to fold it and make patterns by biting it with her canine teeth. "I started by doing birds, bees, butterflies – nature stuff. I went from there and got addicted to it, and I've been doing it ever since," she says.
There are very few people who practice birch bark biting, so Carney makes an effort to teach it across the province, to everyone from children to elders. "I want to pass on the tradition, so it won't be a dying art," she says.
One of the biggest challenges of birch bark biting is harvesting the bark. It must come from the white birch tree and be picked in the spring, after which it is stored in plastic bags, so it doesn't dry out over the fall and winter. "It's a lot of work, but I look forward to the joy of making designs on it, so I don't worry about how long it takes to pick or prepare it," Carney says.
An Indigenous Pathways Initiatives grant meant she could hire others to help with the sometimes dangerous task of harvesting bark in the forest, and it also enabled her to conduct workshops at northern Saskatchewan schools.
She enjoys teaching the youth and watching them get excited about their creations. "They just love it. When they make a biting and open it up, they're overjoyed because they see something that seemed kind of impossible for them to do it in the first place. Some people say it's magic. But it's not magic. It's just the joy of creating an artwork on a piece of birch bark."
Carney says that the process of birch bark biting is also meditative. "It's good for the mind. It relaxes you. All you're thinking about is what kind of design you're going to make," she says.
Her students are now teaching the art form to others across the province. "It's going out, and it's spreading. I'm happy about that," she says. The bitings also create income for artists, who sell them to people looking for unique gifts for their loved ones.
"I'm still doing birch bark biting, and I will continue to pass it on," Carney says, noting she has been teaching her children, grandchildren and great-grandchildren. "When they learn, they can pass it on, so they don't lose the tradition. It's the same thing as language – language and tradition are dying – we need to keep it up, keep it going and pass it on to the next generation."
Photos:
Top: Margaret Harrison teaches a workshop on Métis rug hooking. Photo by Donna Heimbecker
Bottom: Rosella Carney with one of her birch bark bitings. Photo courtesy of the artist