An Arts Board grant enabled students and community members in Midale to participate in cultural and artistic experiences.
3 min. read
Located midway between Estevan and Weyburn, Midale has a growing population of 600, but its small, rural school has limited resources to focus on arts and culture. An Artists in Schools grant enabled Midale Central School to bring in artists-in-residence to provide inspiring cultural and artistic experiences.
The grant enabled two month-long residencies in 2018: one by Simple with a Twist, a Weyburn company comprised of mother-daughter team Heather van der Breggen and Rickee-Lee Webster, who focused on mixed media and expression through visual art; and the other by Regina Beach Indigenous multidisciplinary artist Carol Rose Daniels, who brought a mix of traditional performing arts and culture into the school.
"They worked with students and staff and participated in the community, bringing arts and cultural experiences not only to our school but to families and community members in Midale," says principal Cathy Harvey.
The project culminated in a public art night, where students displayed their visual artwork, including a star blanket, played traditional Indigenous drums, and sang and danced. They also served the bannock they had made with Daniels at a community workshop the previous night. The event was a hit among students and audience members.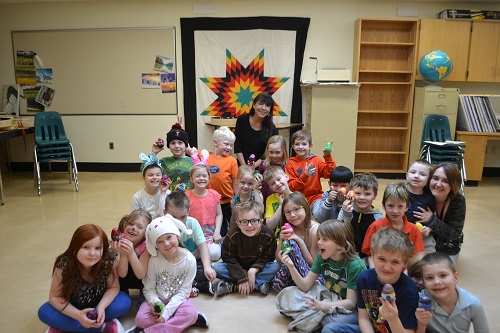 One student said of the residencies, "It was amazing. Because they taught me stuff that I wouldn't have ever known – Carol taught me about her culture and Heather and Rikki Lee taught me about art. I liked the art showcase because we all got to sing songs and stuff." Another student said, "When I do art, it makes me feel calm and free."
Harvey noticed a remarkable difference in at-risk students with behavioural issues. "A lot of our students that struggle in school made some good connections and had a lot of success in classes. One middle years student has started doing her own artwork and is looking at taking additional art classes. An elementary student, whose recesses and lunch hours are really important to him, spent many lunches visiting with the artists and working on his own artwork. It was the stillest and most focused I've ever seen that student."
Sharing her cultural background with students was important to Daniels. "They were absolutely open to learning, compassionate, mindful, and willing to build bridges and embrace Indigenous culture a part of their own cultural landscape," she says. "I think it's really important that in Saskatchewan all cultures come together in a new beginning as a stronger province. When you have diversity and inclusivity, that becomes a good thing."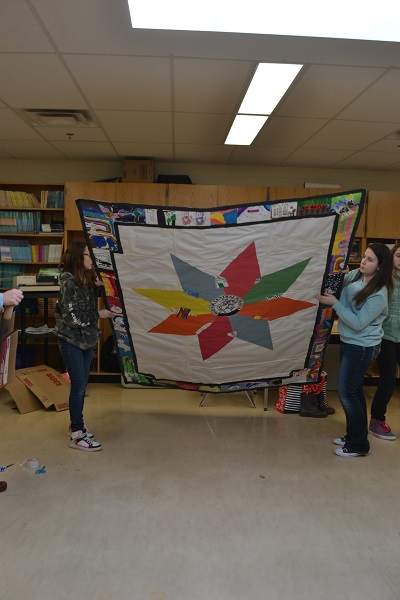 The project also made an impact on the teachers in the school. Jayda Ban Betuw says, "I always thought about art as an individual activity that was personal to you – you work on your own and express your emotions. But the artists showed me that it can be a community event. We can all connect and learn from the experience." Another teacher, Jessica McNabb, remarks, "Being able to learn from the artists gives me more to go back to teach students. I gained a lot of knowledge and now, I have someone I can connect with for future reference."
The school is exploring partnerships with First Nations in the area to continue to bring Indigenous culture into the community. Says Daniels, "Healing through the arts is real. Connecting through the arts is how my Cree/Dene heritage and various cultural heritages of students in Midale came together as one during this residency."
Artists in Schools is a Saskatchewan Arts Board program supported by funding from the Saskatchewan Arts Board, SaskCulture Inc. through the Saskatchewan Lotteries Trust Fund for Sport, Culture and Recreation, and the Government of Saskatchewan through the Ministry of Education.
Photos of Carol Daniels and Midale Central School courtesy of Carol Daniels