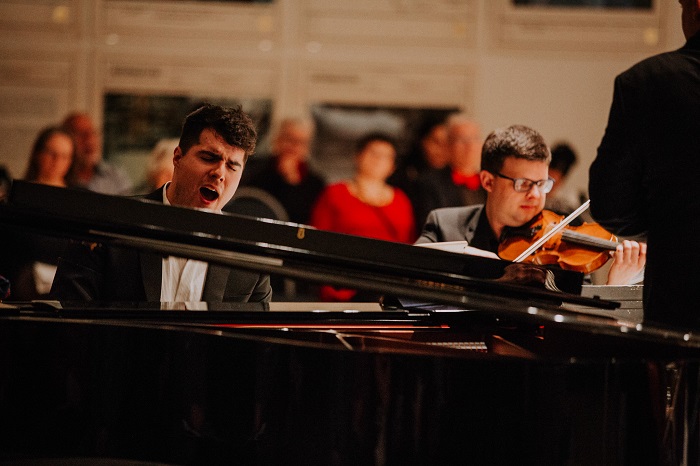 As it celebrates its 110th season, the Regina Symphony Orchestra (RSO) continues to prove that classical music is meaningful to our society.
In March 2018, the RSO launched the Forward Currents Festival. While many orchestras host festivals based genres or composers, the RSO wanted to do something different – a festival centred on socially relevant issues. For its first year, the theme was "Listen and Hear: Towards Prairie Reconciliation", with the goal of inspiring conversations around Truth and Reconciliation.
Tanya Derksen, Executive Director of the RSO, references Louis Riel's famous words, "My people will sleep for one hundred years, but when they awake, it will be the artists who give them their spirit back." She says, "That quote shows anunderstanding of the critical role artists and musicians play in moving these ideas forward. We wanted to play that role in an important way as well."
The RSO engaged a volunteer Indigenous Advisory Council to inform the project, and to receive their guidance on Indigenous protocols, culture and heritage. "The RSO is not planning to change the core of what we do, but we want to expand it," Derksen says. "We're going to keep doing the great music of Beethoven and Mozart, but we want to grow and develop, being more inclusive and having a deeper impact and engagement in the wider community. Our Indigenous Advisory Council walks alongside us so we do it in the right way."
The multi-disciplinary three-day festival, which took place at the MacKenzie Art Gallery, had a diverse lineup that included film, dance, storytelling, spoken word, hip hop, jazz and classical music. It was also about collaboration – pieces by Saskatoon hip-hop artist Eekwol and Toronto-based composer and vocal artist Jeremy Dutcher were arranged for RSO's Chamber Players to perform with them. "Bringing different genres together reflects how you can bring two different communities together, and they can create something new and beautiful that they couldn't on their own. That was our way of demonstrating what reconciliation can look like," says Derksen.
Audiences were enthusiastic – two of the three nights sold out. "We had a number of people share that they had tears running down their faces because of the journey they took that weekend," Derksen says. "A lot of people said that this was a great way to figure out what their role as an individual is in Truth and Reconciliation."
Future festivals will focus on a new socially relevant theme each year, such as mental health, LGBTQ and women's issues, and will continue to engage Indigenous artists communities, and perspectives.
Photo: Jeremy Dutcher performs at the Forward Currents Festival. Photo by Chris Graham