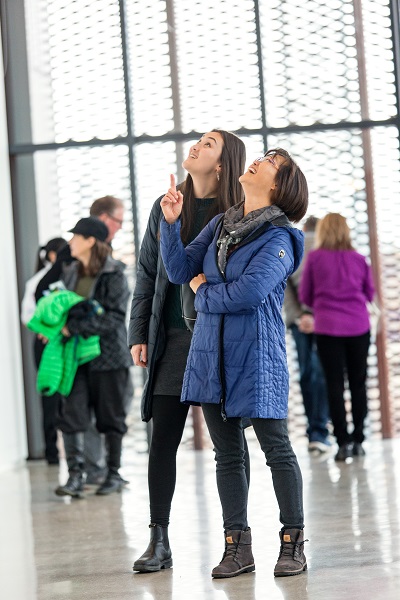 October 2017 marked a historic occasion for the province: the opening of the Remai Modern art gallery in Saskatoon. On its first weekend, approximately 10,000 people visited the museum, including 1,000 at the opening party. "We couldn't put another person in the building! To have that sort of endorsement was fantastic," says Gregory Burke, Executive Director and CEO of the Remai Modern.
The gallery's goal was to have 1,000 members after one year of operations. It topped 9,000. The prediction for attendance for the first year was 190,000 guests; it reached 453,176, a remarkable accomplishment in a city with a relatively small population. The Saskatoon Regional Economic Development Association conducted an economic impact report indicating that the Remai Modern would produce $17 million annually toward the city's gross domestic product.
The opening attracted international notice, including two mentions in The New York Times, an article in The Guardian and a feature on the front page of the arts and life section of The Wall Street Journal. "The accolades keep coming in, and the coverage is extraordinary," says Burke. "It's profound that we've been able to achieve this level of world attention."
The gallery is subsidized by the City of Saskatoon and receives funding from the Saskatchewan Arts Board's Professional Arts Organizations Program. It also benefits from the generosity of philanthropist Ellen Remai, for whom the gallery is named. Since 2011, she has pledged $103 million, one of the largest donations to the arts in Canadian history. This includes 405 linocuts by Pablo Picasso, the most comprehensive collection of its kind. "Ellen Remai wanted a world-class gallery that could bring the world to Saskatoon. We want to engage with the world of art, but from a Saskatchewan point of view. To do that, we put local artists on the same level and playing field as important international artists," Burke says.
While there is an entrance fee, there is no charge to visit the ground floor gallery and, thanks to a sponsorship from Rawlco Radio, admission is free for the public six times per year. School visits are also free, attracting 3,000 students per month. "We're focused on being able to afford to run the institution, but also on providing access to those who truly have limited means to cover the admission charge," says Burke.
Photo: Studio D