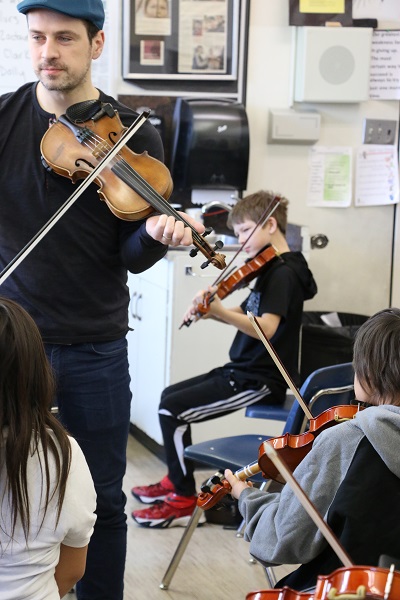 Saskatoon students are collaborating with professional musicians to explore how Métis fiddle music and dance can be expressions of reconciliation.
St. Michael Community School has a population of about 150 students, 90 per cent of whom are Indigenous. École St. Paul School has a similar sized population, but only 10 per cent of students self-declare as Indigenous. A partnership between the schools, supported by an Artists in Schools grant, gives Grades 5-8 students the opportunity to work with Métis fiddle master John Arcand and JUNO Award-winning fiddler Karrnnel Sawitsky to create and record their own Métis-inspired fiddle tunes.
Fiddle teacher Cristin Dorgan Lee says the project creates a forum for students to discuss the direct relationship that French-Canadian culture has to Métis identity and culture. "Exploring that connection is a way for students to understand and appreciate the impact of colonization on Indigenous communities, resulting directly in the creation of a unique and distinct culture—the Métis."
The Métis fiddle program at St. Michael Community School began in 2016, when renowned Canadian musician Natalie MacMaster donated 25 fiddles to the school. Both Arcand and Sawitsky have been involved in the program over the years.
The students' CD, recorded in May 2018, contains versions of some of Arcand's music, as well as pieces written by students under Sawitsky's mentorship and the Métis national anthem. As part of the project, students also learned to jig and choreograph their own square dance set.
Response to the program has been overwhelmingly positive. Dorgan Lee notes attendance on fiddle class days is higher than on other school days, and students have been more engaged in the classroom. "We had a student who switched schools, but he came back a few weeks later, saying, 'They didn't have fiddle at the school that I went to, and I missed it,'" she says.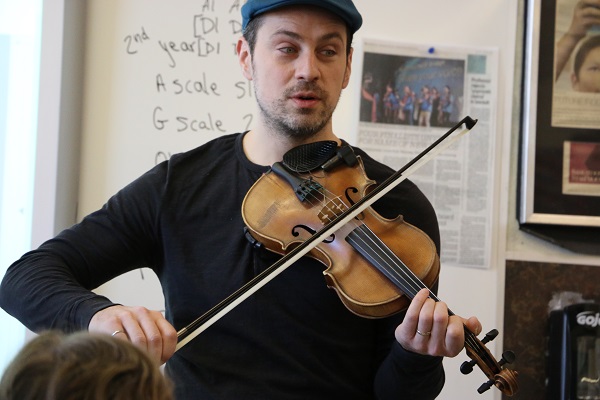 The program's impact goes beyond the school. "Students go home and share their experience with their family members and community. It helps to build the community as a whole. It's an opportunity for us to grow, to heal and build relationships in a positive way, moving forward," says Dorgan Lee. "This is a really strong example of what reconciliation can bring about. This is about all cultures learning Indigenous ways of knowing. Métis music is not just for Métis people. It's for all members of our community."
The program has been featured on CTV Saskatoon, CBC Radio and in the Saskatoon StarPhoenix. Students are often asked to perform publicly, including at a Central Urban Métis Federation event, the Think Indigenous conference at the University of Saskatchewan and the ceremony installing Saskatoon's Chief of Police. A Grade 7 student interviewed on CTV said, "I think it's great, because it's part of our Métis culture. I just feel happy that all my friends are there learning it with me."
Artists in Schools is a Saskatchewan Arts Board program supported by funding from the Saskatchewan Arts Board, SaskCulture Inc. through the Saskatchewan Lotteries Trust Fund for Sport, Culture and Recreation, and the Government of Saskatchewan through the Ministry of Education.
Photos: Karrnnel Sawitsky teaches students at St. Michael Community School the fiddle.
Photos courtesy of Greater Saskatoon Catholic Schools