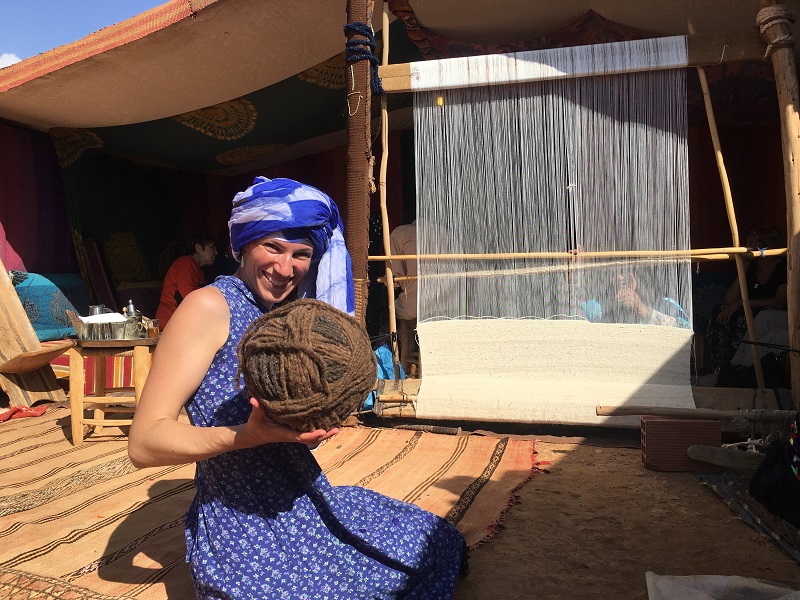 Many view travel as a way to broaden their horizons and get out of their comfort zone. Saskatoon artist Cynthia Blanchette considers travel an essential part of her art practice. "Through experiencing other cultures, you can have a more analytical view of your own culture, which is an important aspect of my art practice," she says. "I consider myself a bit of a colourist – seeing other places that use different colours and patterns in artistic practice is important to me," she says.
Blanchette received a grant from the Saskatchewan Arts Board to participate in artist residencies in New Zealand and Morocco in 2017. The two residencies were very different from one another, in geography as well as process. New Zealand was lush and tropical; Morocco was a desert. Down under, the residency was a collaboration among almost 100 artists, and in North Africa, five artists worked alone on their own projects. The work Blanchette created during each residency differs as well.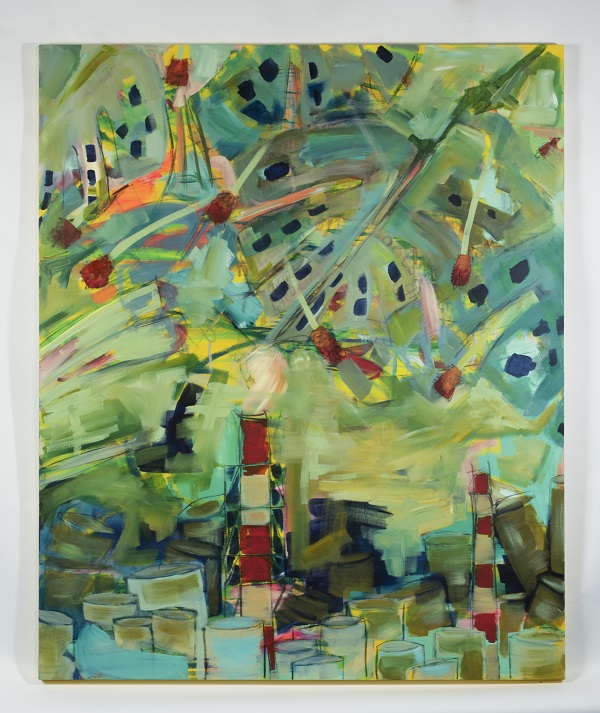 "In New Zealand, I did a big painting that was more of the greenery. There was an oil refinery you could see across the water. I work in my painting with nature a lot. Having our industrial world referenced in the paintings is important to me, rather than having nature paintings where you omit the industrial world around us," she says. She also collaborated on projects with a metal worker from Australia and a woodworker from France. Blanchette is not new to collaboration – she's attended Saskatchewan's EMMA International Collaboration several times and will serve as the head of the painting department for 2018. "Collaborative work is very inspirational for me – community and human interaction have always fed my work conceptually," she says. "I find this work very cathartic. Although the end products do not always work, the process is highly important."
Her paintings from Morocco focus on an unusual subject: donkeys. "Upon my arrival, I was immediately obsessed with the working donkeys. I spent my days observing and documenting their activities," she says.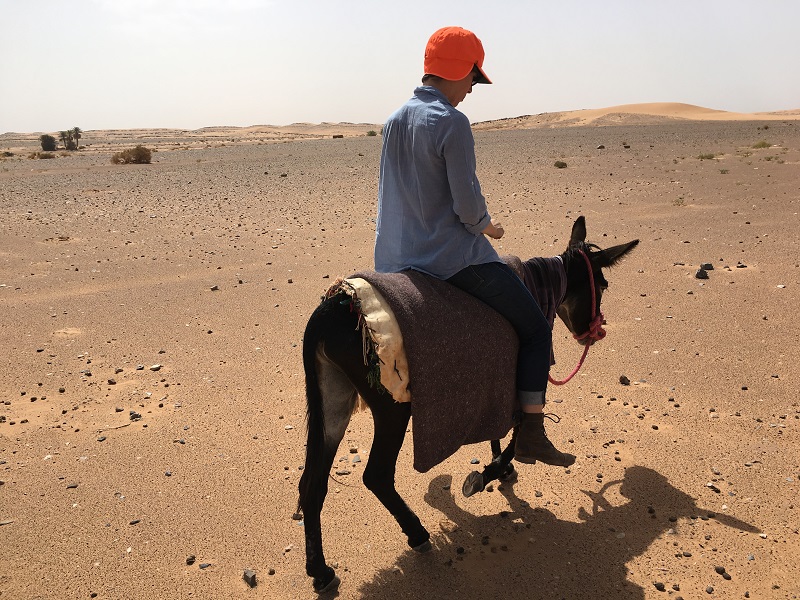 Blanchette took a psychoanalytical approach to her donkey observations, considering the downtrodden character, the abusive treatment they dealt with daily, a life of intense labour and dissatisfaction, yet an inability to change their circumstances. "The donkeys seem to be intelligent enough to fully understand they have been dealt a bad hand, yet are not physically capable of doing anything about it." This subject matter fits with Blanchette's body of work, in which "animals are huge. As humans, we think we're more important than everything else. I look at the damage to our natural environment and how it damages other species around us. This is my own way of trying to talk about that," she says.
During her two months in Morocco, Blanchette took advantage of the unique materials around her, using wind- and sun-weathered fabric from old tents as canvas and seeking out intense blue pigment for paint. She brought the supplies back home to experiment with, though she found the colours look different here than they did in the Sahara Desert. "I can't get over how the lighting changed the colours. The colour palette there was so bright. When I brought the blue pigment home, I saw that it's essentially an ultramarine blue. But in that lighting, I thought it was a crazy blue. It's not the same to work with here," she says. "I think that's going to start influencing my work more – thinking about lighting."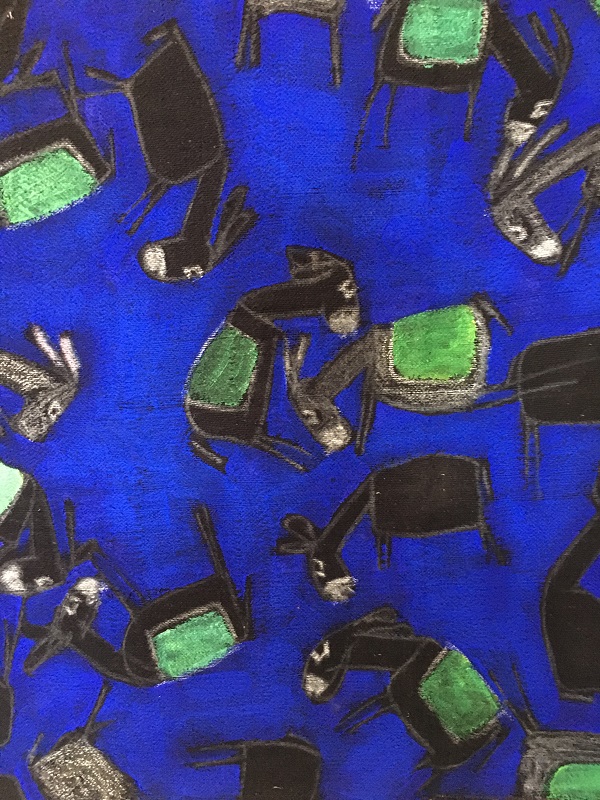 The patterns she encountered in Morocco continue to have an impact on her work. "My studio practice itself has shifted more strongly toward intuitive patterned paintings that, hopefully, convey short stories. The intuitive work in carpets and tapestries I encountered in Morocco has influenced the way I would like my work process to evolve," she says. Blanchette has completed several paintings depicting abstract landscapes, her own interpretations of new environments. "I'm hoping my new work is more experiential and vivid for the viewer, creating new landscapes to elicit wonder and nostalgia for something yet to be explored."
More travel is likely in Blanchette's future – she's applied to graduate school in Europe. "I think that will help to influence my work as well. I want to be influenced by other places."
Blanchette is a co-founder of Bridges Art Movement, which was short-listed for a Saskatchewan Arts Award in 2016.
Photos:
Top: Cynthia Blanchette holds a ball of woll used by Moroccan women to weave the roofing for tents.
Middle Right: Cynthia Blanchette, Refining Nature, 2017, acrylic/mixed media on canvas, created at Blanchette's New Zealand residency.
Middle Left: Blanchette takes a donkey riding lesson in Morocco.
Bottom: Cynthia Blanchette, Donkey Parking Lot II, 2017, mixed media on canvas, created during Blanchette's artist residency in Morocco.