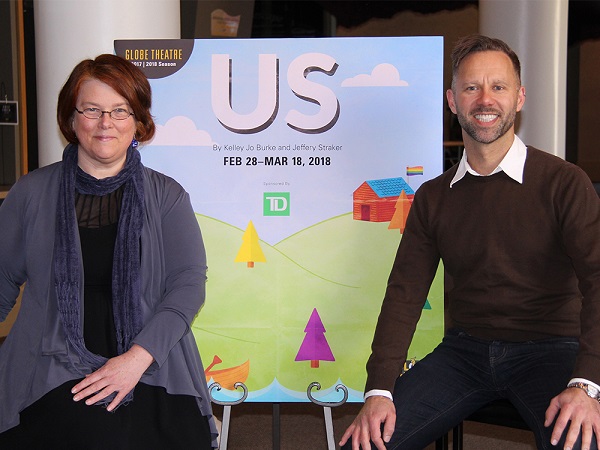 In 2014, Regina playwright Kelley Jo Burke had a life-changing experience as an artist-in-residence at Camp fYrefly. At the summer camp for LGBTQ youth, she met people whom she calls "warriors." She says, "I have no other word for it. In very different ways, they were saying over and over again, 'This is who I am, this is who I need to be, and I expect and require that there will be a home for me in this world', even though in some cases, they had been given no evidence that was true. They had been given all kinds of evidence that there wouldn't be a place for them."
For the first time in their lives, these youth had become the majority. Rather than focussing on "coming out", they began the process of "coming in" – finding their place within the broader LGBTQ community. Burke was inspired to write a musical play, Us, based on the many stories she heard from the young people at the camp.
She knew exactly who to approach to provide the score – Regina singer/songwriter Jeffery Straker. "Jeffery's music is innately theatrical and approachable, with insane musicality," she says. Originally, she asked Straker if she could use four of his songs in the play. Upon reading the script, however, Straker became enamoured with the story (he had served as an artist-in-residence at Camp fYrefly the previous year) and offered to write new songs for the show. He reworked the lyrics for three of his existing songs and wrote 14 new pieces, which illuminate the story and help to illustrate the characters' journeys and emotions. "Writing for a work like this is a first for me and is an exciting new step in my musical career," says Straker.
Independent Artists grants from the Saskatchewan Arts Board supported the writing of both the script and the songs. The process began in 2015 and continued for two years. Given Straker's extensive touring schedule – he performs more than 100 shows a year – much of the collaboration took place long-distance. "Jeffery would be sitting in airport lounges, writing songs, singing into his phone and sending them to me for feedback," Burke laughs.
Straker says the collaborative writing process made the final work more cohesive and powerful. "Writing music for this play was the first time I really stepped outside of writing about my own experiences and feelings. I became a songwriter who was writing from the experiences of the characters in Kelley Jo's head. I had to ask her a bajillion questions to get the voice of the characters. Because of the "back and forthing", the music fits hand in glove with her story because the music was developed for her story," he says.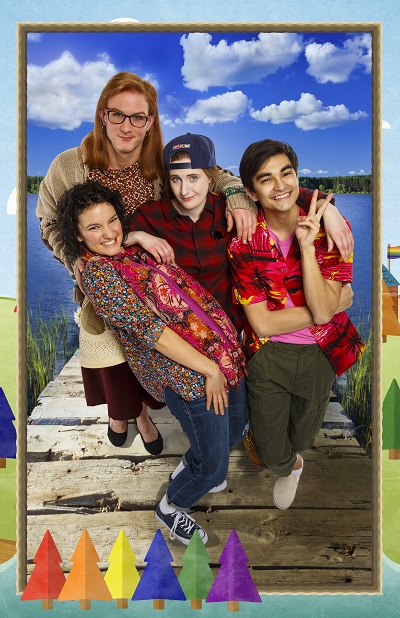 The initial script won the 2017 Stage West Pechet Family Musical Award from the Playwrights Guild of Canada, recognizing it as the best new Canadian musical in development.That year, Burke and Straker also learned that the show would be part of the Globe Theatre's main stage 2017-18 season. Us is the first Saskatchewan-made musical to make its world premiere on the Globe Theatre main stage in decades.
Burke and Straker received another Arts Board grant to conduct a week-long workshop to finalize the show before its run at the Globe. Professional artists choreographed and performed the play so its creators could objectively see what worked – and what didn't – once the script and score hit the stage. Burke says, "It was a turning point for the script. A musical has so many working parts. It's a complex machine of acting, music, movement, set and the space you're in. There were so many things that looked peachy on paper, but once we got into a room with bodies, it was clear that they wouldn't work. I don't think we would be in a place where we could present something that we would be comfortable putting on a stage without that." Straker agrees. "That workshop was like putting the play inside a time machine and moving it ahead six months. I can't believe what happened in a week."
Both artists acknowledge that the support of the Saskatchewan Arts Board was critical to the project. "This was years of my life where I quite happily chugged along, not making any money, because I believed in the project and because the Arts Board had my back. An Arts Board grant represents the belief offered by the community that what you're doing is worth pursuing. I can't stress enough how important it is to have a cultural ecosystem in this province where the arts have value – that's what the Saskatchewan Arts Board gives us," Burke says.
Us runs at the Globe Theatre from February 28 to March 18, 2018.
Kelley Jo Burke's artist residency at Camp fYrefly was supported by an Arts After Hours grant. The Globe Theatre receives funding through the Professional Arts Organizations Program.
Photos:
Top: Kelley Jo Burke and Jeffery Straker. Photo courtesy of Globe Theatre
Bottom: Cast of Us. Direction by Valerie Ann Pearson. Choreography by Johanna Bundon. Set and Costume Design by Wes D. Pearce. Photo by Chris Graham Photo. Photo Manipulation by Hayley Peters.