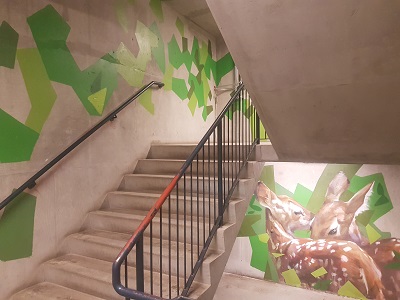 For years, the high-traffic stairwell linking the Inpatient and Outpatient Mental Health Units at the Regina General Hospital was bleak, unpainted grey cement. Walking up and down the staircase multiple times a day, psychiatry resident Dr. Samra Sahlu noted that the space was not conducive to a healing mindset for staff, patients or visitors. "While fighting stigma relating to mental health has been rising in the public consciousness, there remains a need to put the principles of recovery into daily practice, including the design and upkeep of spaces dedicated to providing mental health care," she says.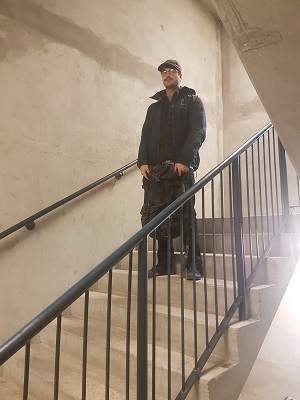 An Artists in Communities grant from the Saskatchewan Arts Board helped to transform the space, using art to promote well-being and reflection. The lush, predominantly green mural was created by Regina-born artist Emmanuel Jarus, who works in spray paint and has created large-scale murals on buildings across Canada, the United States, Mexico, Europe and Asia.
The themes in the artwork emerged from community consultations Sahlu conducted with a wide variety of interest groups that use the space. The question she asked was, "What is a healing space?" Says Sahlu, "We heard a lot about nature and plants. People talked about a sense of calm, a feeling of being at peace, the feeling of being outside. It was interesting to see how many times those things were repeated, particularly about nature."
Having the artist on site for a week created excitement in the hospital community. "People would peek into the stairwell and talk to him about what he was doing and what they thought about the painting. He got to know patients and staff members pretty well during the installation process, and it was nice to have a different kind of energy in the hospital," Sahlu says.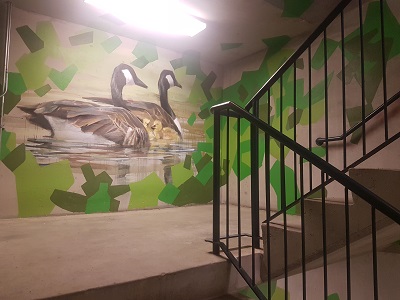 Response to the mural has been positive. "I've had people come up to me and say how happy they are about how the stairwell looks or how they feel different when they walk in. Staff who don't work in mental health say how it feels better to walk to work everyday. It sends a message to people that we care about the spaces that we occupy and, especially in mental health, how our surroundings change the way we feel about ourselves," she says. "I hope it spurs more art in the hospital. Hopefully, this is just the beginning."
In addition to the grant, the project was funded by generous donations from Dr. K. Verma, Dr. Andriyka L. Papish and Dr. Krishnie Reddi and received organizational support from the Hospitals of Regina Foundation, Jamie Ash of the Department of Psychiatry and Regina General Hospital management.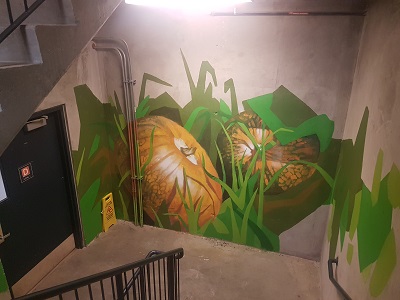 Artists in Communities is supported by funding from the Saskatchewan Arts Board and SaskCulture Inc. through the Saskatchewan Lotteries Trust Fund for Sport, Culture and Recreation.
Photos: Saskatchewan Health Authority