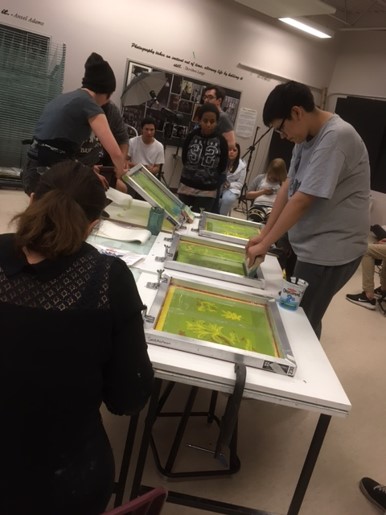 Printmaking can be a difficult medium to teach in schools. There is a perception that a multitude of materials are needed to undertake the art practice, such as large presses and harsh chemicals. A partnership with Saskatoon's Void Gallery enabled Centennial Collegiate teachers to incorporate less toxic, student-friendly, cost-effective printmaking into their curriculum.
Visual artist and Void Gallery owner Michael Peterson introduced both teachers and students to silkscreening, etching and linocut printmaking methods during the project, which was funded by a Saskatchewan Arts Board Artists in Schools grant. His in-depth workshops modelled best practices and built capacity for teachers at the school to continue teaching the printmaking in future years.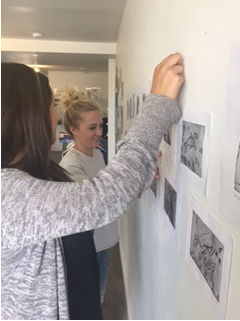 Peterson, along with visual artist and poet Kevin Wesaquate and zine publishers Kelsey Philipchuk and Marissa Bialowas, helped the students discover new possibilities for expression through spoken word, zines (small-circulation, self-published magazines) and other art forms combining text and images. Peterson and Wesaquate, both of Indigenous descent, spoke about their respective journeys and challenges and how they have used artmaking as a tool for self-acceptance and expression.
One student was inspired by Wesaquate to compete at a local poetry slam. She won. "It probably changed her life," says Centennial Collegiate Art Department Head Karen Wooller. "We've influenced a whole generation of young artists who now realize that you can produce art in Saskatoon and have a professional life as an artist."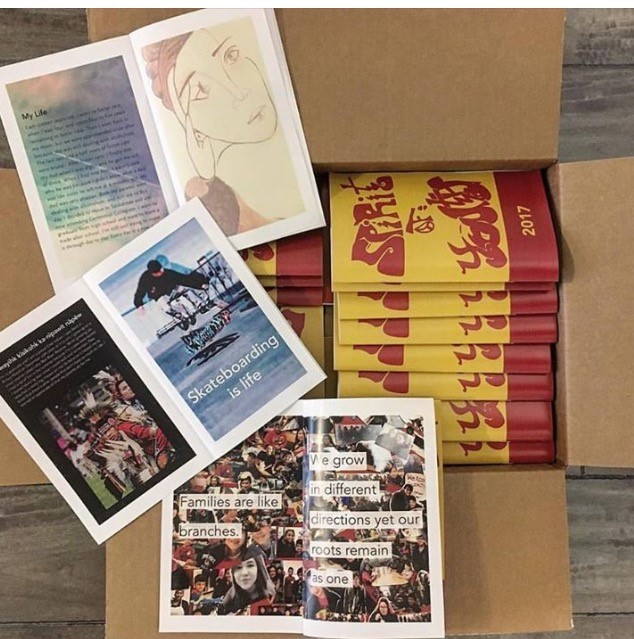 The project culminated in an exhibition of student zines and prints at Void Gallery in June 2017. It also made a lasting impact on Centennial Collegiate: a student-created wheat paste mural graces the school wall, new printmaking methods have been added to course outlines and students have started a school zine.
"The project has made them more aware of art in their community. Students often think that Saskatchewan is 'hicksy' and want to go somewhere else, but there are some great artists and cool things happening here," says Wooller.
Artists in Schools is a Saskatchewan Arts Board program supported by funding from the Saskatchewan Arts Board, SaskCulture Inc. through the Saskatchewan Lotteries Trust Fund for Sport, Culture and Recreation, and the Government of Saskatchewan through the Ministry of Education.
Photos:
Top: Students engage in the printmaking processes they learned from Michael Peterson.
Middle: Students hang artwork at their exhibition at Void Gallery.
Bottom: Student-created zines
Photos courtesy of Centennial Collegiate