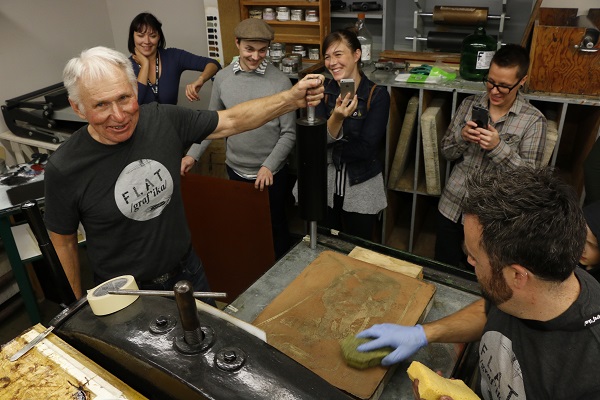 Establishing an artist residency has been a goal for Articulate Ink since the Regina artist-run printmaking centre was created six years ago.
"Our primary purpose is to provide an accessible, professional space and the technical support required to allow artists and makers to pursue printmaking in Saskatchewan," says Caitlin Mullan, strategic advisor at Articulate Ink. "Creating a program that encourages artists to come in and focus their energy on executing a single project is of great value to the arts community. It fosters the exploration of new techniques and bodies of work, later creating opportunities for exhibitions and sales. We see running an artist residency as an investment in the future of the printmaking in Saskatchewan."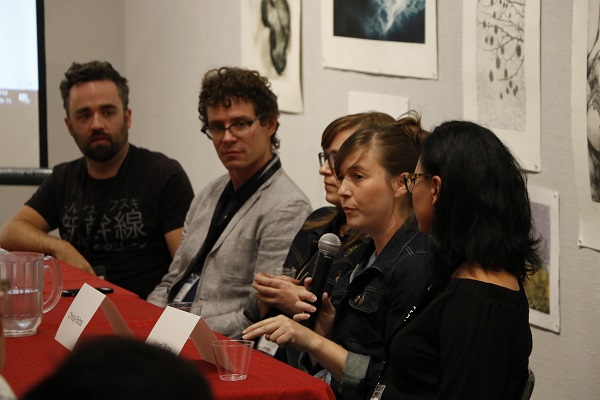 An Artists in Communities grant enabled the centre to undertake a pilot program in September 2017 where Chrissy Poitras and Kyle Topping, founders of a successful residency program at Spark Box Studio in Picton, Ontario, served as artists-in-residence.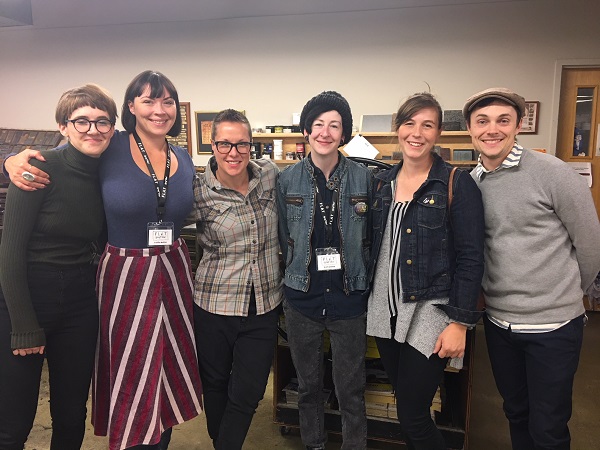 During their six-day stay in Regina, Poitras and Topping mentored Articulate Ink staff, sharing best practices for recruiting and contracting artists as well as general advice on managing and supporting them. They also created artwork, participated in a panel discussion at the Flatgrafika print symposium and met with the printmaking community in an open forum. "We had a great discussion that night, with questions ranging from pricing artwork, promoting work online, applying for funding and creating exhibition proposals," Mullan notes.
The team at Articulate Ink has a clearer idea of how to undertake an artist residency as a result of Poitras and Topping's mentorship. "We plan to host both paid residencies as well as award-based options, which would be geared towards providing space for artists who have recently emerging from post-secondary programs. Ensuring that the community has access to the artist and vice versa will also be a crucial component – whether through an artist talk, workshop, or an open house during the residency," says Mullan.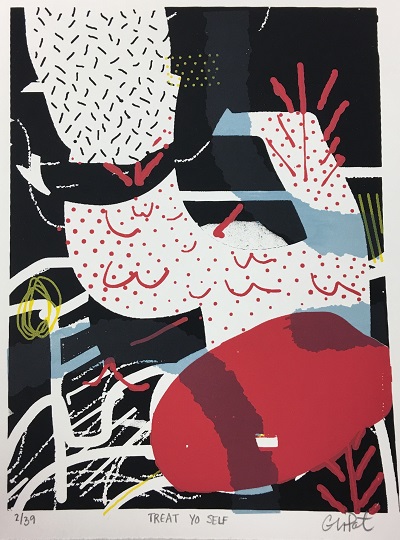 Having guest artists in the studio also changed the way the Regina artists look at their workspace. "Printmaking is a process-heavy medium that requires a lot of tools, equipment and materials, so finding a home for everything can be a challenge. We're developing a plan for some custom-built furniture and storage solutions that will increase the amount of workspace available and ensure that our artists find everything they need right at their fingertips," Mullan says.
The staff at Articulate Ink were thrilled with the success of the pilot residency and plan on having an artist-in-residency program up and running within the next year.
"It was clear that we could not have chosen better artists to partner with. They were generous, efficient with their time and strategic in their feedback. They have changed the way we think about our organization. Even through their stay was short, this experience will have significant impact on moulding the future program," says Mullan.
Artists in Communities is a Saskatchewan Arts Board program supported by funding from SaskCulture Inc. through the Saskatchewan Lotteries Trust Fund for Sport, Culture and Recreation.
Photos:
Front page: Edith Skeard of Articulate Ink with artists-in-residence Chrissy Poitras and Kyle Topping on the first day of their arrival at Articulate Ink. Photo: Karli Jessup
Top: Chrissy Poitras and Kyle Topping watch Otis Tamasauskas during his stone lithography demo at the University of Regina Print Media Studio as part of Flatgrafika print symposium. Photo: Matt Ripplinger
Middle: Chrissy Poitras speaks during the Flatgrafika print symposium panel discussion held at the Art Gallery of Regina. Photo: Matt Ripplinger
Middle: Edith Skeard, Caitlin Mullan, Michelle Brownridge and Karli Jessup of Articulate Ink with Chrissy Poitras and Kyle Topping. Photo: Brandi Arnold
Bottom: Chrissy Poitras, Treat Yo Self, 2018, screenprint. Photo: Caitlin Mullan