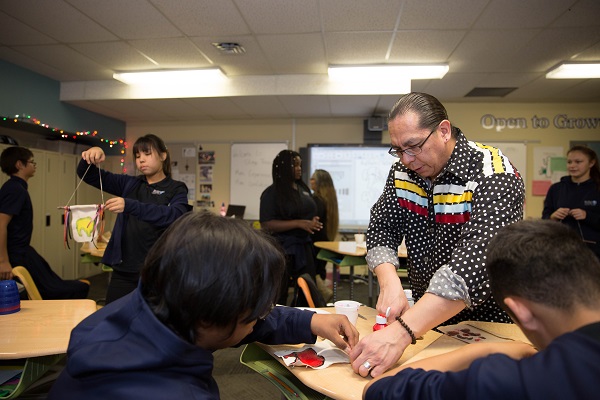 When administrators at a Regina inner-city school saw a gap in their educational offerings, they turned to a Saskatchewan Arts Board grant to enable student participation in Indigenous cultural art-making.
"It is imperative to provide opportunities for our students to engage with artists and Elders who can share and pass on traditional, cultural knowledge through ceremony, traditional spirituality and the arts," says Terri Cote, principal at Mother Teresa Middle School.
Artists Lorne Kequahtooway, Joely BigEagle-Kequahtooway and Thorina Wilson from the Buffalo People's Arts Institute were brought into the school to share traditional teachings about the Buffalo, conduct community hide-tanning workshops and teach students to create jewellery, hand drums and moccasins using beads, parfleche and buffalo leather. Buffalo hide was also used to make a drum, which led to the creation of a drum group, The Buffalo Boys, made up of Grade 6, 7 and 8 students.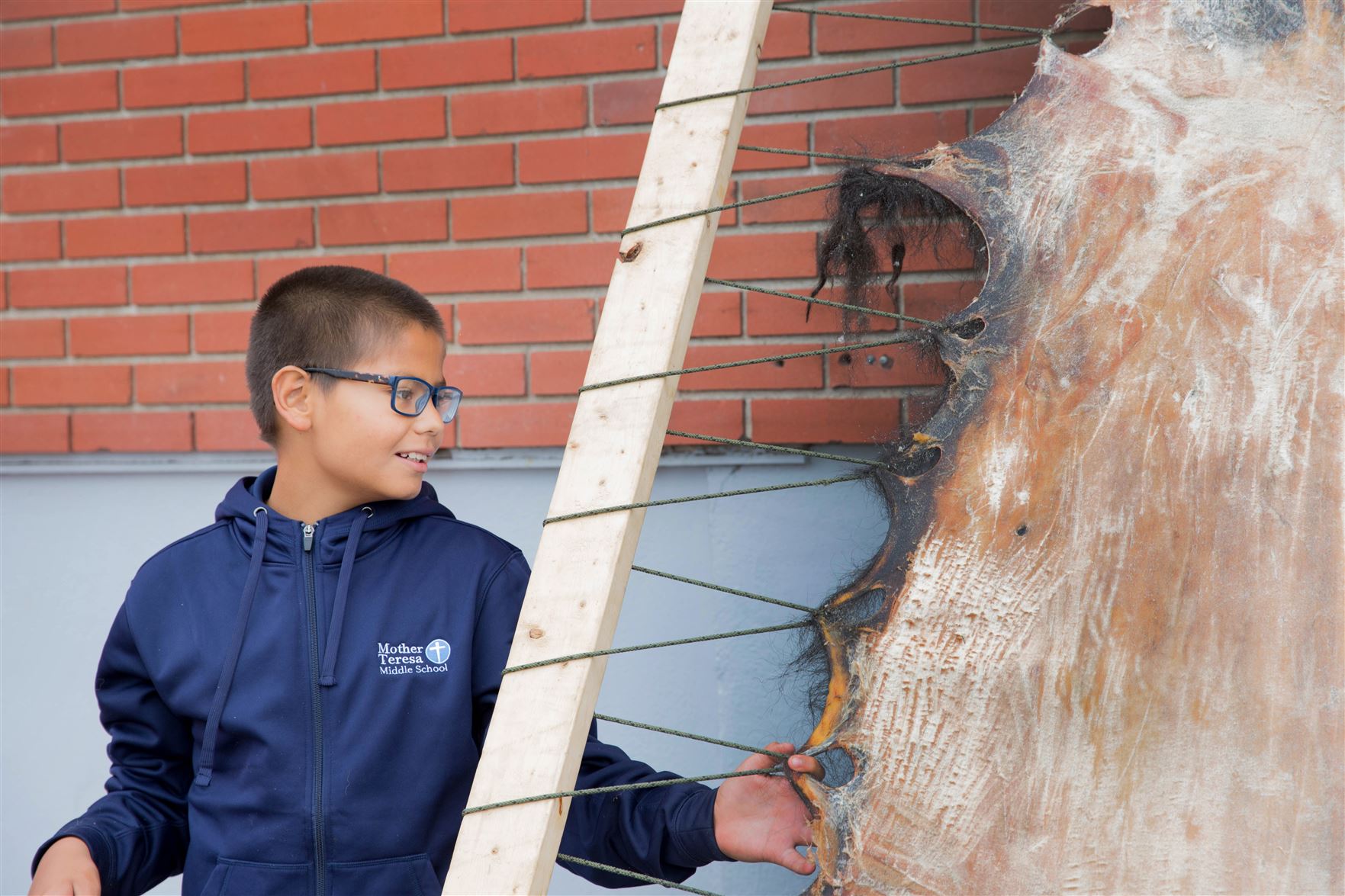 Mother Teresa Middle School is a non-profit school that serves economically-disadvantaged children, most of which come from the North Central and core areas of Regina. The education model they use is unique in that it provides after-school and summer programming along with small class sizes. Staff also work with families to ensure there are no barriers for students to get their education – including transportation, consistent access to healthcare, a nutrition program and more. The school believes education is the way to break the cycle of poverty for these students.
There are 57 students in Grades 6 to 8, and staff provide support to another 66 graduates attending high school. Around 89 per cent of students are Indigenous. Many had no previous exposure to their traditional cultural practices before the Bringing Back the Buffalo project, which began in 2016 and is ongoing.
The project's teachings tie in with the curriculum. For example, making the beaded medallions requires math for counting beads and geometry skills for creating designs. "First Nations peoples were the original geometrists and mathematicians. There was no technology and no instruments – we relied solely on nature to guide us through these things," says artist Lorne Kequahtooway. Through the ongoing project, a reference framework being developed. This could be used by other educators to implement traditional Buffalo teachings into their classrooms.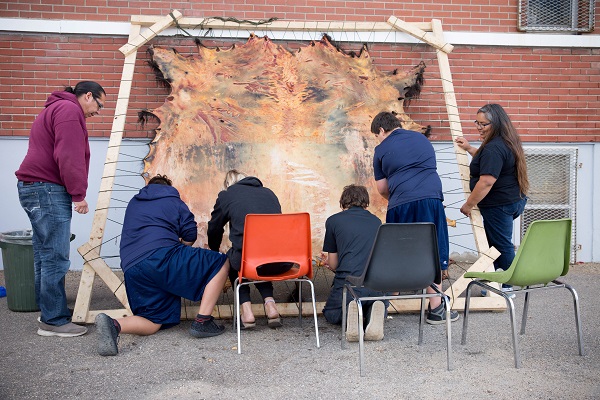 Entrepreneurship is another aspect of the project. The school is planning an art show where students can showcase and sell their work. "We know we have some of the next generation of Indigenous artists and leaders at our school," explains Lindsey Longstaff, director of development.
Students have responded well to the art-making. Kequahtooway notes that when they were working on beading moccasins, "the kids were focused and quiet. To have a teen or pre-teen sit for two hours and focus says something about the nature of it."
Grade 8 Student, Creedence says, "I was really happy mostly because I was doing active stuff and it makes me feel good and calm inside."
One of Kequahtooway's main teachings is that the energy of the art-maker becomes part of the art they produce. "While the beading and leather work is important, the traditional teachings behind this art is where a lot of the impact comes from. We teach the students that you're giving part of yourself away with each of these pieces. Whether it's for yourself or a gift, you put your heart into this, and the people who receive it will feel that," he says. "Regardless of our past troubles, making art is a beautiful thing when it comes from your spirit."
The project also gives families opportunities to connect with their children at the school. More families engaged in the artists' hide-tanning workshop than in previous school activities. "This is really positive for many of our families who often struggle to connect with one another due to social and economic circumstances," says Longstaff.
Principal Terri Cote agrees. "Our families just love coming and seeing their kids engaging in things that they may not have had an opportunity to experience themselves. They're so proud," she says. "We are creating a new narrative together where people are honoured culturally, and they are able to achieve academic and human excellence."
Artists in Schools is a Saskatchewan Arts Board program supported by funding from the Saskatchewan Arts Board, SaskCulture Inc. through the Saskatchewan Lotteries Trust Fund for Sport, Culture and Recreation, and the Government of Saskatchewan through the Ministry of Education.
Photos:
Top: Artist Lorne Kequahtooway helps students with their Buffalo projects
Middle: Student with scraped buffalo hide
Middle: Students scraping buffalo hide
Bottom: Finished drums and moccasins created by the students
Photos courtesy of Mother Teresa Middle School