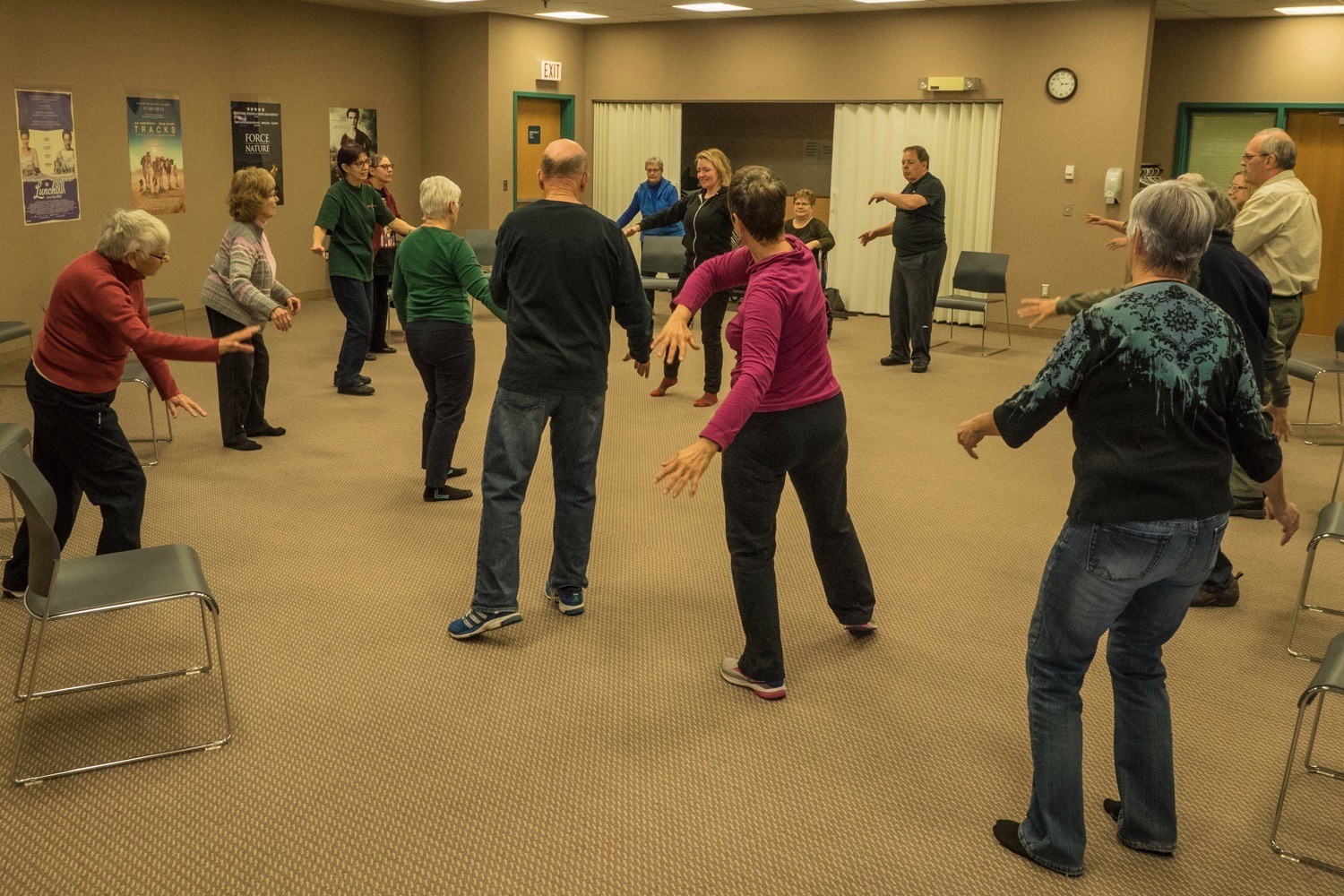 When dancer Fran Gilboy was approached to teach a class for participants with Parkinson's Disease (PD), she initially said no. "I didn't know anything about Parkinson's at all," she says. "But he wouldn't take 'no' for an answer." She started reading articles and watching videos about how dance can help improve the quality of life of people living with PD and decided to take on the challenge.
PD is a long-term degenerative disorder of the central nervous system that affects the motor system. Symptoms include shaking, rigidity, slowness of movement and difficulty with walking. Dementia is common in the advanced stages of the disease.
Dance and boxing are attracting attention globally as movement practices that benefit those with Parkinson's. Dance engages participants' minds and bodies, creates an enjoyable, social environment for artistic exploration and emphasizes balance and rhythm.
Gilboy taught a pilot class in Regina in March 2017, followed by three more. Soon, she found herself in Toronto, taking formal instructor training in Dance for PD at the National Ballet School. An Artists in Communities grant enabled Parkinson Regina Chapter to offer an eight-month Creative Dance for Parkinson's program starting in fall 2017. Classes are free of charge for participants and their caregivers.
"We're trying to promote active living for people with Parkinson's. It's important to get out and move," says John Dawes, program coordinator with Parkinson Regina Chapter. He notes that dance provides large movements that help with the symptoms of rigidity and stiffness that many people with PD experience. Participant Lori Huber agrees: "It makes my muscles less stiff." Dawes says, "With some of these exercise programs, you forget you have Parkinson's for a period of time."
Gilboy agrees that dance is a good fit for people with PD. "I feel like a lot of importance is placed on physiotherapy or even sport to help people move through exercises to help with the disease. Physiotherapists address what's wrong with the body, but dancers are ambassadors for the body. There is a body-positive relationship with dance and Parkinson's," she says.
The social aspect of the classes is also important, as the disease can isolate people and lead to depression. "The classes get people out, social and moving together," Gilboy says. The involvement of caregivers helps to relieve their stress as well. "They are able to see people with Parkinson's in a positive, creative environment that takes them out of being a patient and becomes more of a creative partnership," she says.
Susan Luhning and her husband, who lives with Parkinsons, attend classes regularly. "Carl and I are enjoying an activity we can do together."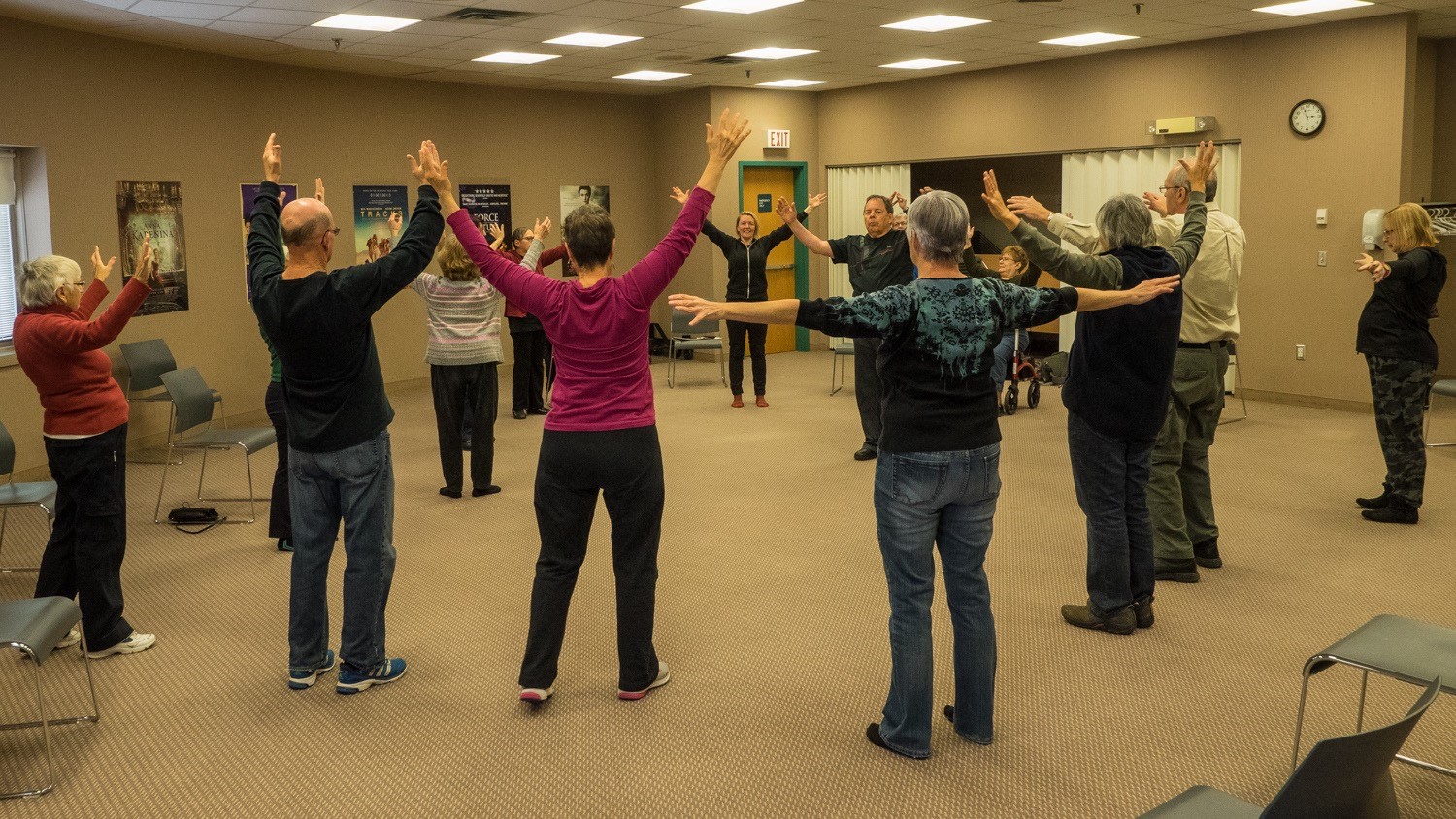 Gilboy ensures classes are accessible to people in various stages of the disease. "Some people are really mobile and upright, while others are relegated to wheelchairs or have to sit most of the time. I designed the class so the whole class can be done seated, with a chair in front of you for support or free-standing."
The Creative Dance for Parkinson's project will culminate with Gilboy and the group presenting their experiences at the Parkinson Canada Annual Education Conference in Saskatoon in April 2018. Their goal is to provide resources for the Parkinson's community to advocate for creative and therapeutic programming.
The project has inspired Gilboy as a dancer and a teacher. "I've never felt such a passionate drive to work with a community in this way before. This is my favourite class to teach. There's something so uplifting about the members in the group who seem to love and appreciate what we're doing together. It's pure joy," she says. Class participant Darwin Mott calls it "creative liberation to the soul."
"Basic movement doesn't mean boring. The most basic movement with the right attitude and the right community is sometimes the best. It distills it down to the simple joy of moving and not just creating a product to perform for people," Gilboy says.
She hasn't ruled out the option of a performance, though. "I would not be surprised if I can convince this group to do a little piece in one of our FadaDance school shows. It would be a sweet possibility," she says.
Artists in Communities is a Saskatchewan Arts Board program supported by funding from SaskCulture Inc. through the Saskatchewan Lotteries Trust Fund for Sport, Culture and Recreation.
Photos: Dana Anjali