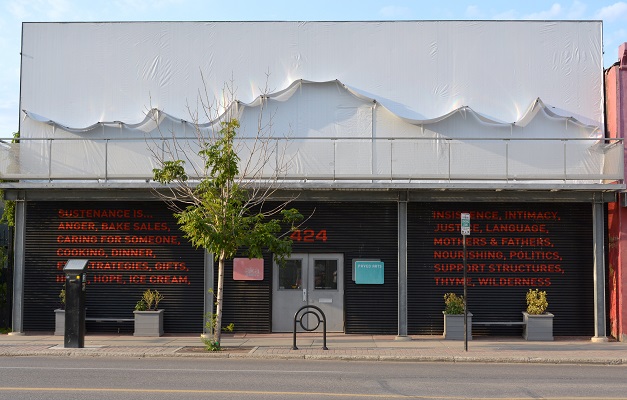 AKA Artist Run is located in the heart Saskatoon's core neighbourhood of Riversdale. The area has a diverse and culturally rich community but faces pressures from gentrification and challenges related to food security.
AKA's Locals Only project responds to these critical issues by partnering with CHEP Good Food Inc. on a mobile service truck. CHEP will provide a food market and AKA will provide socially engaged artistic programming. Launched in fall 2017, the project will run until June 2019, encouraging participation from youth and elders in collaboration with local and national artists.
An Artists in Communities grant from the Saskatchewan Arts Board funded the initial phases of the project, where AKA engaged B.C. artist Justin Langlois to conduct place-based research and consult with community members of all ages and backgrounds. "The grant allowed me to spend some dedicated time in the neighbourhood and share a lot of conversations and meals with people who are long-term members of the community, who are invested in Riversdale," he says. "Across so many of our discussions, we heard similar concerns on issues in the neighbourhood. It was through these meetings that this idea for Locals Only started to bubble up. To be sure, this isn't the first time this kind of idea has come up in the neighbourhood, but perhaps it's the right time for it to come forward."
The planning phase inspired a large-scale installation on AKA's storefront, An Incomplete Glossary of Sustenance, created by Langlois. "This is our way of talking to people who are part of our neighbourhood who may not be comfortable walking through our doors," says Tarin Dehod, executive director of AKA.
Says Langlois, "The word 'sustenance' seemed to come up a lot in the conversations and in my own reflections on the meetings. An expanded view of what sustenance means might help us think more holistically or compassionately about who we are and where we live."
AKA was able to leverage its initial research into a $250,000 New Chapter grant from the Canada Council for the Arts to fund the realization of the project. "The Canada Council New Chapter grants necessitate that we have a very solid and refined vision for a project. That can be really difficult to do if you haven't had support to undertake in-depth research. The Saskatchewan Arts Board grant gave us that. It allowed us to have a year-long relationship with an artist and to have continued conversations as part of the research that we would do together," Dehod says.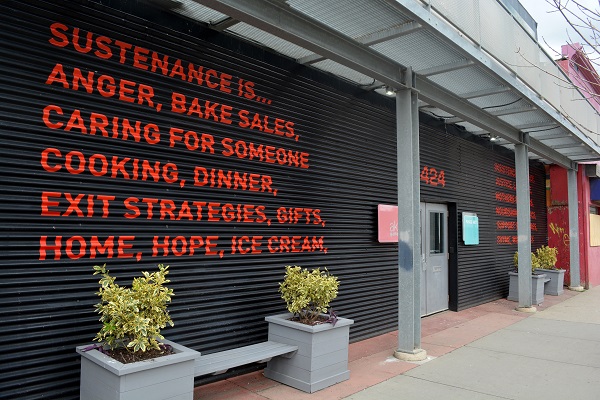 Artists involved in the two-year project are: Alana Bartol (Calgary), Lisa Hirmer (Guelph), Vanessa Kwan (Vancouver), Michael Peterson (Saskatoon), Marcel Petit (Saskatoon), Janelle Pewapsconias (Saskatoon), Jordan Schwab (Saskatoon) and Holly Schmidt (Vancouver).
Right now, artists are planning for activities to take place in summer 2018. Artistic programming will be free, and fees will be paid to youth, artists and elders. Artists will work with youth to capture stories about food and how it informs how people relate to one another. They will also collect recipes, publishing books that can be distributed in the neighbourhood and beyond. Ultimately, the artistic programming is about creating conversations that can chart the future of food security in Riversdale.
"These relationships are in many ways the art in and of themselves. The way the relationships around the project are formed and held become so important for extending the values and possibilities of the project beyond the beginning and end points of Locals Only," Langlois says.
Photos:
Top: Justin Langlois, An incomplete glossary of sustenance, AKA artist-run, 2017 (Billboard: Marie Lannoo, Artificial Aurora, 2017)
Bottom: Justin Langlois, An incomplete glossary of sustenance, AKA artist-run, 2017