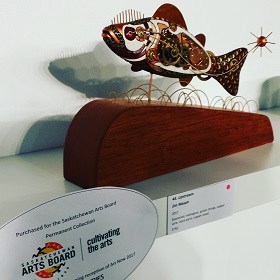 The Saskatchewan Arts Board's Permanent Collection has grown by three artworks, thanks to the generosity of patrons of the opening reception of Art Now 2017, the Saskatchewan Fine Art Fair, presented by SaskGalleries. The Arts Board was the recipient of proceeds from the reception, which took place at the Regina Sound Stage on September 14.
The event provided an opportunity to purchase work from three artists who are new to the Permanent Collection.
Upstream, created by Jim Mason of Melfort, is a steampunk-inspired piece created from balsa wood, mahogany, guitar strings, copper wire, clock parts and copper sheet. Mason is represented by the Saskatchewan Craft Council and received the Gale Steck Memorial Award for Excellence in Craft by an Emerging Artist at the council's 2017 Dimensions exhibition.
Shine is an abstract painting by Saskatoon's Nancy Lowry. Often seemingly minimal, Lowry's unique "paintscapes" are intimately connected to landscape but demonstrate a strong affinity with abstraction and non-objective painting. Lowry is represented by Art Placement.
390km off the Northwest Tower is a screen print and chine collé by Saskatoon printmaker Cate Francis. In her recent project, the Paper Wildlife Conservancy, she installed approximately 100 screen-printed wheat pastes of animal species native to the Saskatchewan River valley onto the buildings of businesses throughout Saskatoon. The print purchased for the Permanent Collection features images of birds and the Saskatoon's downtown. Francis is represented by Void Gallery.
The Saskatchewan Arts Board thanks SaskGalleries for supporting public art in the province by making our Permanent Collection the beneficiary of Art Now's opening reception.
The collection includes approximately 3,000 works of 750 artists and represents the work of our province's artists over the past six decades. Our goal is to represent the contemporary art practices of artists within the province for the purpose of public access, and the purchase of these new works will help us achieve that goal.
Photo:
Jim Mason
Upstream, 2017
balsa wood, mahogany, guitar strings, copper wire, clock parts, copper sheet