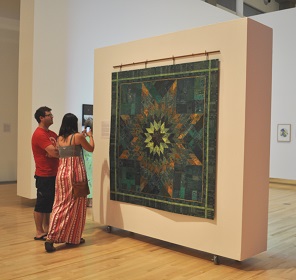 Wally Dion's Star Blanket has put on a lot of kilometres since it was purchased by the Saskatchewan Arts Board for its Permanent Collection in 2006. The unique piece, a First Nations star blanket fashioned from computer circuit boards, has been loaned to numerous galleries across Saskatchewan and Canada.
It toured nationally in 2010, with the exhibition Cherished Things: Situating Saskatchewan's Aboriginal Prairie Aesthetic, appearing in Regina, Saskatoon, Toronto and Vancouver. It has since been displayed at the Ottawa Art Gallery (2011-12), Mendel Art Gallery (2013-14), Wanuskewin Heritage Park (2015) and Kamloops Art Gallery (2017). When it isn't on loan, the piece is exhibited in the Saskatchewan Legislative Building.
"I feel really good about Star Blanket being with the Saskatchewan Arts Board. I am really pleased that it is being viewed, that people are interacting with it and seeing it, and that it's not locked in a vault somewhere," says Dion.
In Star Blanket, Dion recycles first world waste, using an iconic star pattern that references traditional Plains First Nations quilts and blankets. Playing with the concept of time and tradition, the piece stimulates discussion of how traditions are valued and interpreted within modern society. Its use of material and symbolism alludes to systems of connections and communication. The modern circuitry offers an updated representation of longstanding social networks, while at the same time speaking to empowerment through technology within First Nations communities.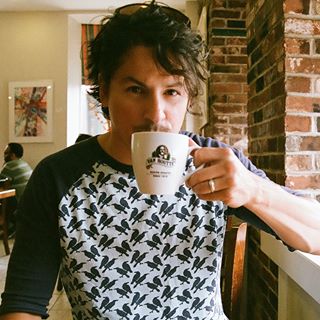 Kamloops Art Gallery, where the piece was shown most recently, has a booth inviting people to vote on their favourite and least favourite works of art in the gallery. "The four times we tallied the results so far, Star Blanket has been the favourite work every time!" says Adrienne Fast, interim curator.
Some visitors have left comments along with their votes, including, "This is my favourite because of its combination of traditional Indigenous and modern culture. It's fascinating how you aren't aware of the material used until you stand right in front of it. For me, it is a great work of art with beautiful colours and a reference to history as well."
Before it was loaned to the Saskatchewan Legislative Building, Star Blanket was on display at the Saskatoon Provincial Court Office through the Arts Board's Art Rental program. Dion had the opportunity to visit the piece while it was there, which he says was a "full circle" moment for him. "When I was younger, I was always getting in trouble with the law. I was always going in front of the judges at that courthouse. It was interesting to be back, but on the other side of the bench, seeing some of the same judges," he says. "Had they been more harsh when I was younger, I wouldn't be where I am today."
One of the main goals of the Arts Board's Permanent Collection is to bring the work of Saskatchewan artists into the public eye for the benefit of public access. Through the loan program, art is lent to museums, galleries, institutions and special partners across the province and country. The Art Rental program gives government, non-profit and business offices the opportunity to rent artwork from the collection at an affordable price.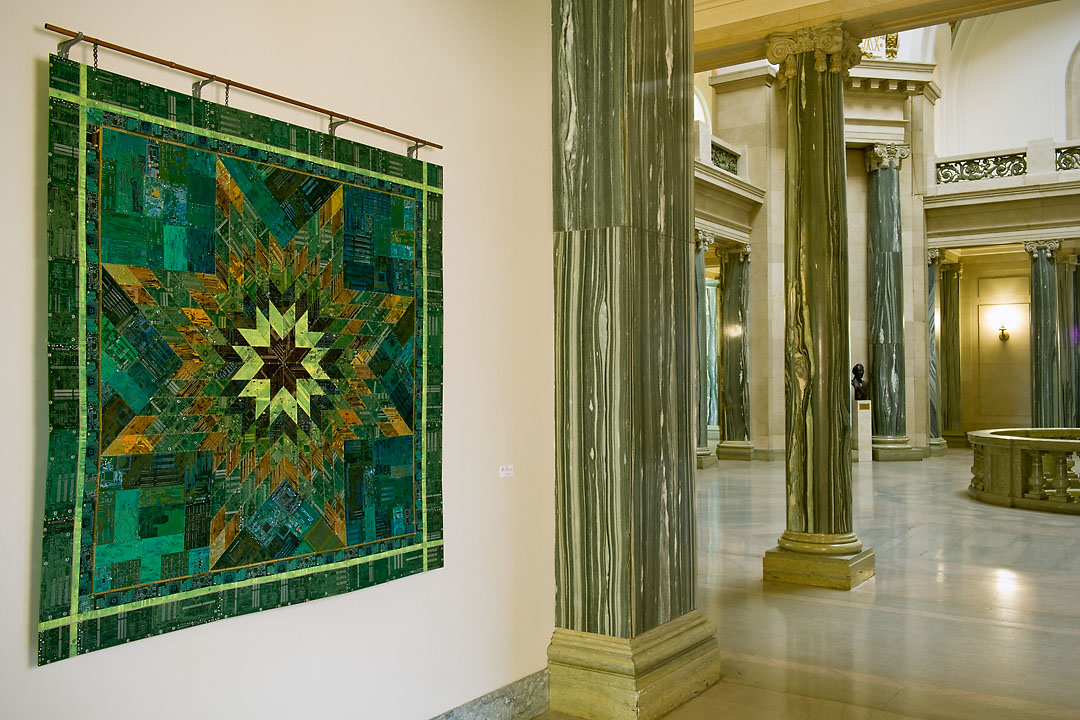 Dion has started collecting art, himself, over the past few years. One of his most recent acquisitions is a beaded piece by Saskatoon artist Ruth Cuthand. "Having real art in your home changes your relationship with the art and with people. I think it's important to have actual art objects circulating through the province — not just in galleries. When people have a little bit of art in their lives, they want more art. It grows on them," he says.
The Saskatchewan Arts Board's Permanent Collection includes approximately 3,000 works of 750 artists and represents the work of Saskatchewan Artists over seven decades.
Photos:
(top) Visitors to the Kamloops Art Gallery view Star Blanket as part of the exhibition AlterNation, taking place from July 15 to September 9, 2017.
Photo courtesy of the Kamloops Art Gallery
(middle) Wally Dion
Photo courtesy of the artist
(bottom) Star Blanket in the Saskatchewan Legislative Building
Photo: Gary Robbins, Available Light Photographics