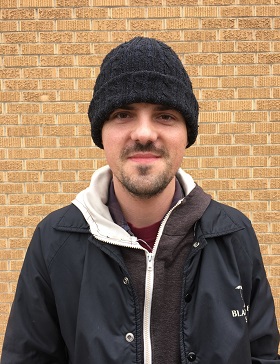 Kaley Evans has been an avid collector of vinyl records for more than a decade. Recently, he has turned his attention to the vast number of homemade-style recordings produced in Saskatchewan, particularly in the 1960s and 1970s. In just a few years, he has amassed an impressive 750 albums, plus many pieces of related ephemera. He says it's the largest personal collection of its kind, rivaling the University of Saskatchewan's Saskatchewan Music Collection.
"These records reflect a number of aspects of life in Saskatchewan. A distinctly Prairie identity – from their album covers to the music – is evident in records from vastly different genres," he says. "Most of these recordings were made with almost no external support. The few recording studios and record labels at that time were tiny operations. If not for the passion and drive of the artists, these records would simply not exist."
Evans received an Independent Artists grant to complete interviews and research for an archival compilation album of Saskatchewan music covering the mid-1960s to late-1970s. The album will be the first of its kind, as only contemporary compilations have been created in the past.
His favourite find is Jim Munro's 1971 album, Roving Saskatchewan, which was recorded by a group of friends in the basement of Munro's Prince Albert home."And it sounds just like that – people from his music community coming together, so off-the-grid and possessed by their own talent and interest. It encapsulates all aspects of what I like about this kind of music," Evans says.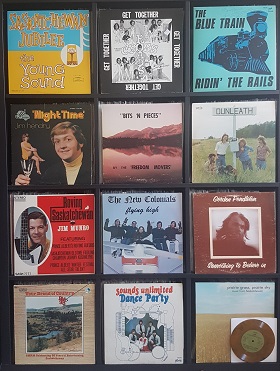 It was only fitting that he began the research for the compilation by interviewing Munro. "He was thrilled his music would have another chance," Evans says. The research phase consists of spending time in archives, museums and radio/TV stations, poring over newspapers and local history books and travelling to communities around the province to meet and interview artists and others with relevant knowledge.
The album will be accompanied by a booklet containing biographies of each artist, pictures and other ephemera. Evans expects the research will be done by summer 2018, and album production will be complete for a fall 2018 or spring 2019 release on vinyl, CD and digital formats. "I owe it to these people to do the best job I can on the research, which will only help the music," he says.
A portion of the grant funds Evans received was provided by the Community Fund for Canada's 150th, a collaboration among the South Saskatchewan Community Foundation, the Government of Canada and extraordinary leaders from coast to coast.
"It's a great honour for the Arts Board to be partnering with the Community Fund for Canada's 150th to support the research into this lesser known part of our province's history," says Saskatchewan Arts Board CEO Michael Jones. "We hope that this can be just the first of many collaborations with the South Saskatchewan Community Foundation. The Arts Board has made it a strategic priority to develop new partnerships that can help us cultivate the important work of Saskatchewan artists."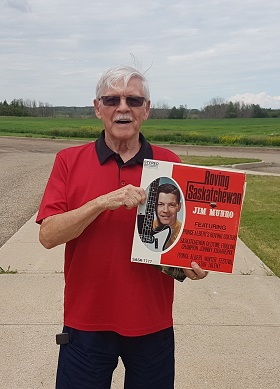 Evans hopes the album will shine a light on two decades of music that were almost lost. "There was a lot of talent and quite a bit of variety. I hope with the compilation, these records will find a new audience from within the province and outside the borders. These are great songs – they're still great music to listen to!"
For more, visit Evans' blog, www.prairietopine.com.
Photos:
Top: Kaley Evans. Photo by Rachel Broussard.
Middle: Some selections from Kaley Evans' collection of Saskatchewan music. Photo by Kaley Evans.
Bottom: Jim Munro with his album, Roving Saskatchewan. Photo by Kaley Evans.