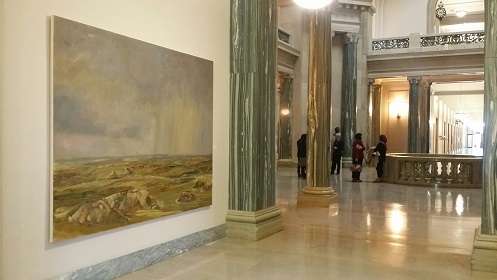 Two influential Saskatchewan artists have made major donations of their artwork to the Saskatchewan Arts Board's Permanent Collection of visual art. Saskatoon artist Greg Hardy donated 10 of his paintings and Regina sculptor Jack Sures donated 30 of his ceramic pieces to the collection. The value of the donations has been appraised at more than $161,000.
Hardy donated some of his favourite recent works, created between 2005 to 2014. The landscape paintings represent different areas of the province that have inspired him, such as Grasslands National Park. "I know the Arts Board will find appropriate places for the work to get exhibited and shown," he says. "Over the years, they've supported individual artists through the granting process and through their collection. The collection represents artists who have made a significant contribution to the province."
Sures had a basement full of his art, dating from 1971 to 2008. He invited Arts Board staff to select pieces for the collection that represent the scope of his career. "The Arts Board didn't have many of my pieces before now," he says. "Artists make art to be seen, not to lie in storage.What better place for it than a body that disperses art throughout the province?"
Chief Executive Officer of the Saskatchewan Arts Board Michael Jones says the donations are important additions to the agency's art collection. "We are pleased that the collection can represent several decades of work by both of these important senior artists and that their spectacular work will be accessible to the public exhibitions and loans to galleries locally, nationally and internationally. We want to thank both Greg Hardy and Jack Sures for their generosity to the people of Saskatchewan, who are, ultimately, the owners of our Permanent Collection."
Please see below for biographies of Hardy and Sures.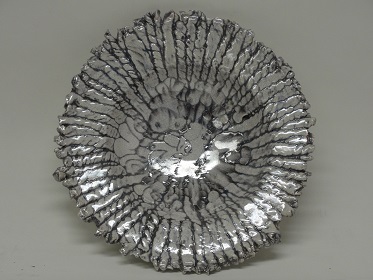 The Arts Board's Permanent Collection includes approximately 3,000 works of more than 600 artists, and represents the work of our province's artists over the past six decades. Its goal is to represent the contemporary art practices of artists within the province for the purpose of public access. It includes everything from paintings, drawings, textiles, prints, photographs and sculptures. This wide variety of styles and media demonstrates some of the diversity and talent of Saskatchewan artists. Artwork from the collection is frequently included in exhibitions throughout the province and country, is loaned to organizations, and is also rented to workplaces through an Art Rental program.
Biographies of Greg Hardy and Jack Sures
Greg Hardy
Greg Hardy was born in Saskatoon in 1950. He studied media at Ryerson Polytechnical Institute in Toronto (1970-72), and is self-taught as a painter, influenced by artists such as Dorothy Knowles. His work has been exhibited in solo and group shows across Canada since 1974. He has taught art at the Saskatchewan Summer School of the Arts, the University of Alberta and Memorial University.
Hardy's paintings depict Saskatchewan landscapes, often using thick, textured layers of paint and a range of brushstrokes. His work is represented in public and private collections, including those of the Canada Council Art Bank, the Mendel Art Gallery (Remai Modern), MacKenzie Art Gallery and the Saskatchewan Arts Board.
Jack Sures
Jack Sures was born in 1934, in Brandon, Manitoba. He completed his bachelor of fine arts at the University of Manitoba in 1957, and his master's degree in painting and printmaking from Michigan State University in 1959. In 1965, he moved to Regina to set up the ceramics and printmaking program at the University of Saskatchewan's Regina Campus, where he taught until his retirement in 1998. His ceramic work has been exhibited throughout Canada and internationally. Sures has received many honours and awards, including the Grand Prize at the International Ceramics Competition in Mino, Japan (1989), the Order of Canada (1991) and the Saskatchewan Order of Merit (2003). Sures' work is represented in numerous collections, including the Pecs National Museum (Hungary), Canada Council Art Bank, Mendel Art Gallery (Remai Modern), MacKenzie Art Gallery, Winnipeg Art Gallery, Montreal Museum of Fine Arts and the Saskatchewan Arts Board.
Photos:
Top: Greg Hardy, Rain Dance, Badlands, 2011, acrylic on canvas. Photo: Belinda Harrow
Right: Jack Sures, Untitled, corded lustre bowl, 1974, porcelain lustre. Photo: Aaron Clarke