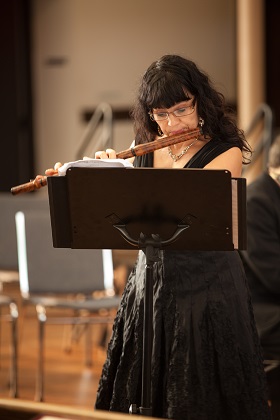 Baroque music ensembles are popping up in major cities across Canada. Regina's Per Sonatori brings this historical music to audiences in Southern Saskatchewan. The ensemble is unique in the province because members play music on authentic or replica instruments from the Baroque period. They also use techniques from the era, including phrasing, articulation and even instrument tuning. The group gives musicians and audiences the opportunity to experience music the way it would have been played in the 17th and 18th centuries.
Five musicians started the ensemble almost 10 years ago. "We have a tendency as modern performers to view music through a modern lens. But Bach wrote for a wooden flute, not a silver flute. We thought, 'What happens if we played it the way it was intended to be played?'" says Tara Semple, artistic director and one of the group's founding members.
The musicians scoured the world for the rare period instruments, purchasing them from as far away as Belgium, Germany and the Czech Republic. They also had to learn how to play them. Grants from the Saskatchewan Arts Board supported the ensemble's education and the creation of a concert series. "It is a valuable education tool for music teachers and students and also delightful for non-musician audiences to be transported to another time through music," says Semple.
"Per Sonatori" translates to "for players," a common notation in Baroque compositions, indicating that any combination of players or singers may participate. The ensemble takes this to heart by inviting guest musicians and other artists to join them on stage at their concerts.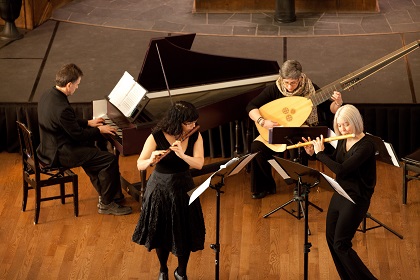 Guests work with Per Sonatori's members to help them hone their skills. They hold workshops in the community to provide professional development and musical education to local musicians as well. "Our ensemble members are also teachers, so when they learn new skills, they are able to pass it on to their students, improving the overall skill, artistry and engagement of young musicians in the community," Semple says.
Concerts engage audience members with pre-show historical lectures, period costumes and interesting tidbits about the music and time period throughout. "In the beginning, our audience didn't have a lot of knowledge about this music, but they were eager to learn," Semple says. "The audience has really embraced us. It's like the Roughriders—we have people who have been to every concert that we've done!"
The final concert of Per Sonatori's 2016-17 season is Donna Barocca, taking place on March 3 in celebration of International Women's Day. The performance focuses on the role women have played in Baroque music, either as composers or performers.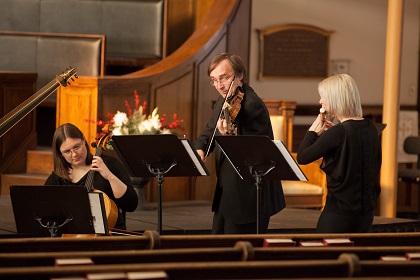 "We're grateful to be able to offer this kind of music in the community. It's a really great part of the musical landscape in our city, to have a larger modern orchestra and a smaller Baroque ensemble," says Semple.
For more on Per Sonatori, visit www.personatori.ca.
Per Sonatori receives grants from the Artists in Communities program.
Photos:
Top: Tara Semple (baroque flute)
Middle: Hart Godden (harpsichord), Tara Semple (baroque flute), Madeleine Owen (theorbo), Marie-Noelle Berthelet (baroque flute)
Bottom: Amelia Borton (baroque cello), Rudolf Sternadel (baroque violin), Marie-Noelle Berthelet (baroque flute)
Photos by Trevor Owen