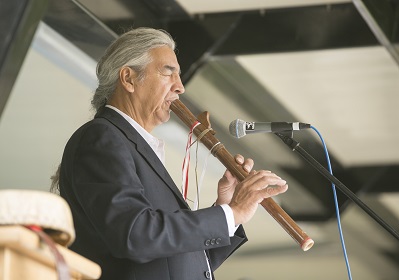 Common Weal Community Arts has a long history of bringing participatory art into correctional facilities. In 2015-16, for the first time, they brought the Art Lodge program to the Prince Albert Correctional Centre.
Artist and storyteller Joseph Naytowhow was the artist-in-residence and was joined by multidisciplinary artist and singer/songwriter Cheryl L'Hirondelle. Together, they engaged the men through songwriting and creative expression, leading to the collaborative writing and recording of an uplifting song, "Live the Life that is Meant for Me."
Songwriting was chosen over other art forms because of its versatility. "It's very difficult to bring anything in or take anything out of these institutions. Working on anything physical is difficult—even pens are an issue. Songwriting can be done in that kind of environment with very little hindrance. It's the body, the words, the melody, and it happens in situ," says Judy McNaughton, northern artistic director for Common Weal. "It's also something the men can keep. It's with them while they're in there, and they can bring it home to their family. It's always theirs."
L'Hirondelle has been working with incarcerated individuals since 2008, through her project, "Why the Caged Bird Sings." She says, "For me, going into facilities and co-writing with incarcerated individuals feels like visiting with relatives. This is a community that society trying to forget, trying to make voiceless. When you're incarcerated, you're being banished from society. For me, as a native person and a native woman, it's critical that all of our voices are heard. That is what this project is about."
Naytowhow says the songwriting process allowed self-expression, or freedom, in an environment where that may feel impossible. "Doing time is hard on the artistic soul; however, I've seen otherwise, with a lot of the participants working during and after hours on lyrics that go into song creation and spoken word. We treated these young men with respect and acknowledged their ability to create something together and individually; in this case a song they can call their own."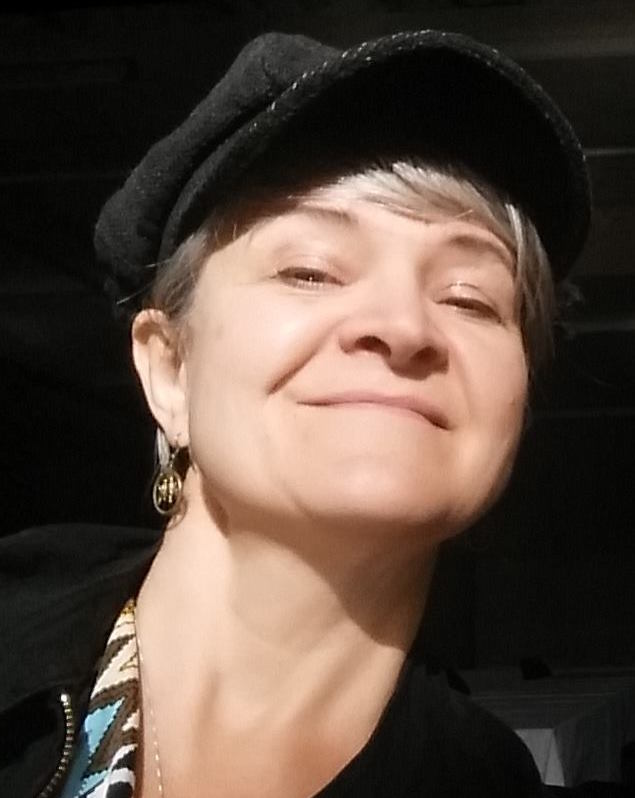 Staff at the correctional institution noticed that the men became more optimistic and began looking toward the future. "Some of the people staff had difficulty with earlier, their entire demeanor changed once they started working with the artists. There were no more behavioural or attitude problems. You could see they were proud of their work," says McNaughton.
L'Hirondelle agrees. "There's a certain point that happens in the process where you can tell they're 'all in.' They take personal ownership of the song. On the day the melody gets married with the words, it's like magic. You can see this glow on everyone's faces: 'What! We've written this song!'"
Once professionally recorded, mixed (by Mark Schmidt) and mastered, the song was released as a single and shared with the co-writers, program staff and project partners. Proceeds from sales are shared with all co-writers. The price of the single, three dollars, is the minimum wage an inmate receives per day. You can find "Live the Life that is Meant for Me" and other songs L'Hirondelle has co-written and recorded with inmates, including cover art and lyrics, at whythecagedbirdsings.bandcamp.com.
Staff and inmates at the Prince Albert Correctional Centre have expressed interest in future songwriting projects as well as other art forms such as visual art and writing. "The project has essentially opened up the facility to future programming with Common Weal and guest artists," McNaughton says.
The Art Lodge project was supported by an Artists in Community grant and Common Weal Community Arts receives funding from the Professional Arts Organizations Program. Common Weal would also like to acknowledge the SaskCulture Aboriginal Arts and Cultural Leadership Grant for their support of this project.
PHOTOS
Top: Joseph Naytowhow
Right: Cheryl L'Hirondelle