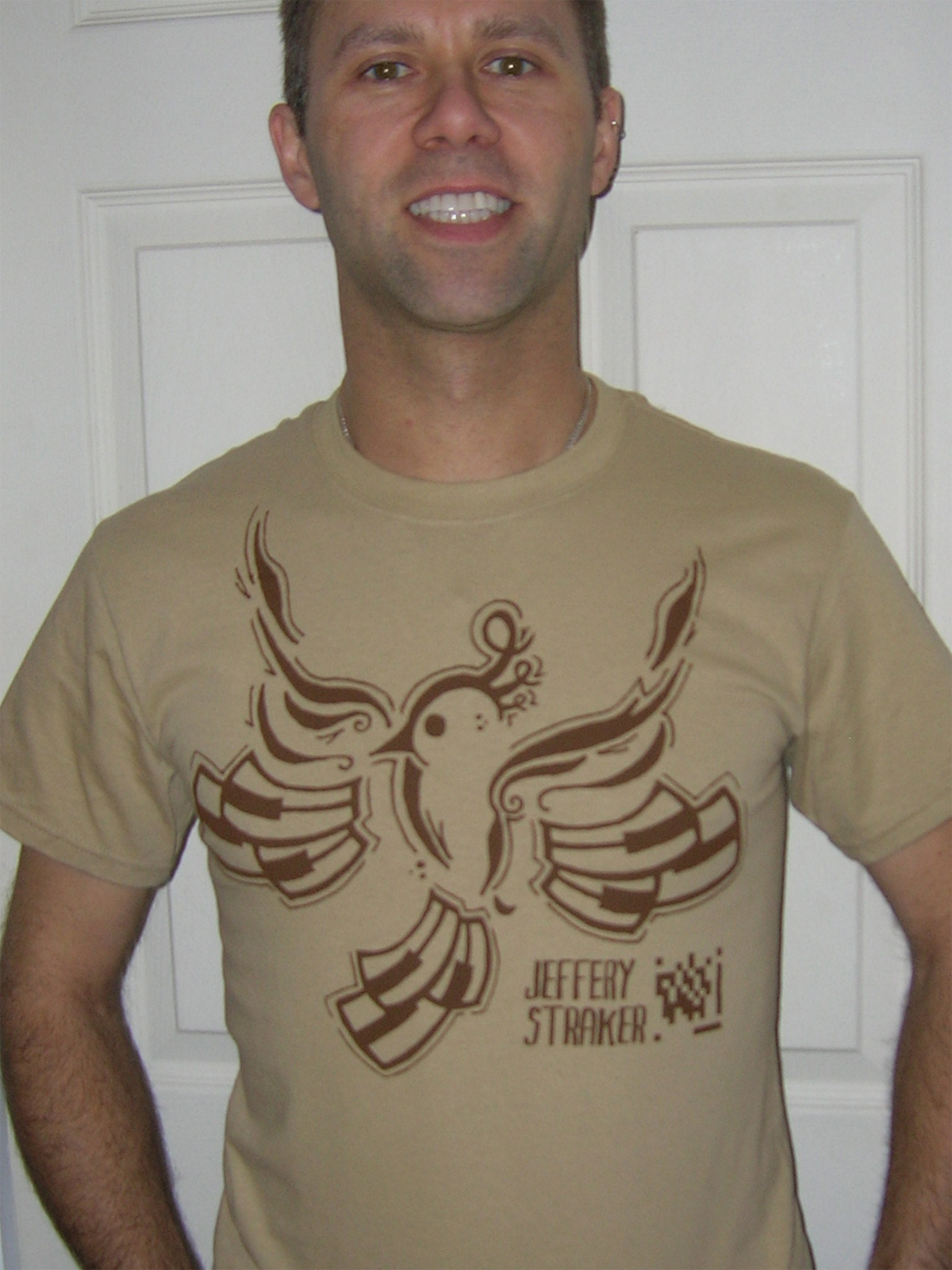 By Taron Cochrane
Eighty-eight fingered Regina musician Jeffery Straker has always navigated his career path with a unique and inventive approach. From an impressive and vast catalogue of cabaret-inspired piano pop to local fundraisers and collaborations with orchestras, everything in Straker's world is worth trying… at least once.
So what creative endeavor was next on his list? Well, merging a t-shirt design with a smart phone, obviously!
Joining forces with local graphic designer Taron Cochrane (of Taron Cochrane Designs) and one of Regina's most-well respected print-shops, Floprint, the first ever scan-able t-shirt was soon born. Fans of Straker can now sport a fine-fitting piece of merchandise that comes with a twist.
The t-shirt was hand-drawn by Cochrane and features the now signature "Piano Bird." As the t-shirt was being designed and the collaboration grew between the two artists, Straker began researching how to integrate a QR code into the design. Many phone calls and e-mails later, a suitable barcode was established and added. Once scanned with a smart phone, this barcode takes people to www.facebook.com/jeffery.straker.music, where they can find more information on upcoming events, recent news, and Straker's music.
The thought process behind the design was that the shirt could be a catalyst while worn, inspiring conversation about Straker's music as well as how to find out more info. Since a t-shirt is a walking advertisement, the wearer could encourage others to scan the barcode with their phones, linking them directly to the artist. Then those people have the web address in their phones for future reference. Generally, the people who purchase t-shirts at shows are more than likely the "chat leaders," so, in the grand scheme of things, that makes a bar code the perfect addition to any artist's tee. It also allows the wearer to be not only a fan of the artist, but also somewhat of a spokesperson.
"I can see this being really useful at art exhibitions, on concert posters, and in all kinds of ways to promote the arts," Straker says.
After the two artists solidified the design, they moved onward to testing. The great team over at Floprint was more than willing to run some test prints and experiment with the placement and color of the barcode to make sure that it would work without a hitch. Soon, enough of the tests had been conquered and printing commenced. What had started out as a "crazy idea" for Straker was about to see the light of day.
The t-shirts were printed (in men's and women's styles) and have since become a huge hit for fans attending a show or shopping online. If you are interested in viewing the tee, it can be found at www.jefferystraker.com under the "store" heading. Although, I would recommend picking one up at one of his live shows… it's an amazing experience, to say the least!
Photos: Jeffery Straker wears his innovative t-shirt
Photo credit: Jill Straker