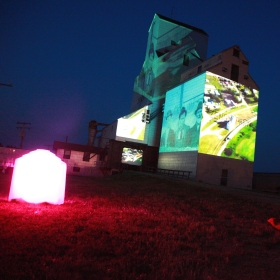 When it came to the celebration of their community's centennial, Zenon Park's artists wanted more than a big party. They wanted to celebrate their town with a multidisciplinary performance that showcased not only the diverse talent of local artists, but also the community's rich francophone culture and history. The resulting Silo à souvenirs/Silo of memories project was supported by a Saskatchewan Arts Board ArtVenture Project Grant.
"The reaction to the performance was sincere and heartwarming. Many were touched by the content as well as the creativity of the performance, the memory of which will not soon be forgotten," says Michel Marchildon, songwriter and spoken-word artist.
To create the ambitious piece, Marchildon teamed up with fellow Zenon Park artists Véronique Poulin (songwriter and musician), Renée Sigouin (dancer), and Zoé Fortier (visual arts and multimedia artist), as well as two Saskatoon artists, Jean-Sébastien Gauthier (multidisciplinary performance artist), and Stephan Fuchs (filmmaker).
The town's most majestic focal point, the last remaining grain elevator, was transformed into a giant screen for the performance. Footage included archival video from Zenon Park's Saskébec project, a 1978 video-exchange between Zenon Park and Baie Saint-Paul, Québec. The multidisciplinary performance also incorporated elements of Zenon Park's historical and artistic past through live music, dance and storytelling.
The collaborative piece was inspired by Zenon Park's distinct cultural heritage and included underlying themes such as family, history, religion, identity and community. It also honoured the town's residents and their efforts to preserve French culture and language, at a time when many small Saskatchewan communities are having difficulty surviving. The performance was presented to approximately 1,500 Zenon Park residents, past and present, on August 1, 2010.
The intent of the project was to study interconnection among artistic disciplines, backgrounds and styles. Each artist represented a different age group and artistic background, as well as his or her own perception of Zenon Park's history and culture. Says Marchildon, "It is the meeting of these distinct perceptions and sensitivities that made this multidisciplinary project unique."
Residents of other fransaskois communities joined Zenon Park in the celebration, and the province's francophone media helped promote the performance. In the following months, CBC Radio Canada (Regina) produced a half-hour "behind the scenes" segment of highlights of the Silo à souvenirs/Silo of memories project, which was broadcast provincially in December 2010. You can view the feature online at www.radio-canada.ca.
Photo: Lina Brisco