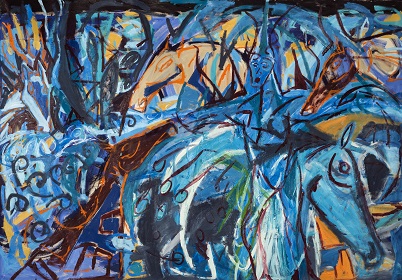 Nowhere else in the world will you find a larger or more comprehensive collection of Saskatchewan visual art than in the SK Arts Permanent Collection. This collection includes approximately 3,000 works of 750 artists, and represents the work of our province's artists over the past seven decades. Its goal is to represent the contemporary art practices of artists within the province for the purpose of public access.
You will find everything from paintings, drawings, textiles, prints, photographs and sculptures in the collection. This wide variety of styles and media demonstrates some of the diversity and talent of Saskatchewan artists. Artwork from the collection is frequently included in exhibitions throughout the province and country, is loaned to organizations, and is also rented to workplaces through our Art Rental program.
Questions? Check the Permanent Collection FAQs.
Above:
Neal McLeod
Dreams of my Father's Horses, 2014
Oil and acrylic on unstretched canvas
Photo: Department of Photography, University of Regina