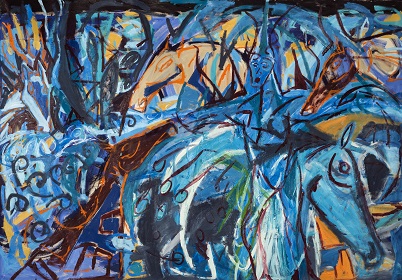 Nowhere else in the world will you find a larger or more comprehensive collection of Saskatchewan visual art than in the SK Arts Permanent Collection. This collection includes approximately 3,000 works of 750 artists, and represents the work of our province's artists over the past seven decades. Our goals are to preserve art by contemporary artists in Saskatchewan and ensure the public has access to it.
You will find everything from paintings, drawings, textiles, prints, photographs and sculptures in the collection. This wide variety of styles and media demonstrates some of the diversity and talent of Saskatchewan artists. Artwork from the collection is frequently included in exhibitions throughout the province and country, is loaned to organizations, and is also rented to workplaces through our Art Rental program.
We accept submissions to the collection twice per year. Learn more here.
Questions? Check the FAQs.
Photo: Neal McLeod, Dreams of my Father's Horses, 2014, oil and acrylic on unstretched canvas, photo by Department of Photography, University of Regina
Art Rental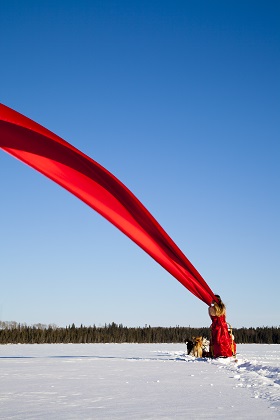 Did you know you can brighten up your workplace with artwork from the SK Arts Permanent Collection? Our Art Rental program is an affordable, easy and convenient way to personalize your office, boardroom or reception area, improve your work atmosphere and support Saskatchewan artists.
Rental clients include commercial businesses, government offices, crown corporations and non-profit organizations across Saskatchewan. For a fee of 12 per cent of the work's value, you may rent artwork for a one-, two- or three-year renewable contract.
You may select art from a wide variety of paintings, drawings, textiles, prints, photographs and sculptures in the Permanent Collection. Works available for rent are by artists Joe Fafard, Marsha Kennedy, William Perehudoff, Wynona Mulcaster, Allen Sapp and many more.
Our consultant meets you at your office to assess your needs, recommend display locations and suggest artwork that suits your taste and workspace. Arts Board staff will deliver the art to your office and install it. All you have to do is sit back and enjoy having some wonderful Saskatchewan art at work!
Photo: Biliana Velkova, Northern Saskatchewan Landscape with Dogs, 2013, digital print on Dibond, photo courtesy of the artist
Loans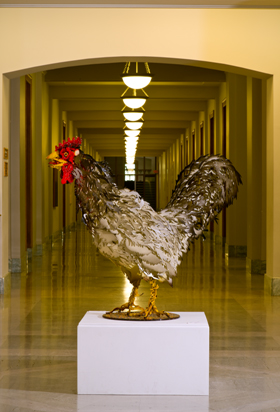 Through our loan program, we lend pieces of art from our Permanent Collection to museums, galleries, institutions and special partners across the province and country.
The program helps fulfill our mandate to bring our collection into the public eye for the benefit of public access. Encouraging the display of artwork by Saskatchewan artists celebrates excellence in the arts and enriches community well-being.
Some of the places where you can find artwork from the Permanent Collection include: City of Regina, City of Saskatoon, City of Martensville, Regina Health Authority, La Troupe du Jour, Globe Theatre, Conexus Arts Centre, Moose Jaw Museum and Art Gallery and Estevan Art Gallery, to name a few.
For information on how to borrow artwork from the SK Arts Permanent Collection, please contact us.
Photo: Joe Fafard, Reveille, 2012, laser-cut steel, powder-coating finish, photo by Gary Robins/Available Light Photographics
Contact
Belinda Harrow
Consultant: Permanent Collection
(306) 539-7599 (Regina) or 1-800-667-7526
This email address is being protected from spambots. You need JavaScript enabled to view it.