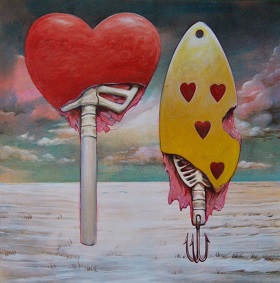 SK Arts acquires objects and archives by Saskatchewan artists through purchases, donations, gifts or bequests and on occasion commissions to develop a provincial collection of the highest quality which will inform, enlighten and enhance the lives of present and future generations.
Anyone is able to suggest work to become part of our Permanent Collection, either through purchase or donation/bequest. In order to have a fair and transparent policy, we receive submissions at two deadlines annually.
Questions? Check out our FAQs.
Above:
Jefferson Little
Still Life with Big Mouth, 2014
Acrylic on canvas
Photo: Courtesy of the artist
---
Closing Dates
April 1
September 15 (Note: purchase submissions of more than $10,000 are only accepted at the September deadline, along with regular submissions)
Submissions may be made at any time, but those made throughout the year will be held for consideration after these closing dates.
Note: Due to our office closure because of the COVID-19 pandemic, we are unable to accept mailed or dropped off submissions -- please submit via email.
If the deadline falls on a weekend or statutory holiday, the closing date is moved to the next working day.
---
Forms
Permanent Collection Submission -- Purchase (value of $10,000 or less)
Permanent Collection Submission -- Purchase (value greater than $10,000 -- September deadline only)
Permanent Collection Submission -- Donation
---
Process
After the submission closing dates, all work proposed for the Collection is considered by our Curatorial Working Group, which is comprised of members of SK Arts staff and Board of Directors, complemented by outside public professionals (artists and curators). All acquisitions are carefully considered in light of the Permanent Collection Policy and according to the following criteria:
Relevance: Does this object represent the work of a Saskatchewan artist? Does it strengthen the work that is already in the Collection?
Quality: Is the object a good example of the artist's work and does it augment the Collection qualitatively?
Condition: Is the object in good condition? Would maintenance of the object prove costly on an ongoing basis?
Cost: Is the object available at a fair market price? Are there additional costs related to storage and/or framing?
Source: Are there any restrictions attached to use of the object?
---
Notification
SK Arts tries to respond to all proposals for sale or donation, in writing, within 60 days after the submission closing dates above.
---
Contact
Julia Krueger
(306) 519-7831 (Regina) or 1-800-667-7526 (Toll-Free)
This email address is being protected from spambots. You need JavaScript enabled to view it.