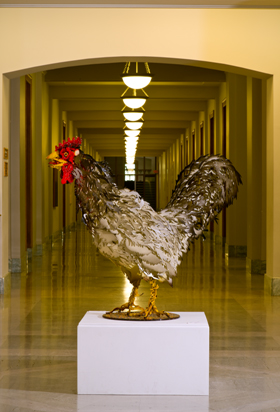 Through our loan program, we lend pieces of art from our Permanent Collection to museums, galleries, institutions and special partners across the province and country.
The program helps fulfill our mandate to bring our collection into the public eye for the benefit of public access. Encouraging the display of artwork by Saskatchewan artists celebrates excellence in the arts and enriches community well-being.
Some of the places where you can find artwork from the Permanent Collection include: City of Regina, City of Saskatoon, City of Martensville, Regina Health Authority, La Troupe du Jour, Globe Theatre, Conexus Arts Centre, Moose Jaw Museum and Art Gallery and Estevan Art Gallery, to name a few.
For information on how to borrow artwork from the SK Arts Permanent Collection, please contact:
Belinda Harrow
Consultant: Permanent Collection
(306) 539-7599 (Regina) or 1-800-667-7526 (Toll-Free)
This email address is being protected from spambots. You need JavaScript enabled to view it.
Joe Fafard
Reveille, 2012
Laser-cut steel, powder-coating finish
Photo by Gary Robins/Available Light Photographics